 With 32 seconds to go in overtime, Carson Palmer threw a 19-yard touchdown pass to Larry Fitzgerald to solidify an Arizona Cardinals 18-15 victory over the San Francisco 49ers on Sunday.
The 49ers (0-4) held the football for 7:36 after a field goal from Robbie Gould put the 49ers up 15-12. Arizona (2-2) would have to drive down the field in a minute or less. Palmer would go 5-7 on the winning drive, leading the Cardinals 75-yards down the field.
Scoring was limited in this game to nine field goals up until Palmer threw the only touchdown of the game.
Another ugly game for Arizona
Behind an injury riddled offensive line Palmer would complete 33 of his 51 passes for 357 yards and was intercepted in the end zone on a tipped pass on the game's opening drive. Palmer was hit a total of 16 times, being sacked six times.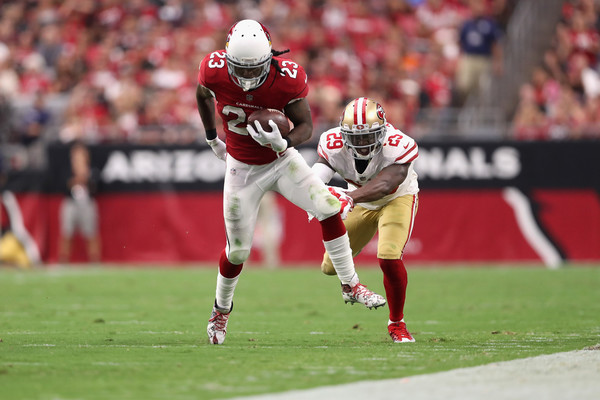 Chris Johnson rushed for 32 yards on 13 carries while Andre Ellington had 18 yards on five carries. Ellington would make more of an impact in the passing game catching nine passes for 86 yards. An Ellington touchdown would be reviewed and overturned in the second quarter.
Jaron Brown has emerged as a go-to target for Palmer as he would have 105 yards receiving. In his return, John Brown would catch three passes for 47 yards.
49ers are equally as bad
San Francisco failed to score a touchdown for the third time this season and has lost its first four games for the first time since 2010.
The 49ers would have 13 penalties for 113 yards, including the penalty that set up the game winning touchdown for Arizona.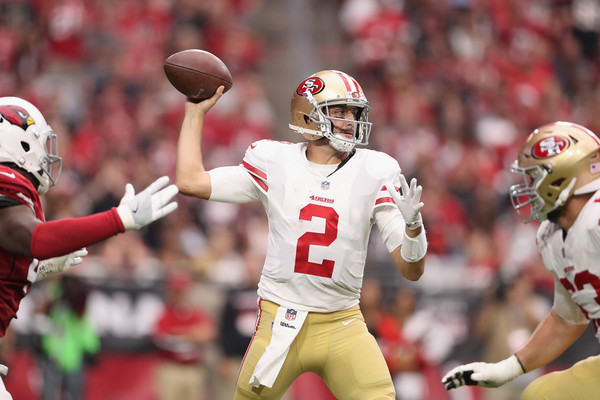 Brain Hoyer completed 24 of his 49 passes for 234 yards and one interception. Hoyer would have had a touchdown pass had a penalty not have gone against San Francisco. Hoyer would leave the game in the for one play after a taking a hit from Chandler Jones.
Carlos Hyde would rush for 68 yards while Matt Breida would rush for 16 yards. Hyde would also have 27 yards in the passing game.
Battle of the kickers
Phil Dawson would kick four field goal for the Cardinals with his longest coming from 50 yards out. Cardinals fans had to hold their breath each field goal attempt as Dawson had missed a field goal in each of the first three games of the season.
Gould would kick five field goals for the 49ers, connecting from 49, 39, 47, 48 and 23 yards. Gould has not missed a field goal since 2015 and became the replacement for Dawson in the off-season.
Up Next
For the 49ers, they will go on the road to take on the Indianapolis Colts.
Arizona will also be in the road next weekend as they take on the Philadelphia Eagles.