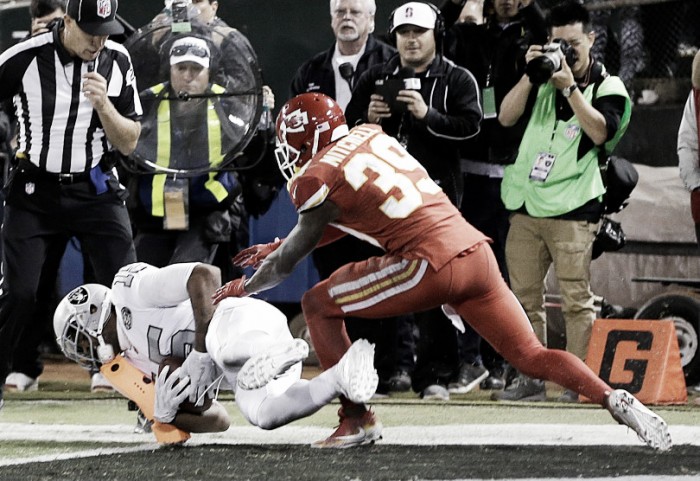 The Oakland Raiders have improved to 3-4 on the season as they defeated the Kansas City Chiefs 31-30 on Thursday Night.
Derek Carr threw a 2-yard touchdown pass to Michael Crabtree on the final play after the game was extended by two straight defensive holding calls. Giorgio Tavecchio won the game with the extra point.
Carr led the Raiders on an 85-yard touchdown drive in the final 2:25 to give the Raiders the comeback victory in a game they trailed by nine points heading into the fourth quarter.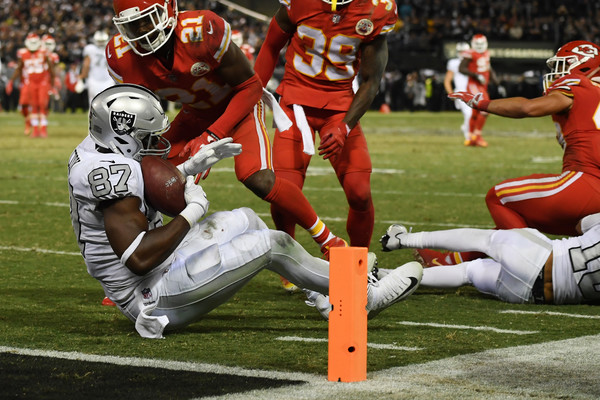 It had appeared to have won the game on a go-ahead touchdown pass to Jared Cook with 18 seconds left. It would be overturned when the officials reviewed the replay. The officials would agree that Cook was touched at the one yard line. An offensive holding call on Michael Crabtree wiped another touchdown on the very next play.
Holding calls on Ron Parker and Eric Murrary created the opportunity for the Raiders and the final play.
The Raiders might have saved their season as they had dropped their last four games coming into Thursdays matchup. Following the loss, the Chiefs (4-2) have now lost back-to-back games.
Raiders find their offense
Carr completed 29 passes on 52 attempts for 417 yards and three touchdowns.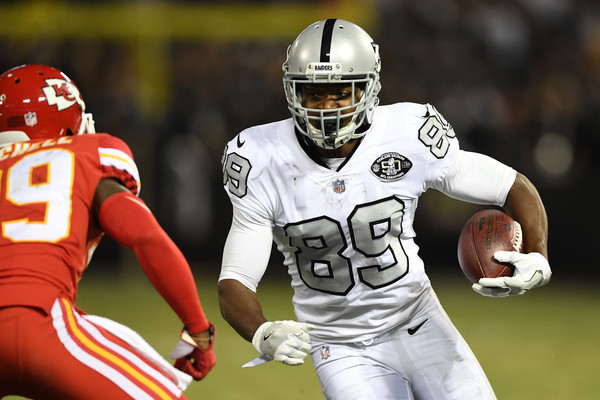 Amari Cooper came alive in this AFC West matchup. Cooper caught 11 catches for 210 yards and two touchdowns. Coming to the game, Cooper had 18 receptions for 146 yards and just one touchdown.
Cook had himself a good game as well, catching six passes for 107 yards. Crabtree finished the game with three catches for 24 yards.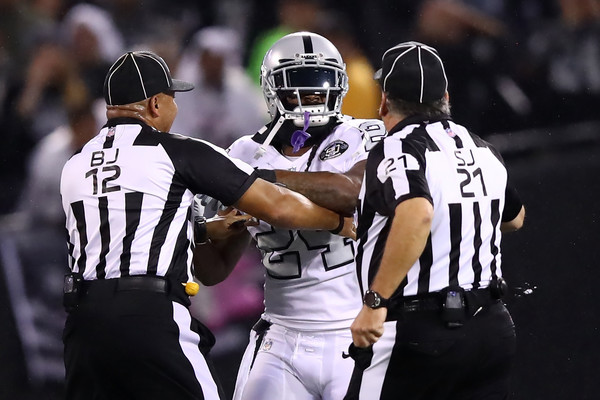 Marshawn Lynch had two carries for just nine yards. The reason for this was due to Lynch being ejected from the game. Chiefs cornerback Marcus Peters hit Carr late in the second quarter and it angered the Raiders. Offensive lineman Kelechi Osemele and Donald Penn confronted Peters and Lynch sprinted off the Oakland sideline. Lynch ended up shoving line judge Julian Mapp which caused his ejection. Peters was called for a personal foul on the play.
Chiefs continue offensive success
Alex Smith finished the game 25 for 36, throwing for 342 yards and three touchdowns.
Kareem Hunt rushed for 87 yards on 18 carries. In the passing game, Hunt caught four passes for 30 yards. With this performance, Hunt became the second player in NFL history to reach 1,000 scrimmage yards in his first seven career games.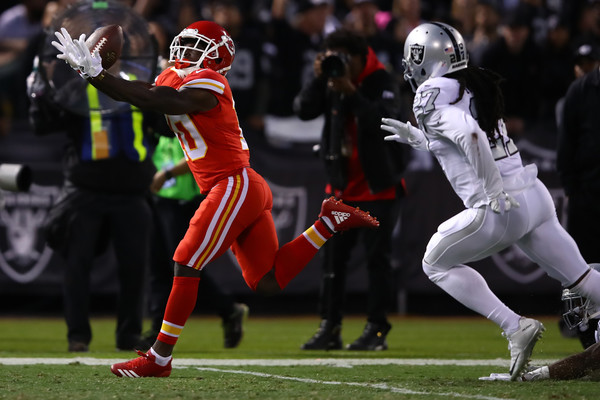 Tyreek Hill had his best game of the season, catching six passes for 125 yards and a touchdown. Albert Wilson had a touchdown catch for 63 yards. Travis Kelce was on the receiving end of Smith's first touchdown on the game. Kelce finished the game with four catches for 33 yards.
Up Next
The Kansas City Chiefs will host the Denver Broncos on Monday Night Football October 30. The Oakland Raiders will take on the Buffalo Bills on October 29.