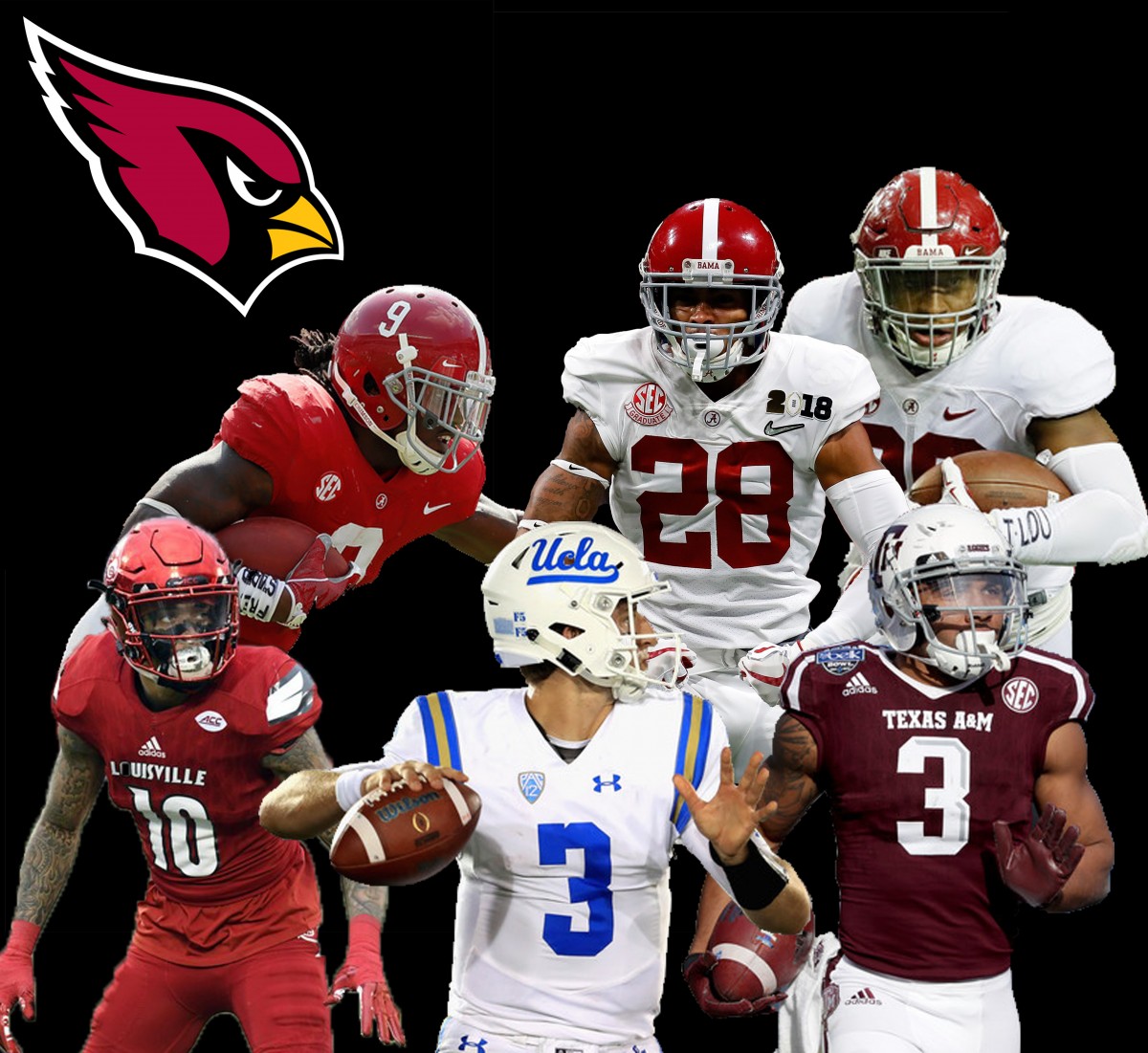 As the calendar gets close to April 27, NFL teams are preparing to conduct visits with prospects and putting the finishing touches on their draft boards.
The Arizona Cardinals know just how important this draft is for the franchise. Finishing 8-8 a season ago, many early predictions see the Red Birds finishing at the bottom of the division. It is up to General Manager Steve Keim to find players that Head Coach Steve Wilks and company can plug in and play immediately.
Addressing most of their needs in free agency, the Cardinals will have the luxury of addressing the remaining needs and selecting for the future. Arizona will need to find players that can contribute right away if they want to remain relevant in the playoff picture.
Here are some prospects that could help the Cardinals following the NFL Draft.
1) Jaire Alexander, CB, Louisville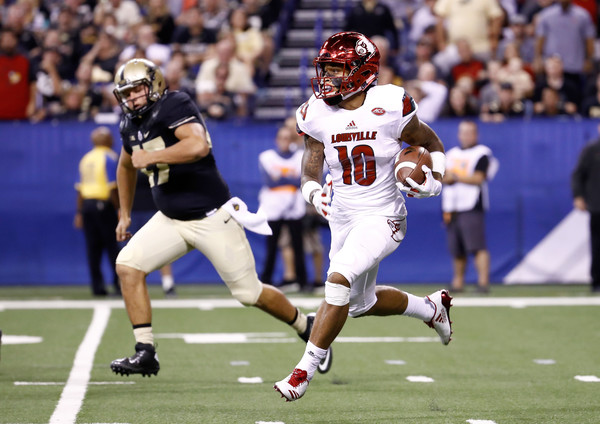 When Tramon Williams elected to return to the Green Bay Packers instead of the Cardinals, the need for a number two corner became drastic. Bene' Benwikere has the most experience of the corners on the roster that isn't named Patrick Peterson.
Insert Jaire Alexander and the corner position immediately improves. The 21-year-old totaled 77 tackles, 15 passes defended, seven interceptions and forced one fumble in three seasons with Louisville.
Alexander is an instinctive cornerback with the foresight to anticipate routes and has the quickness to close on throws and make plays on the ball. He has shut down corner ability and would be a perfect running mate with fellow shut down defensive back Patrick Peterson.
2) Christian Kirk, WR, Texas A&M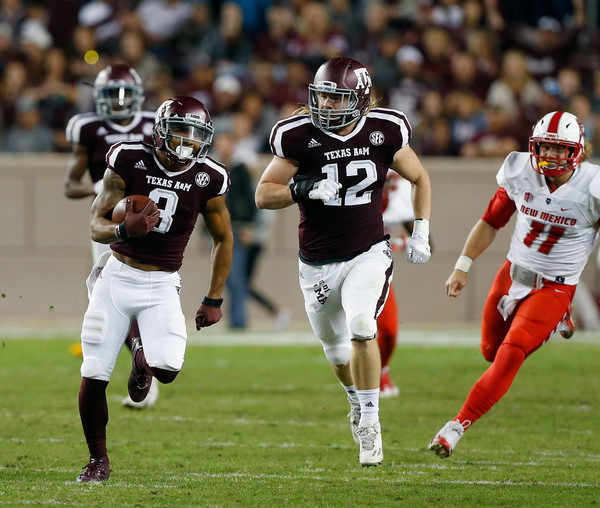 Taking a look at the Cardinals receiving group, Larry Fitzgerald and David Johnson are their most reliable wide outs on the roster. However, one is playing in his 15th season in the NFL and the other is the teams star running back.
Brice Butler has yet to show that he can be a number two wide receiver in NFL, let alone the number one receiver, while J.J. Nelson drops too many passes and Chad Williams has a lot to prove in year two in the NFL.
Christian Kirk would be a welcomed addition to the Cardinals franchise. Kirk would take the attention on opposing defenses, allowing Fitzgerald to remain in the slot while being the deep threat and taking pressure off Butler.
In three seasons at Texas A&M, Kirk caught 234 passes for 2,856 yards for 26 touchdowns, finishing third in the SEC last season with 10 touchdowns. Kirk is quick in getting in and out of his breaks, can go get balls too low, can be a great special teams returner and is quick in getting down the field.
Kirk could be the 2018 version of what former speedy wide out John Brown was in the Cardinals offense in 2015.
3) Josh Rosen, QB, UCLA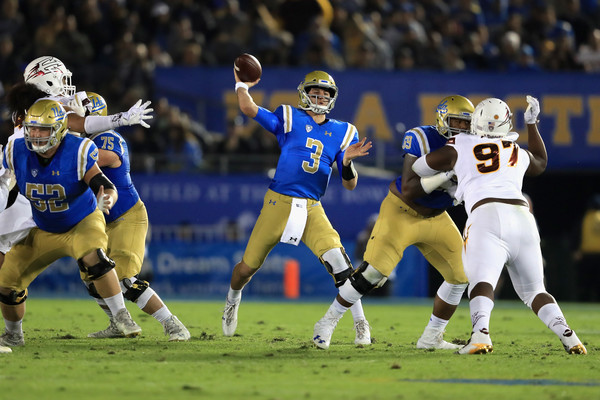 If reports are true, Josh Rosen could slide on draft day. If he slides all the way down to 15 pick, that could be the dream scenario for the Arizona Cardinals.
Rosen has tremendous pocket footwork, anchors the pocket and climbs pocket when is appropriate and is willing to stand and deliver the football in the face of pressure. His mechanics make him one of the more polished quarterbacks in this class.
In three seasons at UCLA, Rosen completed 60.9% of his passes, throwing for 9,340 yards with 59 touchdowns and 26 interceptions
Though the Cardinals spent a lot of money on Sam Bradford and Mike Glennon, they are in desperate need of a franchise quarterback. Rosen could join Dak Prescott, Carson Wentz, Marcus Mariota and Jameis Winston as quarterbacks that were named the starting quarterback their rookie season.
4) Anthony Averett, CB, Alabama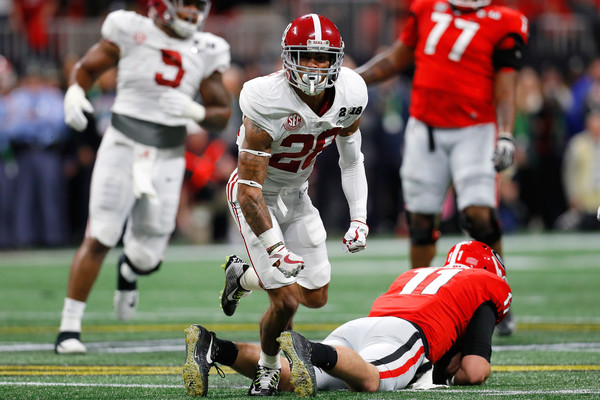 If the Cardinals go a different route in the first round and don't select Alexander, they can address the cornerback position in the later rounds. Anthony Averett could possibly be one of the cornerbacks available for the picking.
Though his numbers aren't flashy, Averett turned himself into one of the best cornerbacks in the draft.
Averett is quick enough to recover from early break downs in coverage and can catch up with the receiver, makes quick tackles when giving up a completion, plays with good route recognition and has great reactive athleticism.
Though he might start his career as the number two cornerback, his skill set fits perfectly in the slot or when the game situation calls for four defensive backs on the field.
5) Bo Scarbrough, RB, Alabama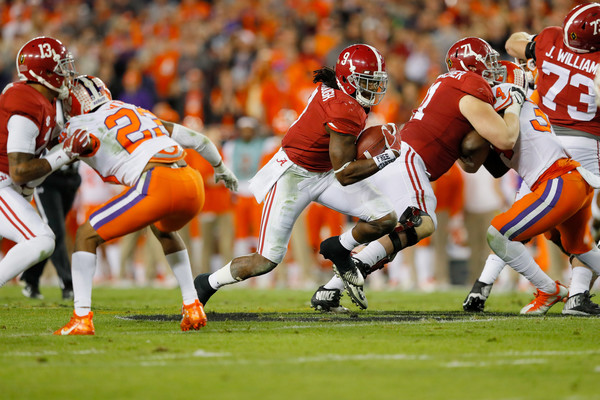 It has been said that the Cardinals are looking for a big running back that can play like David Johnson in the upcoming draft. At 6'1, 232 lbs, Bo Scarbrough could be that guy.
It is hard for Scarbrough to receive the recognition he deserves playing next to talented guys like Damien Harris, Najee Harris and future NFL running backs Derrick Henry and Kenyan Drake.
His sophomore and junior campaigns were the best for Scarbrough, rushing for 1,408 yards and 19 touchdowns. In his sophomore season, he was eighth in the SEC in touchdowns (11) and rushing yards per attempt (6.5).
Johnson and Scarbrough would be a dangerous one-two punch in the NFL. To preserve Johnson's health, Arizona could use Scarbrough in goal-line stands and short yard situations. He could be the back they are looking for.
6) Shaun Dion Hamilton, LB, Alabama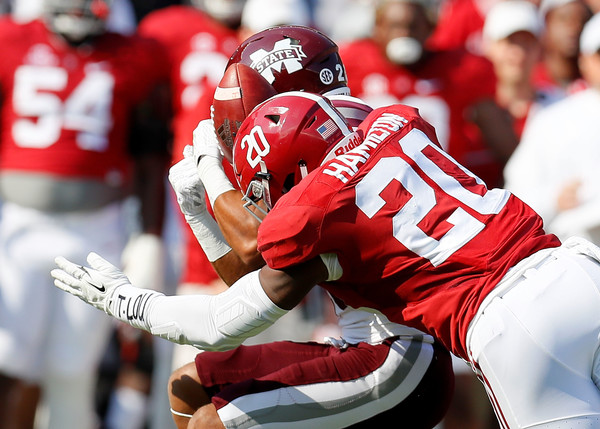 Combined with Reuben Foster, Hamilton was a part of the best inside linebacker duos in the country. Unfortunately for Hamilton, he injured his right ACL in the SEC Championship Game in 2016. Hamilton's 2017 ended with a fractured right kneecap.
So how can a player with an injury history benefit the Arizona Cardinals? Because his talent outweighs the risk.
Hamilton is quick to recognize and react to play-action and screens, is very intelligent linebacker who won't give up his gap control and is technically sound.
As it currently stands, the Cardinals have Josh Bynes, Scooby Wright, Gabe Martin and Jeremy Cash as their middle linebacker depth. Adding a guy like Hamilton can only enhance the defense.
7) Kentavius Street, DT, North Carolina State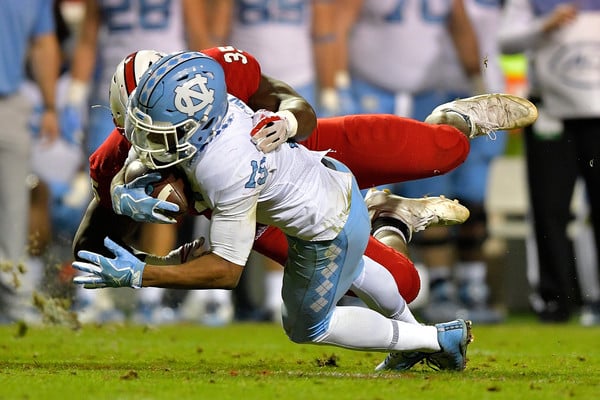 Kentavius Street would have been an impact player in his first season. However, a torn ACL will keep him out for one season.
Street tore his ACL during a pre-draft workout for the New York Giants on April 4th. It is a big blow for the prospect.
Street started 35 games during his four-year stint at North Carolina State. During his time with the Wolfpack, Street accumulated 120 tackles with eight sacks, two forced fumbles and four fumble recoveries.
Street shows plenty of fight at the point of attack, he is a heavy hitter when tackling and gets to the ball carrier quickly.
Selecting Street a year in advance has its advantages. Arizona would get a guy ready to anchor the defensive line when he is ready to return. Street could improve an already great run defense and help the Cardinals sack numbers improve.
Olsen Pierre and Rodney Gunter haven't impressed during their time in the NFL and Robert Nkemdiche needs to show he is capable of being a starter in the NFL or he is in trouble. Street could be just the person to enhance Nkemdiche's play.