 The Dallas Cowboys announced Friday that they have released veteran wide receiver Dez Bryant.
Bryant's release comes after the 29-year-old met with Cowboys owner Jerry Jones about possibly taking a pay cut.
Bryant was due $12.5 million in 2018 and has a $16.5 million cap hit each of the next two seasons. Bryant has been adamant all offseason that he had no intention of taking a pay cut. Per NFL Network Insider Ian Rapoport, Dallas never offered Bryant a pay cut.
The #Cowboys did not offer Dez Bryant a paycut. They simply released him. And no post-June 1 designation. … It is simply a clean start for Dallas and the organization.
— Ian Rapoport (@RapSheet) April 13, 2018
The former first round pick originally signed a five-year, $70 million contract after 2014 season, which featured Bryant's first-team All-Pro selection and an NFL-best 16 touchdowns. The wide out produced 41 total touchdowns from 2012-2014 while averaging 1,312 receiving yards.
Unfortunately, Bryant's production hasn't been the same the past three seasons. Bryant is averaging just 678 yards per season and had totaled just 17 touchdowns.
The Cowboys added receivers Allen Hurns and Deonte Thompson in the offseason and have contemplated drafting a wide receiver in the NFL Draft.
Bryant took to twitter after his release: 
let's start the process #unbothered #ThrowUpTheX
— Dez Bryant (@DezBryant) April 13, 2018  
Cowboy nation I need you to know this wasn't my decision.. I will always love y'all... forever Dallas in my heart
— Dez Bryant (@DezBryant) April 13, 2018
If I didn't have my edge I got it now... I'm sorry they got to feel me it's personal... it's very personal
— Dez Bryant (@DezBryant) April 13, 2018
Best fits for Bryant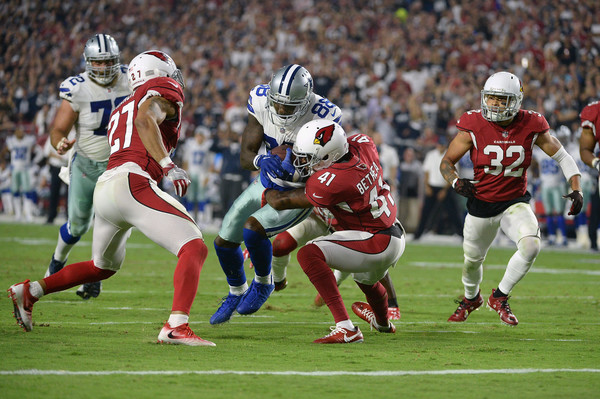 The Arizona Cardinals may be a long shot, but they are a franchise that Bryant should consider. Bryant will be 30 in November. One of the best wide receivers to ever play the game and has played well past his age, Larry Fitzgerald, is on the team. Fitzgerald would be a positive influence on Bryant and can help him transition into his 30's.
If Bryant wants to play the Cowboys twice a year, the Washington Redskins could be an option. Alex Smith makes any receiver he is throwing the ball to better. Pair Bryant, Smith and fellow receivers Paul Richardson, Jamison Crowder and Jordan Reed, Washington could have a potent offense.
The Houston Texans could also be an interesting option. With no first- or second-round pick in this year's draft, the Texans can add another impact player via free agency. The Texans could offer Bryant plenty of money, the opportunity to stay in Texas and an up-and-coming signal-caller to throw him the ball in Deshaun Watson. Not to mention they have one of the best receivers in the game in DeAndre Hopkins.
The Jacksonville Jaguars are another intriguing option. Their achilles heel is they do not have a true No.1 receiver. They Jags came within a game of the Super Bowl last season. The Jaguars have ample cap space ($18.6 million) to make a deal with Bryant work. Jacksonville can offer Bryant the chance to vie for a playoff spot and Super Bowl run.