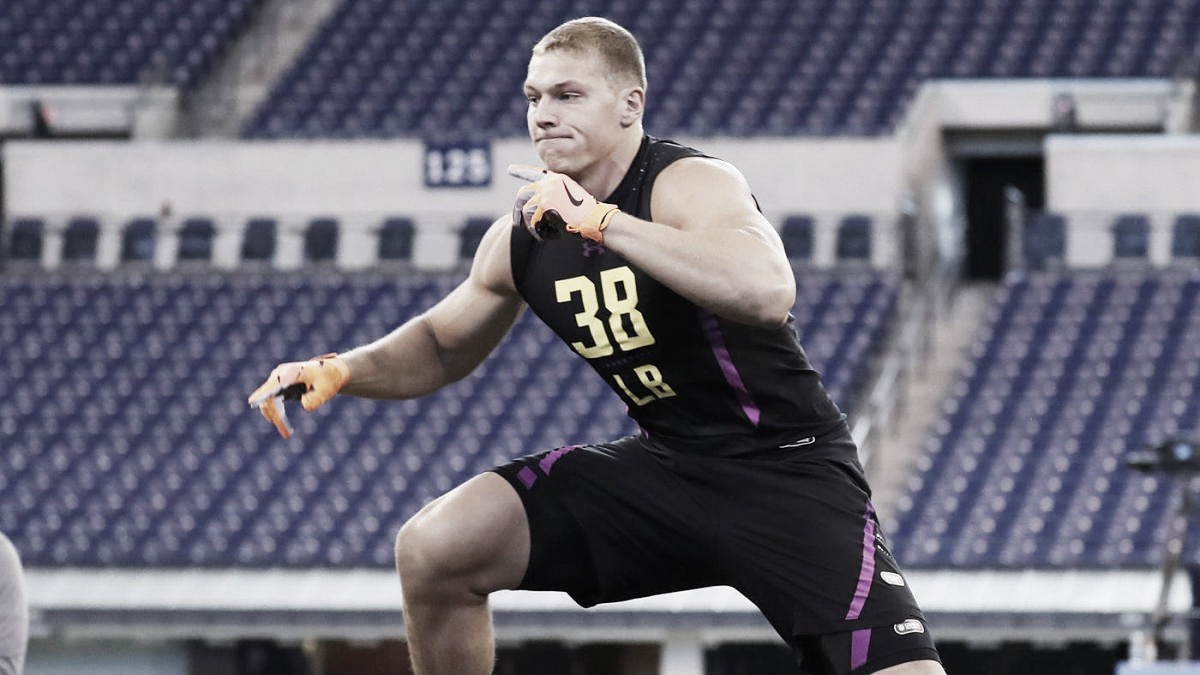 The Pittsburgh Steelers made it to the NFL Playoffs last year but were one-and-done after a shocking loss to the Jacksonville Jaguars. In order to get that elusive seventh Super Bowl title, Mike Tomlin and GM Kevin Colbert will be looking to shore up their defensive in the 2018 NFL Draft.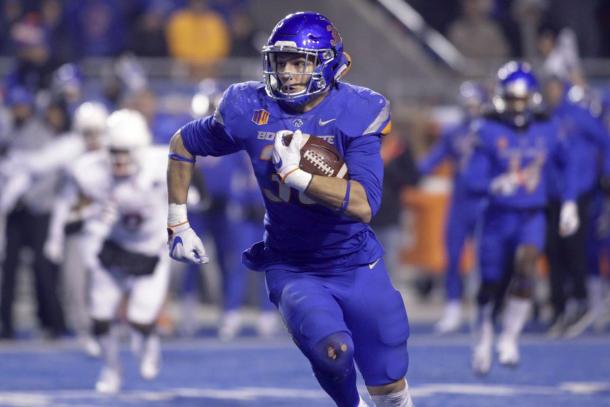 Ryan Shazier's unfortunate injury near the end of the regular season last year made the Steelers' defense weaker as they headed into the playoffs. With Shazier's return to play still increasingly unlikely for the foreseeable future, Leighton Vander Esch could be the best choice left on the board by the time the Steelers pick at No. 28 overall. The Boise State University linebacker was the 2017 Mountain West Defensive Player of the Year, finishing his final season in college with 141 tackles, four sacks and four forced fumbles. Vander Esch had a solid outing at the combine and has the potential to be a great pickup for the Steelers if he develops correctly in training camp.
Vander Esch is the type of inside linebacker who could play on every down and has the talent to be a destructive force on the field. T.J. Watt had similar potential last year and he has turned out to be a fantastic addition to the Steelers. Although Vander Esch isn't a pass rusher, the Steelers could mould him to fill in at 'mic' when required, behind Jon Bostick and/or Vince Williams. If Vander Esch isn't available, Alabama University's Rashaan Evans could be another player on defensive coach Keith Butler's radar.
Round 2: Jesse Bates - S - Wake Forrest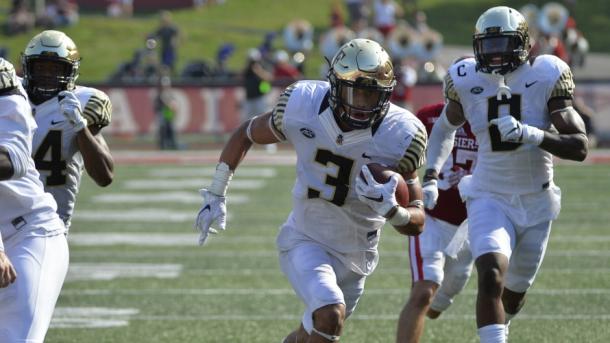 The Safety position is another hole that the Steelers have to fill. Pittsburgh haven't had an influential player in that role since Tory Polamalu retired from the game and they will be hoping that by selecting Jesse Bates from Wake Forest University, they may have found a safety to shut down a leaky secondary.
Bates has the athletic ability to play in both zone and man coverage. He also has the aggressiveness and tenacity to make as many tackles as possible in the open field. The question marks for Bates come from his inexperience, having only played two years in his collegiate career. Again, like Vander Esch, Bates would be a work in progress but if the Steelers can fix his route-reading issues and train him to a bigger frame during training camp, Bates has the potential to be a starter straight away in the National Football League. The other option that the Steelers may go to as the 60th overall pick is Justin Reid, safety from Stanford University. Reid has a lot of potential going into the draft and it will be interesting to see if his combine results may have swayed the Steelers away from Bates and to him instead.
Potential latter round selections
Derrius Guice - RB - LSU: If Le'Veon Bell and the Steelers cannot reach an agreement during the offseason, Guice would be a good pick up for Pittsburgh. Guice rushed for 1,251 yards and 11 touchdowns, as well as adding 18 total receptions for 124 yards and two touchdowns in 2017. Guice is quick and hard to tackle but his biggest asset is his ability to gain yardage after contact.
Lowell Lotulelei - DT - Utah: With only Javon Hargrave and Daniel McCullers currently listed as the Steelers defensive tackles, adding Lotulelei makes sense from a depth perspective. Lotulelei could also push his more experienced teammates and vie for a role on the team as well.
Troy Apke - S - Penn State: Another safety wouldn't hurt for the Steelers considering all the cuts they have made and the inability their secondary had at shutting down teams throughout the season. Apke may not start straight away but he could be a viable option with the right development later on in the season.
Cedric Wilson - WR - Boise State: Martavis Bryant struggled to reproduce his numbers from before his suspensions so the Steelers may look to Wilson to add that vertical-type receiver needed for the red zone. Wilson will need time to develop but the Steelers already have a strong wide receiver core so they will not see any need to rush Wilson before he's ready.