 Once the New York Jets' quarterback of the future as a 2016 second round pick, former Penn State quarterback Christian Hackenberg was traded Tuesday to the Oakland Raiders for conditional seventh round pick in 2019, per Rich Cimini of ESPN.
The trade comes as a little surprise for the Jets who had already clearly given up on Hackenberg -- earning no regular season snaps in two National Football League seasons with the team and drafting a proper franchise quarterback in Sam Darnold this spring. In Oakland, Hackenberg joins fellow 'Big Ten' passer, Connor Cook. Both will likely be chasing incumbent backup E.J. Manuel for second team reps in training camp.
Bust potential always followed Hackenberg
When he was drafted 51st overall in the 2016 NFL Draft, Hackenberg was sold as being the quarterback of the future in New York. For many draft pundits -- including VAVEL's own analysis -- the Hackenberg selection was billed as risky. NFL Network's Mike Mayock characterized Hackenberg's accuracy as being "wildly inconsistent," and Pro Football Focus didn't give him draftable grade.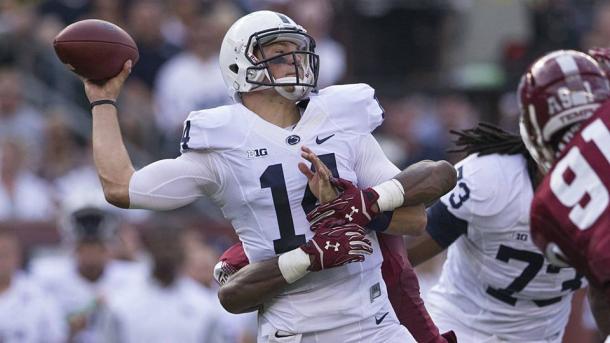 While the writing was on the wall for Hackenberg's eventual failure in New York, him being "over-drafted" speaks to the predictability and somewhat outdated evaluation process of NFL teams. Hackenberg never became a prolific player at Penn State; in three seasons as the Nittany Lions' starter, Hackenberg failed to complete over 60 percent of his passes, throw for over 3,000 yards, or surpass 20 touchdowns in a season. Instead, the Jets focused on an ethereal potential emitted by Hackenberg's prototypical aesthetic. Better than rehash old critiques, VAVEL's original 2016 prospect profile of Hackenberg says it plainly: "Standing at 6'4" and 223 lbs., Hackenberg is the virtual Michelangelo's David when it comes to carving up the prototypical professional quarterback."
In nearly every way, Hackenberg's story is retold year after year in the NFL draft and 2018 is no different. Josh Allen's statistical deficiencies (to his credit, his 2017 season was better than anything Hackenberg was able to muster) were washed over by his coach and executive swooning build and personality. Unlike Hackenberg, who's draft position gave the Jets plausible deniability, the Buffalo Bills put all their chips on the table trading up for Allen at 7th overall. Every pick particularly at quarterback, has an inherent degree of risk, but teams are downright gung-ho about assuming as much risk as possible while recent history yells otherwise.