 It's official. Jameis Winston will miss the first three games of the 2018 National Football League season.
After speculation had surfaced that the NFL were looking to dig further into an incident involving an Uber driver and Winston in 2016, the league has officially confirmed that the Tampa Bay Buccaneers man will be suspended at the start of the season.
Winston will not appeal the suspension
As per the report from NFL Newtork Insider Ian Rapoport, Winston will not appeal the suspension as it is part of a negotiated settlement between the NFL and Winston.
In an official statement released by the NFL, the league concluded that "Winston violated the personal conduct policy" during the incident with a female Uber driver in Scottsdale, Arizona and that "disciplinary action was necessary and appropriate." Part of Winston disciplinary punishment will include the Bucs quarterback gaining a clinical evaluation and fully cooperate in any recommended program of therapeutic intervention. If Winston fails to obtain that evaluation of not cooperate with treatment, he will face further disciplinary action, and potentially a ban from the NFL.
Winston responded to the NFl's decision by apologizing to the Uber driver in question and stating that he knows he has to "hold himself to a higher standard on and off the field". Winston also extended his apologies to his teammates, fans and the organization in Tampa Bay for "letting them down and for not being able to be out there for the first three games of the season." He concluded by saying he looked forward to "putting the incident behind him and continue to work hard to be a positive influence" in the community and for the Tampa Bay Buccaneers organization.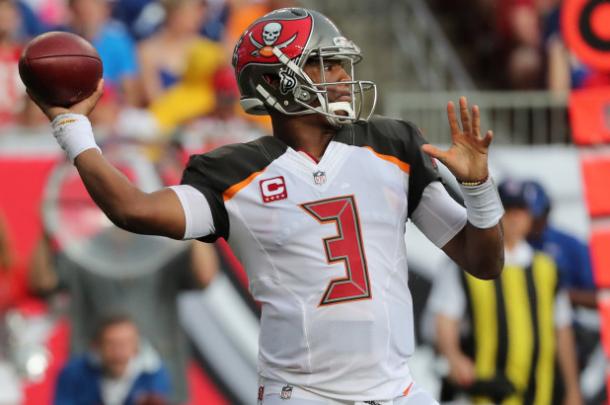 The Bucs agree with the NFL's decision and accept the decision made
Jameis Winston will miss the games against the New Orleans Saints, the Philadelphia Eagles and the Pittsburgh Steelers as the suspension formally begins on September 1 and ends on September 25. As it stands, Ryan Fitzpatrick and Ryan Griffin will look to get the starting job durign Winston's absence. Austin Allen is also on the Tampa Bay roster but the battle for the starting job should be between Fitzpatrick and Griffin.
The Tampa Bay organization also responded to the NFL's decision and stated that they were "disappointed that Jameis put himself in a position that has been found to violate the policy". The team accepts the decision made by the commissioner, Roger Goodell and have also stated that they expect all members of their organization to adhere the NFL's policy and conduct legislation.