In the battle of the backups, the Pittsburgh Steelers downed their state rivals, the Philadelphia Eagles, by 31 points to 14.
As it was the first pre-season game in the National Football League, not many starters from either side saw minutes and it allowed the likes of Dallas Goedert, Damoun Patterson and Sheldon Gibson to shine.
The Steelers edge the first half against the Eagles
The Eagles started off their game with their starting offensive lineman and the defending champions proved difficult to break down for a backup Steelers defense. After a few short drives for each team, Pittsburgh got the first big play of the game when Landry Jones threw a 71-yard touchdown pass to Juju Smith-Schuster. On the other side of the ball, defensive end Fletcher Cox was causing all kinds of havoc on the field as he pressured the Steelers offense, ending his limited minutes with a sack.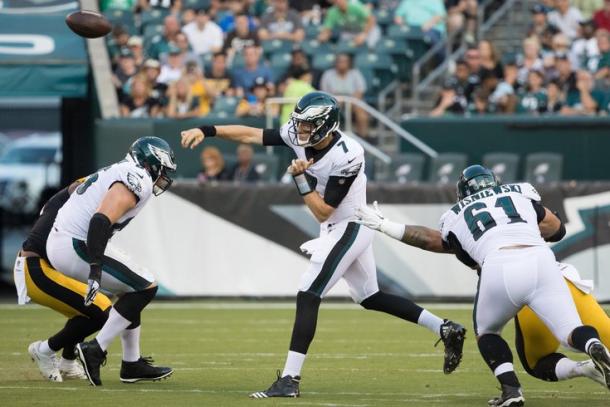 In the second quarter, the Eagles found their rhythm despite a turnover by backup quarterback Nate Sudfield. When Pittsburgh's other backup quarterback, Josh Dobbs, threw an interception of his own, Sudfield marched the Eagles down a short field before finding Dallas Goedert on a 15-yard touchdown pass. The Steelers recovered quickly from letting the Eagles score and answered back with a three yard touchdown run by Fitzgerald Toussaint after a strong offensive performance. Shelton Gibson picked up another touchdown for the Eagles with 63-yard reception but the Steelers had the last laugh when rookie wide receiver Damoun Patterson got his first NFL touchdown after a 29-yard pass from Dobbs. The Steelers went into the locker room at the half up 22 to 14 and seemingly happy with their offensive production.
Mental errors keep the Eagles behind the chains
Despite neither team managing a touchdown in the second half, a litany of errors limited any drive that the Eagles could muster against the Steelers. Offside calls and defensive holds during key moments in the game allowed the Steelers to score an extra nine points through field goals while the Eagles could not add to their first half total of 14.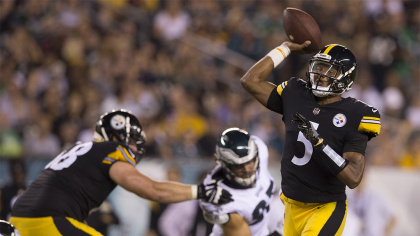 With rookie Mason Rudolph at the helm, the Steelers controlled the time of possession and used their running game when needed to aid the first year player when needed to keep the drives alive. Add that to the penalties picked up by the Eagles, Rudolph did not have to test himself too much against the backups on the defensive side of the ball for the Eagles. When called upon, Rudolph did make the necessary throws, in particular, connecting well with fellow Oklahoma State University teammate James Washington midway through the third quarter. For the Eagles, Joe Callahan showed some promising moments but ultimately, could not lead his team to get the victory tonight.