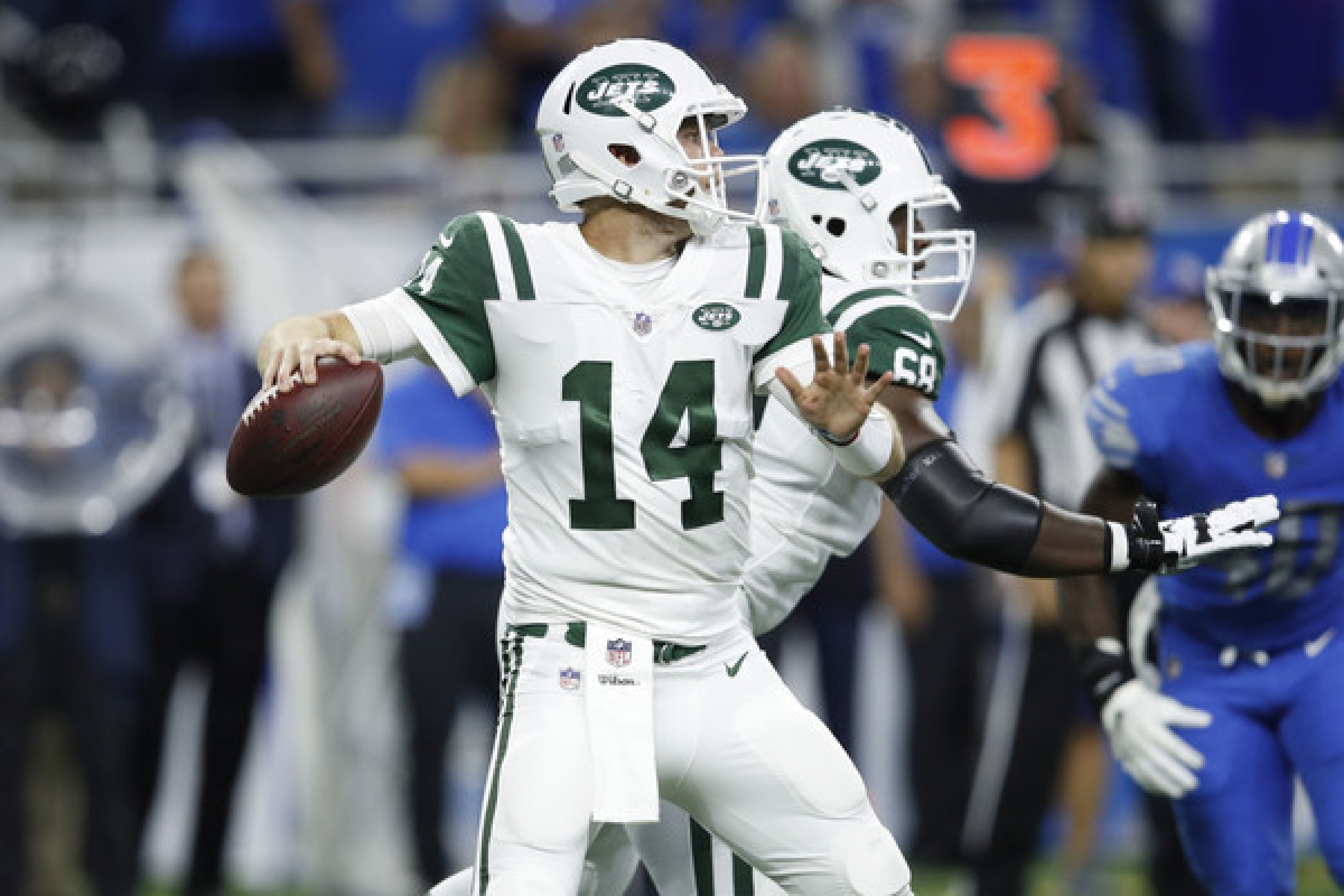 The Sam Darnold era got off to the best possible start as the New York Jets destroyed the Detroit Lions 48-17 in the season opener for both teams at Ford Field on Monday Night Football.
Darnold, the prized rookie quarterback selected third in this year's NFL Draft, had his first career pass intercepted and returned for a touchdown, but rebounded to complete 16 of his final 20 passes while throwing two touchdowns.
"I think we've all rallied around each other. Big Mac (defensive lineman Steve McClendon), he's been saying it from the start. We break every breakdown with 'Champions' because that's what we believe. I'm really excited about this team and what we've got for the future. But in this league, it's one game at a time."
The Jets defense forced Lions' quarterbacks Matthew Stafford and Matt Cassel into five interceptions while Andre Roberts provided several explosive punt returns. Running back Isaiah Crowell scored two touchdowns on his New York debut after being acquired from the Cleveland Browns in the offseason.
Former USC quarterback starts off game in disastrous fashion
The game got off to the worst possible start for Darnold as on the very first play as on first and ten on his own 25, the 21-year old signal caller faked the handoff to running back Bilal Powell and then rolled out to his right.
As he was being chased by a defender, he looked all the way back to his left, where Powell had leaked out down the sideline and made an ill-advised pass which Detroit safety Quandre Diggs picked off and returned 37 yards to give the Lions a 7-0 lead 20 seconds into the game.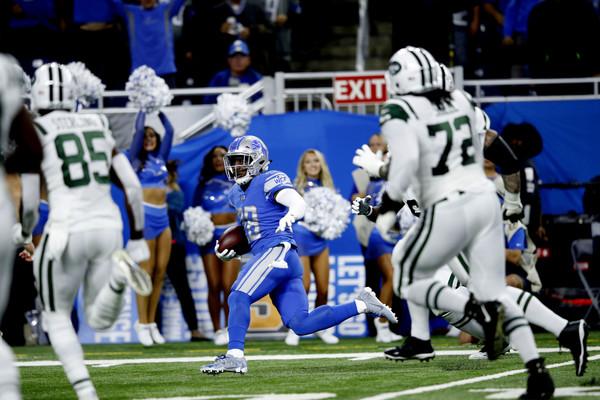 "Can't get much worse," was what Darnold would tell himself. "Right when I released it, I saw the defender. I just thought, 'Oh shoot.'" Coach Todd Bowles told him "Don't blink, the game just started," while backup Josh McCown said "It was kind of like, 'All right, now he's going to have a good game'".
Little did anyone know at the time that would be the highlight of Detroit's evening as Darnold joined Brett Favre and Jameis Winston as the only quarterbacks to ever have their first career pass intercepted and returned for a touchdown.
Jets rebound to take halftime lead
The Jets would rebound late in the first quarter. Roberts fielded a Sam Martin punt at his own 25-yard line and took it back 43 yards to the Detroit 32, setting New York up in excellent field position.
Five plays later on first and goal from the Lions' six, Crowell took a handoff from Darnold, sprinted right and reached the ball over the goal line before he was brought down to score on his debut as the game was tied at 7-7.
Fifteen seconds after Crowell's score, Morris Claiborne picked off Stafford at the Lions' 49. In great field position for the second straight drive, Darnold converted a third-and-2 with a designed run off right end, but the drive stalled after he was sacked by Devon Kennard.
Former Jacksonville Jaguars kicker Andy Myers gave New York a 10-7 with a 35-yard field goal three seconds into the second quarter. The Lions were held to minus three yards of offense in the first quarter, but Stafford had them on the move on their next drive.
On first-and-10 from the Jets' 28, the Detroit quarterback was picked off for the second time by free agent acquisition Trumaine Johnson, but in a rare slice of good fortune for the Lions, he fumbled, recovered by Kenny Golloday. The drive stalled and kicker Matt Prater missed a 55-yard field goal try that would have tied the game.
"That's called studying. That's called studying," Johnson said."You know, we had an extra day with Monday night. You know, this game was big on the road to get and I'm happy how this team responded."
After the teams exchanged punts, Darnold converted his third third down of the game, giving the Lions' defense a subtle shoulder fake before finding wide receiver Robby Anderson deep down the left sideline for a 42-yard touchdown to extend the lead to 17-7 with 1:51 left in the first half.
The rookie, who finished 16-21 for 198 yards and the two scores, said following the game"we have a really, really good team. So I knew that if I just did my job, took what the defense gave me, that I was going to be able to go out there and look back and have a successful game."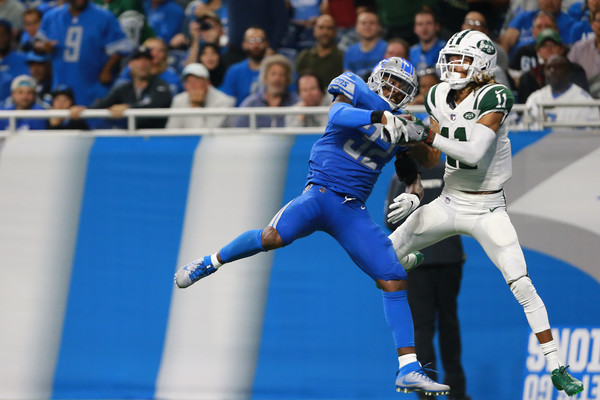 Again the Lions' offense was on the move and this time, they made it pay off with points, going 10 plays spanning 72 yards in just 1:40, culminating in a 21-yard field goal by Prater that reduced the Jets' lead to 17-10, which would be the halftime score.
Jets explode in third quarter to blow game open
Detroit wasted no time tying the game, taking the opening drive of the second half 75 yards in just four plays and 1:50, Stafford tossing a 24-yard TD pass to Golden Tate to tie the score at 17-17. What followed defined the game and the night for both teams.
The Jets retook the lead on their ensuing drive, going six plays in 3:34, covering 75 yards, the last 21 covered by Darnold's second touchdown strike of the night, this one to Quincy Enunwa, giving New York a 24-17 advantage.
Stafford's third interception of the night proved to be costly as on third and one from his own 34-yard line, his pass intended for rookie running back Kerryon Johnson was picked off by linebacker Darron Lee and returned 36 yards to the end zone to widen the Jets' lead to 31-17.
"We were calling out their plays as (Stafford) was getting up to the line," he said. "We knew his signals. We knew everything. … It just seemed like we were in his head as a defense."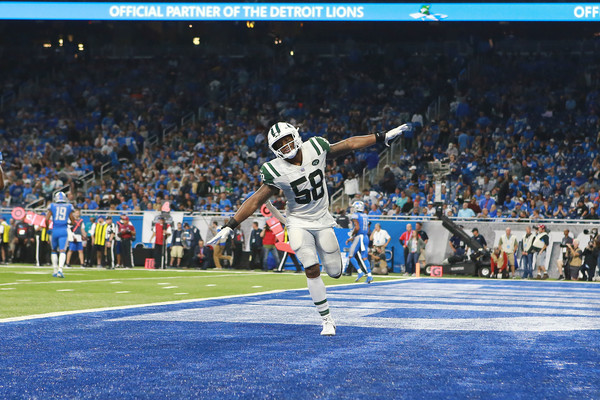 As if things couldn't get worse for Detroit, Stafford was injured on the second play of the next drive, forcing Cassel into the game. After a three-and-out, Martin's punt was returned 78 yards by Roberts for a touchdown and all of a sudden a game that had been tied just over six minutes earlier was now 38-17 in favor of the Jets.
Stafford returned to the game following the injury scare to his knee, but things got no better as Lee recorded his second interception of the night, resulting in a 32-yard field goal by Myers to push the lead to 41-17.
"The story of the game is turnovers, you know?" he said after the game."We had too many of 'em. I had too many of 'em. Can't do that to our team. I told those guys in there, 'I'll take this one.' Hope I never have to say that again.
"That's my fault. Can't happen. Can't have those huge-momentum negative plays for us. Probably trying to do a little bit too much at certain times. Gotta be smarter with the ball."
After a seven play drive that led the Lions to the New York 26, Prater missed his second field goal of the night, this one from 44 yards out and two plays later the misery was just about completed when Crowell again burst down the right for a 62-yard score, his second of the night to complete the scoring.
"Really, my O-line, they did a wonderful job. They just opened up the hole and I just ran through it. Basically, I'm really speechless about it because it was just wide open. I couldn't believe it."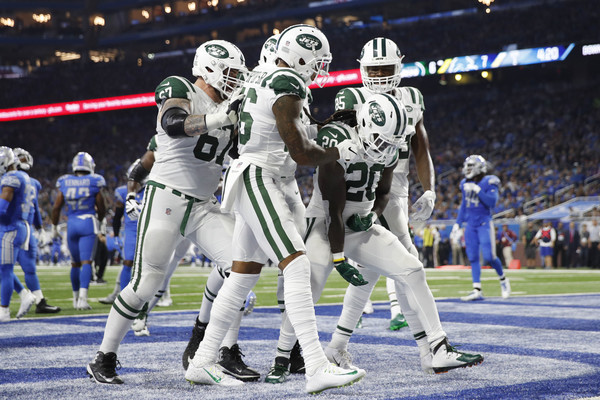 Notes
Jets safety Jamal Adams recorded his first career interception, picking off Cassel to register the fifth takeaway of the game for New York.
Crowell finished with 102 yards on 10 carries in his team debut while Roberts had 182 return yards on five opportunities.
The Lions troubles running the ball continued as they finished with 39 yards on the ground on 16 attempts, 20 of those yards by Theo Riddick.
Stafford has now thrown four interceptions in a game five times, the most for any quarterback since her entered the league in 2009.
The Jets will next face the Miami Dolphins in their home opener Sunday at 1pm while the Lions travel to face the San Francisco 49ers in a 4:05 kickoff on Sunday.