What a season is has been for the Arizona Cardinals. Following the 23-21 loss to the Oakland Raiders, the Cardinals have fallen to 2-8 on the season.
With the frustration of the team reaching its peak, the body language of Patrick Peterson said it all during moments of the game. Larry Fitzgerald did not even shake hands after the loss, with people saying he went straight to the locker room while rookie quarterback Josh Rosen spoke about the frustrating loss to the media.
If anything, the loss has put management on notice with the seats of general manager Steve Keim and head coach Steve Wilks getting hotter and hotter. Michael Bidwill and company will have plenty of decisions to make about the roster and team management when the calendar turns to January of 2019.
If Keim is given one more offseason to turn the ship around, recruiting John Defilippo from the Minnesota Vikings should be his number one priority to start the offseason. After that, finding upgrades at the tight end, offensive line, and defensive back positions should be the next priority.
With the 2019 NFL Draft looming, this will be the second consecutive draft that holds importance for the Arizona Cardinals. They must add talent that could contribute to the Cardinals sooner rather than later. Guys like Robert Nkemdiche, Chad Williams, Brandon Williams and J.J. Nelson have not contributed like the Cardinals have hoped for. Is there any magic left in Steve Keim and company? Will his team draft franchise game changers like Josh Rosen, Christian Kirk, Mason Cole, Budda Baker and David Johnson?
With that being said, here are some draft prospects that could help the Cardinals for the upcoming 2019-2020 NFL season.
First round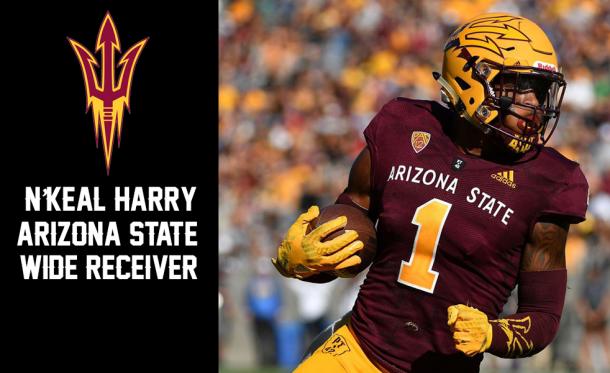 This pick depends on which selection the Cardinals have and who is taken before them. If top rated offensive lineman Jonah Williams is off the board as well as talented pass rusher Ed Oliver, the Cardinals could address the wide receiver position.
N'Keal Harry would give the Cardinals one of the best tandems that they have had in a long time. Harry could be the Anquan Boldin while Christian Kirk could develop into the play maker that Larry Fitzgerald was for so many years. Giving Rosen another reliable target on the outside would go a long way in his development.
So far this season, Harry has 1,033 yards and nine touchdowns on 69 receptions. These numbers are identical to his sophomore season, totaling 1,142 yards and eight touchdowns on 82 receptions. He has been the go-to target for the Sun Devils' and has really turned himself into a number one wide receiver. He had a highlight catch this season against USC that reminded everyone of Odell Beckham Jr.:
In a group that features J.J. Nelson, Chad Williams, and Trent Sherfield, it is important for the Cardinals to find a reliable target. Many fans would welcome another local product to the fold.
Second round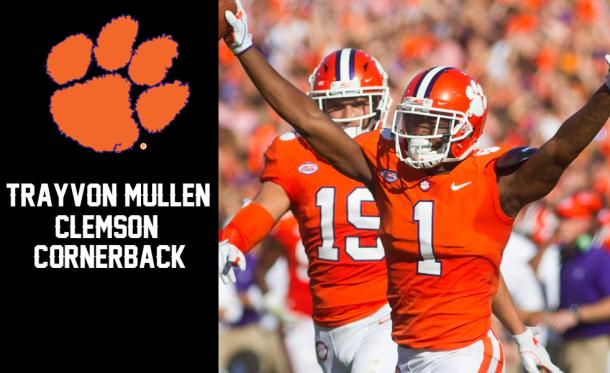 It was just a month ago that Patrick Peterson reportedly asked for a trade request. If the Cardinals find themselves a new head coach and surround him with talent, that may convince him to stay.
Even if the Cardinals trade Peterson, they will have to find another franchise corner. Trayvon Mullen may be the corner that falls into their lap in the second round. Through nine games this season, Mullen has 20 total tackles with three pass defended. Last season, Mullen had 40 tackles with three interceptions and three passes defended.
Listed at 6-foot-one, 186 pounds, he has identical size to Patrick Peterson. His arms measure 31.25 inches, he has 8.88 inch hands, and a wingspan of 75.88 inches, very identical to Peterson's build. If given time, he could turn into the corner that Peterson is today.
Mullen has a lot of upside and possesses a lot of athletic ability. Mullen could cover the slot while learning the NFL. Eventually, he could challenge Bene' Benwikere or whomever else is on the outside for the No. 2 corner spot.
Third round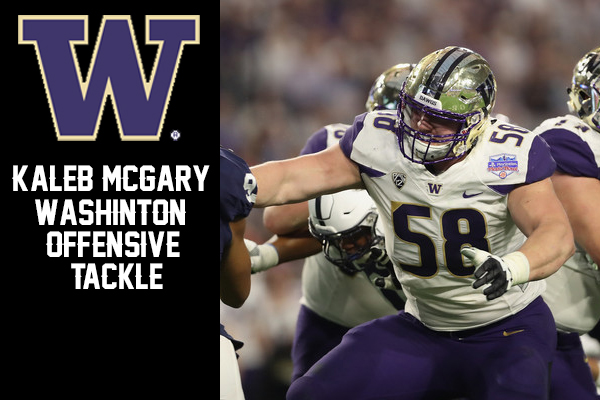 When Steve Keim first arrived to the valley of the sun, one of the biggest things to address was the offensive line. Signing Jared Veldheer in 2014 and Mike Iupati in 2015 was a big step to doing just that. When they drafted D.J. Humphries, the thought was he would be the right guard of the future with people filing in the gap at the right guard position. In 2015, the Cardinals offensive line protected Carson Palmer enough to develop the "no risk it, no biscuit" strategy. The Cardinals went 13-3 that year and lost in the NFC Championship game.
Sadly, the offensive line has become a weakness for the Cardinals. Veldheer is no longer with the team and both Iupati and Humphries have missed time with injuries. Justin Pugh is on the injured reserve and Andre Smith has been average at best. 2018 Draft pick Mason Cole has been the highlight for the Cardinals, taking the starting center position from injured center A.Q. Shipley. It will be up to Keim to build around Cole to protect future franchise quarterback Josh Rosen. Washington guard Kaleb McGary would be the start of doing just that.
McGary stands at 6-foot-6, and weighs in at 325-pounds. He is said to run the 40 at 5.20 seconds. He measures with 33.13-inch arms, 10.38-inch hands, and an 80.38-inch wing span. He would remind fans of Jared Veldheer, being just two inches shorter.
Listed as the starter at right tackle for the Huskies, McGray could come in and challenge Smith for the starting job. McGray has been great on run plays for the Huskies, which would translate well in blocking for David Johnson. In pass protection he was pretty solid, keeping Jake Browning upright. He is great in screen protection which helps Johnson, Kirk, Fitzgerald and in this scenario newly drafted receiver Harry.
No. 16 Washington could be bowl bound, which gives the Cardinals another opportunity to gain game film on McGary.
Fourth round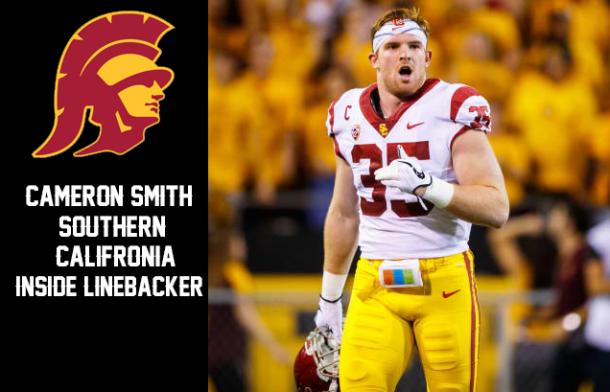 As it currently stands Josh Bynes and Zeke Turner are the depth at middle linebacker for the Cardinals. Deone Bucannon is their weak side linebacker but has played the middle for Arizona in the past. Although Bynes has been good the Cardinals this year, they could use more athleticism at the linebacker position. Cameron Smith could be that guy to bring that athleticism.
Fansided's Jon Dove had this to say about Smith:
"This is an explosive athlete who can cover a lot of ground. He has quick-twitch ability which allows him to close on the ball carrier. It also comes in to play when Smith is asked to rush the quarterback. He's highly effective as a blitzer thanks to this burst and his snap awareness."
Smith checks in at 6-foot-2, 253 pounds with 33.25-inches, 10-inch hands and a wingspan of 77.38 inches. Even though he is listed as 6'2" plays like he is a smaller linebacker. He is quick to the ball on run downs and has become better in pass-coverage.
In 2017, Smith totaled 112 tackles with 11 tackles for a loss, three passes broken up and one interception. In 2016, Smith totaled 83 tackles with seven for a loss, one sack, four passes broken up and one forced fumble. He started as a freshman in 2015 while totaling 78 tackles, three interceptions and three passes broken up.
Bynes isn't scheduled to hit free agency until the conclusion of the 2020 season. There is no doubt he will be productive in his early 30's but that shouldn't stop the Cardinals from selecting a guy that could be their insurance policy.
Fifth round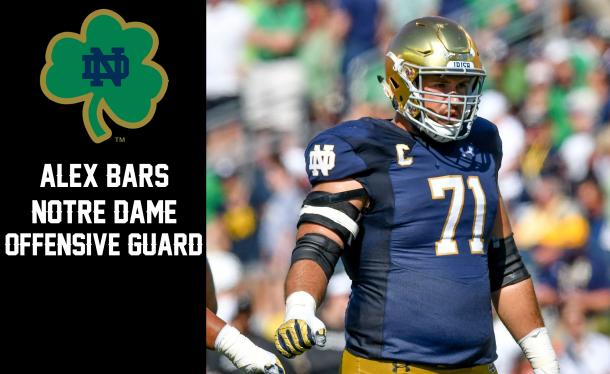 Notre Dame standout offensive lineman Alex Bars' season was ended early after sustaining a knee injury in the Fighting Irish's victory against Stanford. Bars is a fifth-year senior who started 27 games during the past three seasons, mostly at guard with a few at tackle. An ankle injury cost him the second half of the 2015 season.
The injury could cause Bars to slide as teams may fear the injury. In the fifth round, the Cardinals take a chance on a guy that can give them depth at either the guard or tackle position.
Listed at 6'6" and weighing in at 315 pounds, Bars has the same build as Pittsburgh Steelers guard David DeCastro. Bars started all 13 games at right guard a season ago, surrendering one sack, one QB hit and nine QB hurries in 830 offensive snaps. He helped pave the way for the seventh-ranked rushing offense in the FBS, something ND had not done in 23 years.
With Justin Pugh and Mike Iupati not able to stay healthy, Bars could step in and be a force in the Cardinals running game. The potential lineup of Kaleb McGary, Alex Bars and Mason Cole on the left side should excite not only Cardinal fans but David Johnson and Chase Edmonds as well. The Cardinals run game could get back to the level it once saw not to long ago.
Sixth round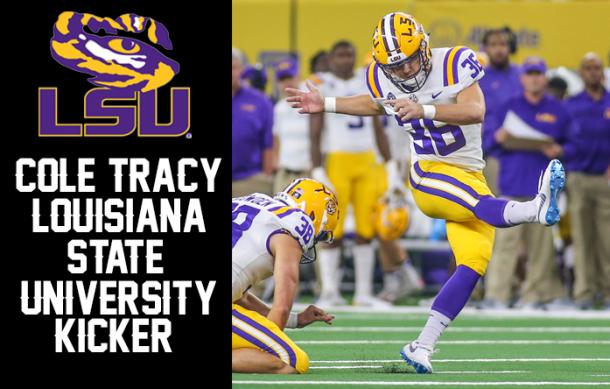 The Arizona Cardinals need to get younger at kicker. Phil Dawson has been better this season, but the 43-year-old veteran is not getting any younger. The soon-to-be free agent had a terrible first season with the Cardinals and it seems to be the right time to go get his replacement.
Cole Tracy should be their target. The LSU kicker has been excellent this season. Tracy is 22-25 this season and has nailed all 33 of his extra point attempts. He has hit all five of his attempts from 40-49 yards out and has hit two field goals of 50-yards or more; Tracy's longest field goal this season was at 54-yards.
Tracy was named the winner of the 2017 Fred Mitchell Award which is given annually to the top placekicker in FCS, Division II, Division III and NJCAA for excellence on the field and in the community. He led NCAA Division II in field goals (27) and field goal percentage (.931) in 2017. Tracy connected on 27-of-29 field goals and made all 67 of extra-point attempts to finish with a school record 148 points in 2017.
Tracy would give the Cardinals an edge on special teams, giving the Cardinals the best kicker they have had since Neil Rackers/Jay Feely.
Seventh Round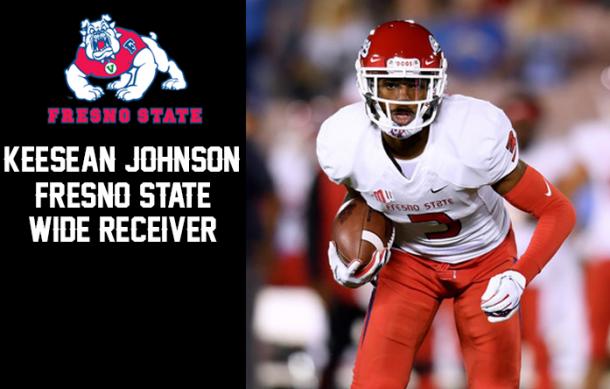 The Cardinals use their seventh and final pick in the draft to add another receiver, KeeSean Johnson out of Fresno State.
The 6'2" receiver caught 77 passes for 1,013 yards and eight touchdowns his junior year. Johnson started all 14 games in 2017 and was named an All-Mountain West second-team selection.
Johnson caught at least one pass in all 14 games in 2017, extending a streak to a program record 36 consecutive games dating back to 2015 with at least one catch, breaking Henry Ellard's record of 34 set from 1979-82. Remind you of anyone you know? Larry Fitzgerald. cough. cough.
As a sophomore, Johnson led the team in receptions (66), receiving yards (773) and receiving touchdowns (6) and ranked third in the league and 45th in the nation in receptions per game with 5.50 per game.
In 2018, Johnson has accumulated 1,094 yards on 80 catches for seven touchdowns. On special teams, he has returned 15 punts for 64 yards. On kick return, he has returned 11 kicks for 227 yards.
The Cardinals are looking for someone that could improve the Cardinals passing game. Harry, Kirk, and Fitzgerald would be the Cardinals top-3 receivers, with Johnson battling it out with Nelson, Williams, Sherfield and any underfed free agents the Cardinals elect to bring in. The Cardinals will like his special team experience, which could help him earn a roster spot. Learning under the Larry Fitzgerald tree would also be a bonus.