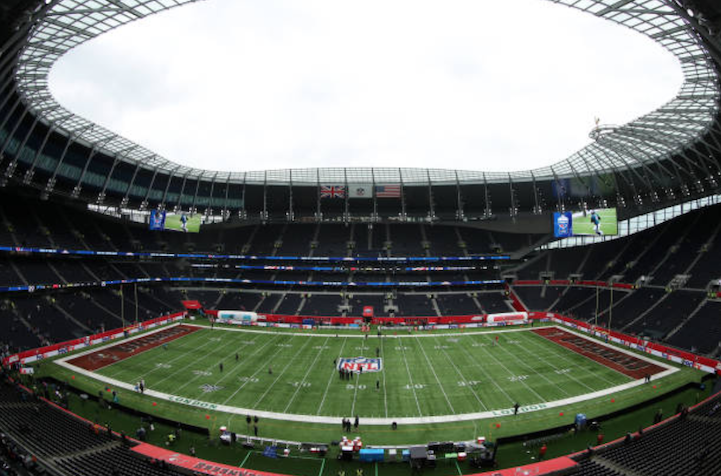 The NFL returns to the Tottenham Hotspur Stadium for the second consecutive Sunday with the Carolina Panthers and Tampa Bay Buccaneers facing off in an NFC South showdown. 
It's going to be another spectacle in London after the game between the Oakland Raiders and Chicago Bears last weekend. 
Panthers running-back Christian McCaffery has been in electric form so far this season, with his side sitting 3-2 on the season and second in the division. 
Jameis Winston and the Bucs are currently 2-3, but their offense has been firing in their last three games – with them scoring 55 points against the Los Angeles Rams back in Week 4.
McCaffrey Leading The Way In The NFL 
Having started the season with two defeats, the Panthers have roared back with three impressive victories and go into the game against their divisional rivals high in confidence. 
British defensive end Efe Obada returns home and his journey to the NFL is like a Hollywood story, having only played five amateur games in England. 
The Panthers are without the injured Cam Newton at quarterback, but are now led by rookie Kyle Allen, who has stepped up to the mark and put in some excellent performances. He could make franchise history by becoming the first QB to win his first five starts. 
Allen has 674 passing yards so far this season, with five touchdown passes and a quarterback rating of 107.4 and the young QB looks at home and has made a claim for the job. 
Last Sunday, danger man McCaffrey recorded 237-yards from scrimmage and three touchdowns in the 34-27 victory over the Jacksonville Jaguars.
Evans and Godwin Pose Dual Threat For Buccaneers 
Bruce Arians was announced as the head coach of Tampa Bay, who were looking to bounce back after the disappointing 5-11 finish in the 2018 season. 
Back in Week 2, the Bucs got the better of the Panthers, beating their divisional rivals 20-14 at the Bank of America Stadium.
The Buccaneers offense has been one of the brightest in the league in the last few weeks, putting up a total of 107 points. Receivers Mike Evans and Chris Godwin are a dual threat for the Bucs and Winston has utilised his weapons well. 
Between the two receivers, they have 51 receptions between them, 879 receiving yards and 10 touchdowns, which makes them one of the biggest threats in all of football.
Last weekend against the New York Giants, Tampa Bay were leading 28-10 at the half, but ended up being on the other end of a remarkable comeback as they ended up losing 32-31. 
The Bucs have been to London to play once before, while the Panthers are playing their first game this weekend. Just under 10 years ago, Tampa Bay lost 35-7 against Tom Brady and the New England Patriots at Wembley Stadium.