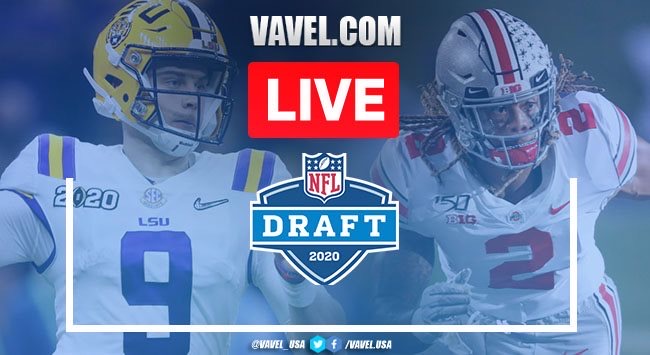 Ravens getting 'most energetic player in the Draft'
Charles Woodson offers advice to Henry Ruggs
Surprise of the night? Love to the Packers
Bengals get their franchise quarterback
Chiefs draft LSU running back
Hall of Famer approves of Minnesota's new receiver
No reporters? No problem for the Chargers
It was always written, says Niners receiver Aiyuk
When the Cowboys called, Lamb answered!
NFL Draft: First Round Complete
NO 32: KANSAS CITY CHIEFS SELECT CLYDE EDWARDS-HELAIRE
Vikings pick up defensive back
NO 31: MINNESOTA VIKINGS SELECT JEFF GLADNEY
Miami picks up a lockdown corner
NO 30: MIAMI DOLPHINS SELECT NOAH IGBINOGHENE
Isaiah Wilson heading to Tennessee
NO 29: TENNESSEE TITANS SELECT ISAIAH WILSON
Ravens add another leader to their defense
NO 28: BALTIMORE RAVENS SELECT PATRICK QUEEN
Justin Herbert has message for Chargers fans
Seahawks draft playmaker for defense
NO 27: SEATTLE SEAHAWKS SELECT JORDYN BROOKS
Enough talk, time to get to work - Joe Burrow
Packers trade up for quarterback Love
NO 26: GREEN BAY PACKERS SELECT JORDAN LOVE
TRADE ALERT: GREEN BAY PACKERS MOVING UP
Niners trade up for wide receiver Aiyuk
NO 25: SAN FRANCISCO 49ERS SELECT BRANDON AIYUK
TRADE ALERT: SAN FRANCISCO 49ERS MOVING UP
Brees getting help up front in New Orleans
NO 24: NEW ORLEANS SAINTS SELECT CESAR RUIZ
Chargers stacking up their defense
NO 23: LOS ANGELES CHARGERS SELECT KENNETH MURRAY
Vikings found their replacement for Diggs?
NO 22: MINNESOTA VIKINGS SELECT JUSTIN JEFFERSON
TRADE ALERT: LOS ANGELES CHARGERS MOVING UP
Eagles draft a much-needed receiver
NO 21: PHILADELPHIA EAGLES SELECT JALEN REAGOR
Jaguars add top defensive prospect to roster
NO 20: JACKSONVILLE JAGUARS SELECT K'LAVON CHAISSON
Raiders opt for defensive class with second pick
NO 19: LAS VEGAS RAIDERS SELECT DAMON ARNETTE
Dolphins draft some protection for Tua
NO 18: MIAMI DOLPHINS SELECT AUSTIN JACKSON
Lamb will be a serious threat in Dallas
NO 17: DALLAS COWBOYS SELECT CEEDEE LAMB
AJ Terrell really can do it all
NO 16: ATLANTA FALCONS SELECT AJ TERRELL
Broncos add serious firepower to their offense
NO 15: DENVER BRONCOS SELECT JERRY JEUDY
Stroke of a genius from 49ers GM John Lynch?
NO 14: SAN FRANCISCO 49ERS SELECT JAVON KINLAW
Bucs trade up to get offensive lineman Wirfs
NO 13: TAMPA BAY BUCCANEERS SELECT TRISTAN WIRFS
TAMPA BAY BUCCANEERS TRADING UP
Ruggs will be a serious weapon for the Raiders
NO 12: LAS VEGAS RAIDERS SELECT HENRY RUGGS III
Becton will provide serious protection for Darnold
NO 11: NEW YORK JETS SELECT MEKHI BEKTON
From Alabama to the Browns
NO 10: CLEVELAND BROWNS SELECT JEDRICK WILLS JR.
Henderson's statistics in single coverage
NO 9: JACKSONVILLE JAGUARS SELECT CJ HENDERSON
Simmons heading out to the desert
NO 8: ARIZONA CARDINALS SELECT ISAIAH SIMMONS
Brown is an explosive player, heading to Carolina
NO 7: CAROLINA PANTHERS SELECT DERRICK BROWN
Los Angeles Chargers get their guy
NO 6: LOS ANGELES CHARGERS SELECT JUSTIN HERBERT
What makes Tua so special?
Dolphins get their franchise quarterback
NO 5: MIAMI DOLPHINS SELECT TUA TAGOVAILOA
Giants strengthen offensive line with Thomas
NO 4: NEW YORK GIANTS SELECT ANDREW THOMAS
Lions ignore trade offers to draft Okudah
NO 3: DETROIT LIONS SELECT JEFF OKUDAH
Chase Young going home to Washington
NO 2: WASHINGTON REDSKINS SELECT CHASE YOUNG
Joe Burrow is going back to Ohio!
NO 1: CINCINNATI BENGALS SELECT JOE BURROW
The Cincinnati Bengals are on the clock!!
IT'S TIME!!! NFL Draft 2020
Technology, even the great ones struggle
An opportunity is all you can ask for - Murray
Redskins keeping second overall pick
NFL Draft-A-Thon
Saban sends warning to Dolphins
ONE HOUR TO GO
Bengals will not trade away No. 1 pick
Teams contact 49ers for possible trade
Dolphins discussing trade with Lions
Eagles' GM and Head Coach ready for Draft
Throwback: Ravens trade up to take Lamar Jackson
The Denver Broncos Home Draft Room
Roger Goodell's basement studio
Redskins set-up for NFL Draft
Jaguars and Lions in communication
Miami planning to trade up for Joe Burrow?
Dolphins hold the most Draft picks in 2020
News: Patriots signing wide receiver
Joe Burrow ready for his moment
Throwback: 15 years ago today
Raiders interested in Jaguars' Yannick Ngakoue
The Cincinnati Bengals are on the clock
Other News: Gronk to the Buccaneers
Tua Tagovailoa or Justin Herbert?
2019 NFL Draft Flashback
Redskins to draft top defensive prospect?
Cincinnati Bengals to select Joe Burrow?
An elite class for wide recievers
NFL Draft order for the first round
Where will the NFL Draft take place?
NFL Draft 2020
Start time: 7:00pm ET