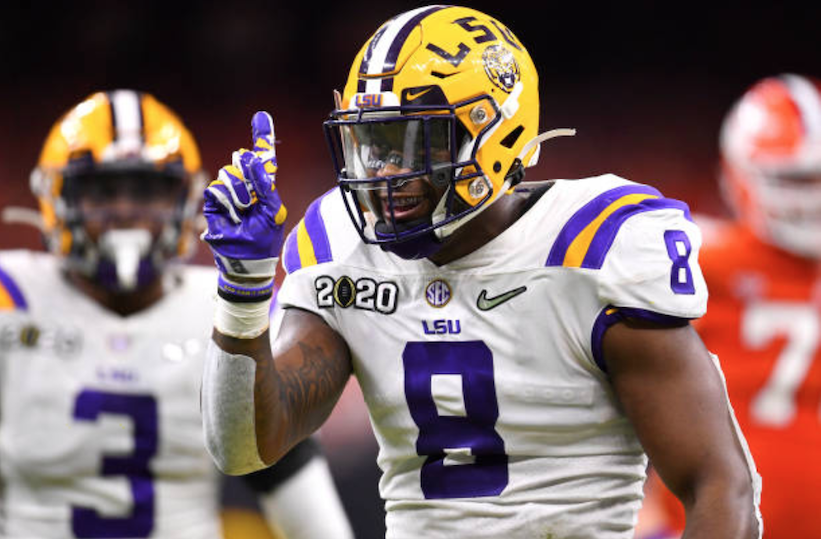 The Baltimore Ravens come away from the first round of the 2020 NFL Draft with exactly what they wanted and also needed, inside linebacker Patrick Queen.
There have already been comparisons between Queen and one of the greatest linebackers to ever play in the NFL, Ray Lewis, who was also selected late in the first round, back in 1996.
Queen was the second-leading tackler for LSU last season, during his first full season as a starter. The 20-year-old fell to the Ravens with the No. 28 pick and is a starting-calibre inside linebacker.
Ravens are excited after drafting Queen in first round
Baltimore headed into the draft knowing the linebacker position was one they needed to address. When it became clear that the Seattle Seahawks opted to draft Jordyn Brooks, the Ravens jumped at the chance to pick Queen.
Queen was part of the LSU team that went all the way last season, winning the National Championship. The Louisiana-native was named the Defensive MVP in the game after recording eight tackles and half a sack.
Head coach John Harbaugh spoke about his first-round draft pick, saying he and the rest of the coaching team are "all excited" because Queen is "our kind of guy".
"We're all happy. It's a team game," Harbaugh said during a live stream. "Wink (Martindale) and all the defensive coaches are real excited. We're all excited. It's amazing how much work goes into making a pick.
"Off the board, you get one pick, you can look at that a thousand different ways. There's a lot of good players and I'm thrilled we got Patrick Queen. If it had been another guy that we liked, we would've been thrilled about that too, just to keep that into perspective."
"A lot of work goes into making these picks and because of that, we can be very excited about the player that we got because he fits us really well and he's our kind of guy. I'm excited, I know Wink is too, I think we all are."
Ravens have a 'very determined' player in Queen
The Ravens had one of the top-ranked defenses in the NFL last season, a defense that was ranked third in the league on points-per-game allowed (17.6) and also ranked in the top six against the passing and running game.
Both Josh Bynes and Patrick Onwuasor have been traded away this offseason, which left the Ravens with a need at the inside linebacker position. In team history, Baltimore had only drafted a player of that position twice in the first round before Queen in the 2020 NFL Draft – Lewis and C.J. Mosley.
Speaking about what type of player the Ravens are getting, Harbaugh added: "Excellent character. I think we're getting kind of an underdog too. We're getting a guy that has been hearing why he can't do this or that for many years. He really is a very determined guy and very determined to make his mark and make a name for himself.
"He ended up being irreplaceable on that (LSU) defense, he was the player of the game in the (National) Championship game. I just feel like we're getting an underdog, we're getting a guy that's humble. He's not a diva in any sense of the word. He's blue-collar guy that has a tonne of talent.
"I really think that, at 20-years-old, his best football's way in front of him, but he's a high-character guy."
The Ravens famously traded up in the 2018 draft to select quarterback Lamar Jackson, who went on to become the starter for the team in his rookie year before going on to break records last season, guiding the team to their second-straight divisional title.
Another positional need for the team is at wide receiver. Harbaugh was asked whether it would be likely the team would trade up this year, but he admitted that it's "not a probablity".
"Trading up? Yeah, there's always a possibility," the Ravens head coach said. "I wouldn't say that we're a trade up operation and I don't know that this is a trade up draft. I think it's more of a trade down draft, unless you've got one thing that you really want to go and get. One guy sitting there.
"Whether that guy is there, I would probably be divulging information if I said that. I would say that it's a possibility, but certainly not a probability."
Harbaugh admits he isn't 'savvy' with technology
This year's draft is unlike anything we've ever saw before. Originally set to take place in Las Vegas, the draft is fully virtual and team personnel are all working remotely.
Relying on technology has its flaws, as Harbaugh has found out, and the head coach admitted that there has been "a glitch or two". Baltimore's head coach was asked about the difficulties of working remotely and spoke about ringing the wrong number when trying to contact their first-round draft pick.
"The hardest part has been the technology of it. Just getting the numbers and the calls in, getting to the different web meetings. I'm not that savvy. I don't really care that much about that stuff, as much as I should.
"I had a glitch or two trying to get my mic on or off or get over to the other meeting. Eric made fun of me one time. It wasn't completely my fault. I was given the wrong number for our first pick, so I called him three times and kept getting the voicemail.
"Fortunately, I was smart enough not to leave a voicemail, so someone out there with three missed calls at 11:30 or 12:00 or whatever it was, that was me trying to call our first pick. It was probably a Louisiana person.
"That was the biggest thing that happened. It was all okay, it was pretty smooth, it was pretty quiet. I liked it, I didn't mind it at all, but I'll be looking forward to when we get back to the real thing too. It was nice having the family here. It was nice being in the house with the family."
The Ravens have another eight picks in this draft over the course of the next two nights, including picks No. 55 and 60 in the second round.