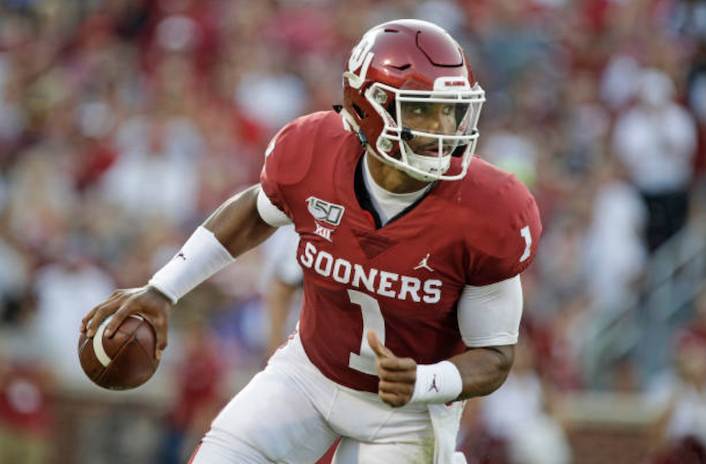 The Philadelphia Eagles drafted one of the best receivers available in the first round and followed that up by giving Carson Wentz a backup after picking Jalen Hurts last night.
The Eagles headed into the draft for positional needs, but the quarterback position wasn't one of them. Oklahoma quarterback Hurts was selected with the 53rd overall pick, instead of addressing their defensive and receiving problems.
In the first round of the 2020 NFL Draft, Philadelphia selected wide receiver Jalen Reagor with the 21st overall pick and could've gave Wentz another weapon to play with in the second round.
Quarterback Hurts drafted by Eagles on night two
The Eagles won the NFC East with a 9-7 record last season, but lost against the Seattle Seahawks in the Wild Card round of the Playoffs. Injuries hampered the team throughout the season, though, especially with their wide receivers.
Therefore, selecting Wentz's backup with their second overall pick come as a surprise, but the player himself said that it's a "surreal" opportunity.
"The opportunity to go there, be part of the organization, it's surreal," Hurts said about going to the Eagles. "It's an opportunity to grow, learn and be best quarterback I can be. I'm ready to work. I've always been about the grind."
Hurts spent three years with Alabama before transferring to Oklahoma, where he threw for 3,851 yards and 32 touchdowns in his senior year.
Through his four years playing college football, Hurts accumulated 9,477 passing yards and 80 passing touchdowns, while also picking up 3,274 rushing yards and four rushing touchdowns.
Hurts is a dual-threat quarterback and the Eagles could look to explore the avenue of using him like the New Orleans Saints use Taysom Hill.
Eagles stand by Wentz after picking quarterback in second round
Wentz is the starting quarterback in Philadelphia. There's no question about that. But the Eagles lost him at a crucial moment in the Playoffs due to concussion and also during the previous season with a bad knee injury.
Last season, Wentz signed a $137m contract extension and the Eagles' executive vice president and GM Howie Roseman echoed that the franchise believes he's still their main guy.
"Quarterback is the most important position in sports. We have shown how we feel about Carson by our actions, by the amount of picks we put into him, and we showed it by the contract extension.
"We believe this is the guy to lead us to our next Super Bowl championship. But for better or worse, we are quarterback developers. We want to be a quarterback factory."
The Eagles have five more draft picks on the final day, three of which come in the fourth round, including the 145th and 146th overall picks. Day three of the 2020 NFL Draft starts at midday on Saturday.