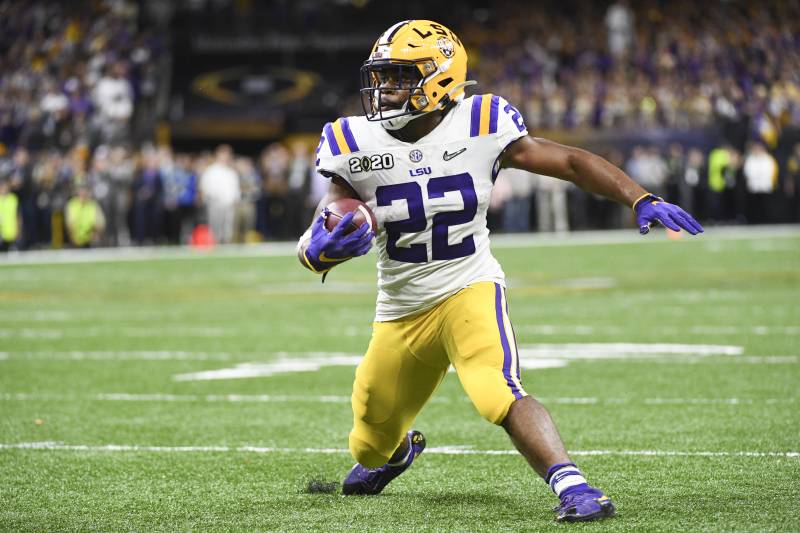 After the Kansas City Chiefs won the Super Bowl with hardly any run game, they are ready to change that with their first pick in the draft, Clyde Edwards-Helaire from Louisiana State University.
Edwards-Helaire put together incredible stats in the Tigers' championship-winning side. He rushed for 1,414 and 16 touchdowns. That rushing total was the third-highest single-season total in Tigers history.
He also showed his catching ability as he had 55 catches for 453 receiving yards and another touchdown. Edwards-Helaire's most incredible statistic is that he had 438 touches on the ball at LSU and only allowed one fumble.
After he was selected, Edwards-Helaire was over the moon in his teleconference call with ESPN.
Edwards-Helaire said: "It makes me feel like there's a plan and once we execute that plan, we can be back-to-back Super Bowl champs."
Why Edwards-Helaire? Analysis on the running back
Andy Reid had been seeking a running back all off-season, Patrick Mahomes' excellence outweighed the poor run game last season but it looks as though Edwards-Helaire is the man to fix their issues.
On ESPN's draft broadcast late on Saturday evening, Reid had his say on their new star.
He said: "He's a great kid and such a special football player, you saw what he did with the national champs this past year and you talk to the different people there and they tell you what a great competitor he is and what he lacks in size he's got in heart and work ethic. So we sure welcome him to the Chiefs. We're excited to put him in this offense and cut him loose."
Moments after Edwards-Helaire was drafted, Mahomes seemed very excited on his twitter account.
😄😄😄😄 pic.twitter.com/9ZnxzAaZ4z

— Patrick Mahomes II (@PatrickMahomes) April 24, 2020
With Sammy Watkins and Tyreek Hill going deep, Travis Kelce down the middle, Mahomes being Mahomes and Edwards-Helaire now joining the pack...defenses will need every bit of luck they can get to stop the Chiefs.