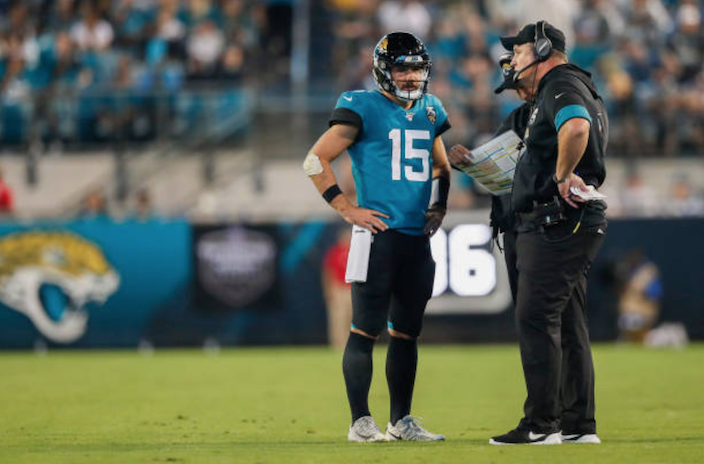 Jacksonville Jaguars head coach Doug Marrone said that there's "no doubt" Gardner Minshew is the team's quarterback.
Marrone added that he "might look at" a veteran free agent quarterback to come in alongside Minshew to add depth to the position.
There are two quarterbacks available in Cam Newton, formerly of the Carolina Panthers, and veteran Andy Dalton after the latter was released by the Cincinnati Bengals.
Minshew stepped up for the Jaguars after Foles' injury in Week One
It's been an offseason of change in Jacksonville. Calais Campbell departed for the Baltimore Ravens, Yannick Ngakoue argued publicly with co-owner Tony Khan about a trade away on social media and running back Leonard Fournette could also be heading out the door.
Nevertheless, the team made 12 strong picks in the 2020 NFL Draft and could now be looking at bringing in a quarterback with NFL experience to sit behind Minshew for this coming season.
The quarterback stepped up after Nick Foles suffered an injury in Week 1 and played with confidence. Minshew has a 6-6 record in his 12 starts last season, completing 60.6 percent of his throws for 3,271 yards, 21 touchdowns and six interceptions.
Foles was traded to the Chicago Bears this offseason, which makes Minshew the most experienced quarterback with the team. Joshua Dobbs, who was with the Pittsburgh Steelers, and sixth-round draft pick Jake Luton are also on the roster.
Marrone tells Good Morning Football that Minshew is the starter
Marrone told the Good Morning Football presenters that Minshew, who was a sixth-round pick out of Washington State last year, is the starting quarterback, but the team are "still looking" at bringing a veteran player in at the position.
"Yeah, he's our quarterback, there's no doubt about it," Marrone said on GMF on the NFL Network. "But one of the things that we're doing is we're still looking to make sure that we're upgraded at each position.
"So we're still looking. There are some veterans out there that we might look at to bring in along with the young guys that we have."
Dalton has spent the last nine years in Cincinnati and become available after his release yesterday. Signing the veteran would provide depth and experience to the quarterback position in Jacksonville.