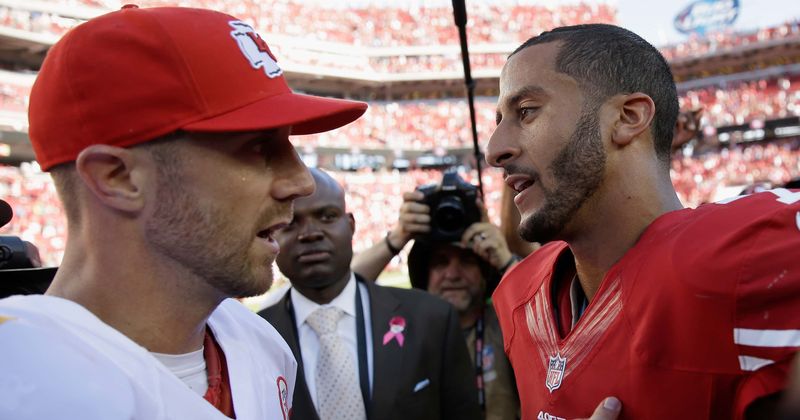 Alex Smith has said that it is "absurd" that a quarterback of Colin Kaepernick's ability is still not signed to an NFL team.
Kaepernick has not played in the NFL since 2016 when he protested against the national anthem of the sidelines before games. Kaepernick started a movement which involved kneeling during the anthem.
According to reports, Kaepernick was set to have workouts with NFL teams this off-season but that has been put on hold due to the Coronavirus situation.
Kaepernick also held an open workout to show his skills but was still not signed by a team.
What does Smith have to say about the situation?
Smith who suffered a near-career ending injury back in 2018 with the Washington Redskins against the Houston Texans shared with ESPN Radio's "The Dan Le Batard Show with Stugotz" his thoughts on Kaepernick's situation.
"It was hard to kind of see that trajectory because he was playing so good, and doing things nobody had done. I think he still holds the single-game rushing record for a quarterback. It was crazy.
"So with that said, it was so absurd -- I think equally -- that it was only a few years later when you're like, 'This guy doesn't have a job.' That was hard to imagine. It still is, a guy with his ability and his trajectory that all of a sudden isn't playing."
Kaepernick's hunger to play still evident
Back in February, Kaepernick discussed his ambition to return to the NFL.
Kaepernick spoke to USA Today's Jarrett Bell in February, after announcing he was writing a memoir: "I still train five days a week. I'm ready to go, I'm ready for a phone call, tryout, workout at any point in time. I'm still waiting on the owners and their partners to stop running from this situation. So I hope I get a call this offseason. I'll be looking forward to it."
Smith and Kaepernick are both fighting to return to the league, unfortunately, the question may be...will we ever see either of them in the league again?