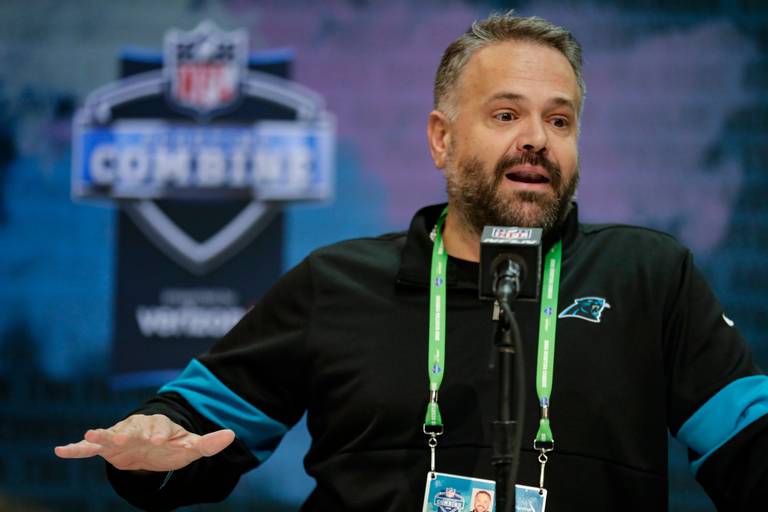 The new Carolina Panthers head coach, Matt Rhule, has stressed to his players that they need to be "dedicated" in order to return to success.
The Panthers brought in two defensive tackles, two safety's, two corners and a defensive end. The most exciting out of their seven defensive selections is their first-round pick, Derrick Brown.
Brown comes into the Panthers at six-foot-five and 326 pounds, he has been branded a "freak athlete" coming out of Auburn.
Brown is a Panther to "do what I do best"
The defensive tackle told the Panthers website what they can expect from him: "I never worried about getting hurt. I pushed through and just kept going and going and going, and trying to step up and be that leader that I always knew I could be," Brown said. "When it came time to decide to play in the Outback Bowl, it was never a question. My teammates elected me a captain so I was going to finish my season. They put me in a position to lead them, and I was going to finish and not cut the job short.
"You can go back and watch my tape. I had the most sacks. The league I played in was a lot compared to the NFL. It's just one of those things where I think I'm a three-down player, and I'm not here to sit there and try to make everybody like me, but I'm here to do what I do."
Brown shared what it meant to him to stay at Auburn and complete his degree: "Best decision of my life," Brown said. "I got my degree in my hand and I was a top-10 pick. Can't ask for much more in this life."
Rhule: Brown is what we need
"One of the great things about him though is we knew how serious he was about this. There's story after story. Coaches talk about he's one of the greatest practice players they've ever seen," Rhule said. "He's a consensus top-10 pick. He goes to play in the bowl game — the Citrus Bowl, it's not the playoffs. He's playing against the University of Minnesota.
"He plays every snap except for maybe a couple as his normal rotation. And there's a goal-line stand where he is playing as hard as he can, and to me that's what we need right now in this time. We need guys that are dedicated."
The Panthers finished bottom of the NFC South last season with a record of 5-11. In the 2020 season, they will be looking for their first playoff appearance in three seasons. This time they will be without Cam Newton.