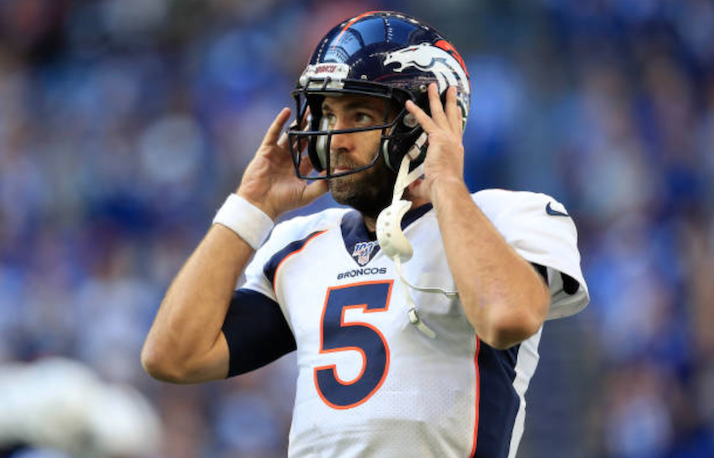 The New York Jets have signed former Super Bowl champion Joe Flacco as their backup quarterback on a one-year deal, reportedly worth $1.5m.
Flacco spent just the one season with the Denver Broncos and played eight games during the 2019 season before picking up a season-ending injury and was released by the team back in March.
The 35-year-old was placed on injured reserve last November after suffering a neck injury, which he had surgery on last month. Flacco was the starter with the Broncos up until that point, but was let go due to failing a physical examination.
Flacco will bring veteran experience to the Jets locker room
Flacco spent 11 seasons with the Baltimore Ravens and led the team to their second Super Bowl championship in 2013, beating the San Francisco 49ers 34-31 in New Orleans.
The quarterback was replaced as the starter by Lamar Jackson, who was named the league MVP last season, in 2018, which was the beginning of the end of his time in Baltimore.
The Ravens agreed to trade the veteran quarterback to Denver for a fourth-round pick in last year's draft. Flacco started eight games for the Broncos, throwing for 1,822 yards, six touchdowns and five interceptions and had a record of 2-6 before his injury.
His career stats speak for itself. Flacco has played 171 games, has a career passer rating of 84.1, throwing for 40,067 yards, 218 touchdowns and 141 interceptions.
Flacco brings experience to the Jets locker room. The veteran will be the backup to Sam Darnold, who was drafted by the team in 2018 and has since played 26 games in the NFL.