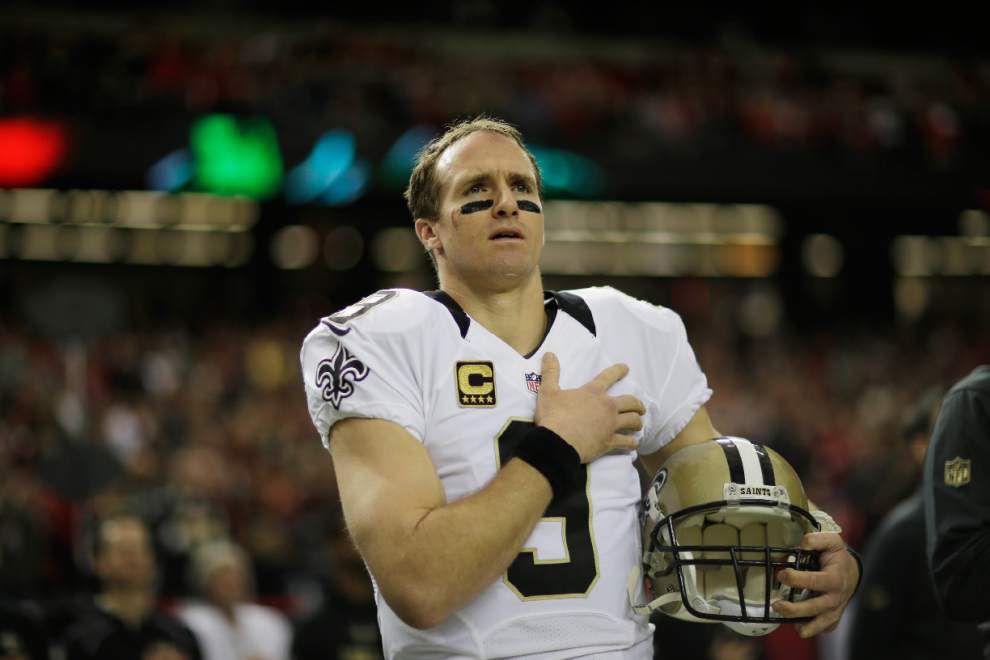 Drew Brees' stance on kneeling during the national anthem has not changed. On Wednesday, he was on Yahoo's On The Move and was asked by Dan Roberts about the potential of NFL players kneeling during the anthem, as Colin Kaepernick did back in 2016 as a way to bring attention to police brutality and social injustices.
"I will never agree with anybody disrespecting the flag of the United States of America or our country," Brees said in response to the question per Yahoo Finance.
The New Orleans Saints quarterback cited his family ties to the military as to why he stands for the anthem. "I envision my two grandfathers, who fought for this country during World War II, one in the Army and one in the Marine Corp. Both risking their lives to protect our country and to try to make our country and this world a better place. So every time I stand with my hand over my heart looking at that flag and singing the national anthem, that's what I think about." said Brees. The 13-time pro-bowler also talked about the civil rights movement and "all that has been endured by so many people up until this point," as his reasoning for standing during.
Brees' comments come a little over a week after George Floyd was killed while in the custody of Minneapolis police. Floyd had the knee of police officer Derek Chauvin on his neck for over eight minutes, which resulted in his death. There have been protests across the US since his death, and it also sparked a conversation about whether NFL players were going to protest during the season by kneeling during the national anthem. The 6-foot quarterback participated in blackout Tuesday, where social media users posted a black image as a sign of protesting racism and police brutality. He also posted a message to his Instagram early Wednesday, saying that it was "words to unite."
​​​​​​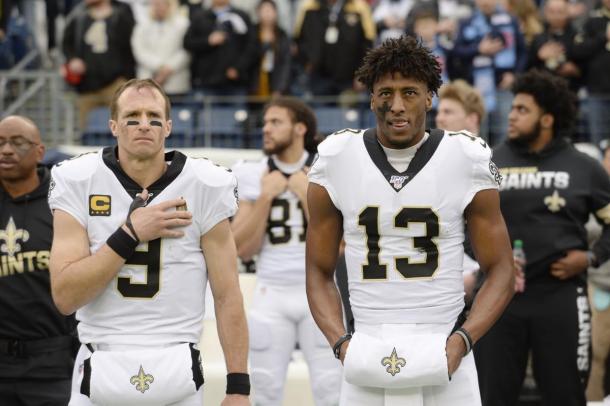 Brees' comments received criticism and responses from a number of people and NFL players, including his teammate and star wide receiver Micheal Thomas. The all-pro receiver retweeted multiple tweets that were directed at and criticized Brees, and also posted a couple of tweets himself, one of them saying "He don't know no better."
Brees and Thomas have established themselves as one of the best QB/WR duos in the NFL since Thomas entered the league. It is interesting to see if this situation puts a dent in their relationship on and off the field.
Another teammate of Brees who reacted to his comments was safety Malcolm Jenkins. Jenkins posted a video on Instagram that was tweeted by John Clark of NBC. He was visibly emotional and responded to those comments by saying "I am hurt. I am not ok. They were extremely disappointing." In a now-deleted portion of the video, the safety also said "I considered you [Brees] a friend. I looked up to you. You are a person I had a great deal of respect for. But sometimes, you should shut the f*** up." That portion of the video was posted to Twitter by Dave Kleiman. You can watch the edited version of Jenkins' response on his Instagram page where he said in a caption he called Brees to discuss his point of view.
Other NFL players that posted a reaction to Brees included Las Vegas Raiders running back Josh Jacobs. He retweeted the clip of Brees' comments on Twitter and said "This ain't it". Brothers Jason and Devin McCourty of the New England Patriots also tweeted a reaction, calling the comments "a disgrace."
The biggest athlete to react to the comments made by the Saints quarterback is LeBron James. James also retweeted the video clip of Brees' response posted on Yahoo! Finance's Twitter page and said "WOW MAN!!."
Brees' stance on the national anthem dates back to 2016 when Kaepernick began kneeling during the national anthem. The quarterback said that although he agreed with Kaepernick's message, "What I disagreed with was the method by which he chose to protest, which is to sit down and disrespect the flag of the United States of America. End of discussion." per an article by NBC Sports.
The 19-year veteran's comments could put a divide in the New Orleans Saints locker room, especially since Brees is seen as a certified leader on the team. The team chemistry could be damaged by Brees' words Wednesday, which could impact how the team performs once the season starts. Watch the clip of Brees' comments below.