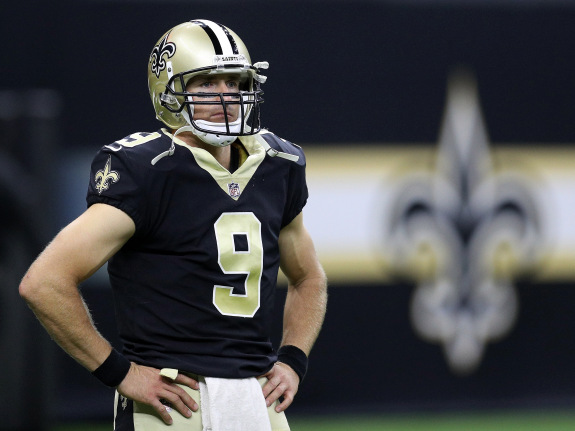 Drew Brees released an apologetic statement Thursday morning about his comments about how he "will never agree with anybody disrespecting the flag." In that apology which was posted on his Instagram page, Brees said that his comments "lacked awareness or compassion or any kind of empathy."
Wednesday, The New Orleans Saints quarterback talked with Dan Roberts on Yahoo Finance about the potential of players kneeling in protest during the national anthem this upcoming season, much like Colin Kaepernick did in 2016. This conversation came up in the wake of the death of George Floyd in police custody and the numerous protests that have come since.
He continued to stand on his opinion about kneeling that dated back to 2016, saying he thinks kneeling is disrespectful to the flag. Brees' now infamous response garnered criticism from many players around the sports world, including his teammates Michael Thomas and Malcolm Jenkins. NBA superstar Lebron James also responded to the all-pro quarterback's comments in disappointment.
Brees posted a picture of a black hand and a white hand locking together and captioned the picture with his apology. "I would like to apologize to my friends, teammates, the City of New Orleans, the black community, NFL community and anyone I hurt with my comments yesterday," said Brees. The all-pro quarterback added that his comments Wednesday "completely missed the mark on the issues we are facing right now as a country."
He also wrote that he supports and "stands with" the black community on the fight for racial equality and wants to "support the creation of real policy change." Furthermore, the Super Bowl XLIV MVP said "I condemn the years of oppression that have taken place throughout our black communities and still exists today. I acknowledge that we as Americans, including myself, have not done enough to fight for that equality or to truly understand the struggles and plight of the black community." He also said that he has "ALWAYS been an ally, never an enemy."
The conclusion to the apology has Brees saying he needs to do "less talking and more listening," adding that "when the black community is talking about their pain, we all need to listen. For that, I am very sorry and I ask your forgiveness."
In the comments to his post, his teammate Demario Davis posted five black fist emojis. Davis also said on CNN that "for him [Brees] to admit that he was wrong is leadership at its finest." Another one of his teammates, Craig Robertson also posted five black fist emojis under the quarterback's post. His apology is getting mixed reviews from the sports world and beyond, with some seeming to see it as genuine, and others not buying it.
Even though Brees' apology was quick, less than 24 hours after he made his controversial comments, many are more concerned about the star quarterback's actions moving forward after this messy situation. The Saints have a scheduled zoom meeting as a team Thursday that was planned before their QB made his comments Wednesday. Nevertheless, Brees' comments are going to be discussed according to ESPN's Diana Russini.