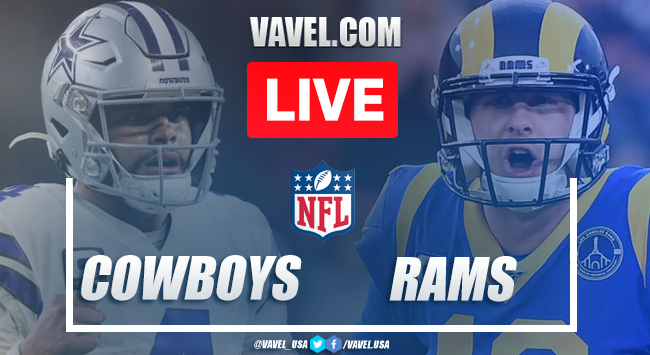 Highlights
4Q | 00:00
4Q | 0:06
4Q | 0:51
4Q | 2:00
4Q | 3:13
4Q | 4:11
4Q | 5:10
4Q | 7:08
4Q | 9:39
4Q | 10:50
4Q | 11:40
4Q | 14:07
4Q | 14:52
3Q | 00:00
3Q | 0:31
3Q | 2:58
3Q | 3:43
3Q | 4:29
TD Rams 14 - 20
3Q | 5:33
3Q | 8:22
3Q | 9:55
3Q | 11:58
3Q | 13:28
3Q | 14:47
3Q | 15:00
TD Cowboys 14 - 13
2Q | 00:00
2Q | 0:19
2Q | 0:38
2Q | 1:02
2Q | 1:36
2Q | 2:00
2Q | 3:47
2Q | 5:12
2Q | 6:21
2Q | 7:31
2Q | 9:31
2Q | 11:18
2Q | 12:14
TD Cowboys 7 - 7
2Q | 12:24
2Q | 13:21
2Q | 14:00
2Q | 14:51
1Q | 00:00
1Q | 2:08
1Q| 5:08
TD Rams 0 - 7
Q1 | 11:37
1Q | 13:30
1Q | 14:47
1Q | 15:00
We're almost there!
Los Angeles defense is ready for the kickoff
This is what the brand new SoFi Stadium looks like, ready for Sunday Night Football
Sean McVay seeks to return his team to glory
CeeDee Lamb will also have his first game as a Cowboy tonight
A new experience
Tonight's inactive players for the Rams
Grand opening
Important message from the Rams as they arrive at their new home
The Cowboys are already warming up on the SoFi's gridiron
Follow it here
Who you got?
Can Jared Goff be a top QB again?
Prescott wants to show his value
The debut of a brand new stadium
New year, new coach
Latest face-off
How to watch Dallas Cowboys vs Los Angeles Rams Live TV and Stream
Key player Los Angeles
Key player Dallas
The NFL is back
Good afternoon to all VAVEL readers!