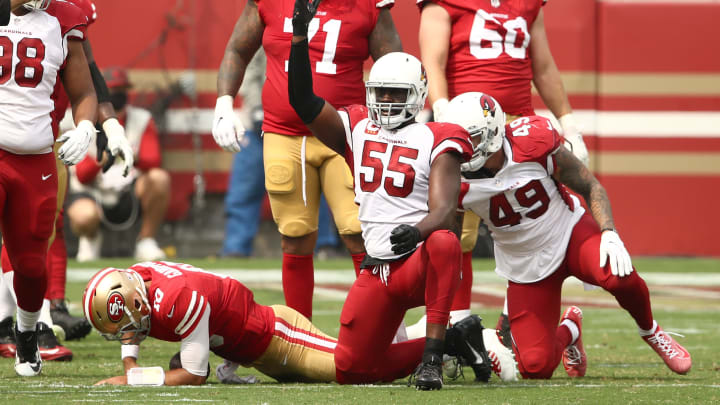 In the first battle of the west, it was the Arizona Cardinals that would come out on top 24-20 against the San Francisco 49ers in Santa Clara. It is the first week one victory for the Cardinals since 2015.
Sophomore quarterback Kyler Murray continued where he left off in 2019, throwing for 230 yards, rushing for 91-yards while passing and rushing for a touchdown. DeAndre Hopkins had a great introduction to into the Cardinals offense, catching a career-high 14 passes for 151 yards.
It was not the start the San Francisco 49ers envisioned. Jimmy Garoppolo completed 58% of his passes for 259-yards and two touchdowns.
A battle in the Bay
With Deebo Samuel, Chris Thompson and Brandon Aiyuk out with injuries, coach Kyle Shanahan tried to get star tight end Geroge Kittle and running back Raheem Mostert going early as the two were involved heavy in the offense in the opening drive. The 49ers would score a field goal to take an early 3-0 lead. On their second drive, Garoppolo fired a strike to Mostert, taking advantage of broken coverage to score a 76-yard touchdown, putting San Francisco up by 10.
Arizona would fight back to get themselves into the game. Ezekiel Turner would block Mitch Wishnowsky's punt that would be recovered by the Cardinals. The Cardinals would capitalize on the blocked punt, with Chase Edmonds scoring on a 10-yard touchdown catch from Murray.
San Francisco would get their first interception from a safety in two-years from Jaquiski Tartt after teammate Dre Greenlaw tipped a pass. Following the interception, the 49ers would kick a field goal to put the 49ers up 13-7. The Cardinals would answer with a field goal of their own, going into halftime down 13-10.
The Cardinals would take their first lead of the game following a 22-yard run to put Arizona up 17-13. Jerick McKinnon caught a 5-yard TD pass from Jimmy Garoppolo in the running back's first game in more than two years to give San Francisco a 20-17 lead with 8:38 to play before Murray led a late comeback.
Murray would answer with a 33-yard pass to Hopkins got the ball down to the 1 and then Kenyan Drake would run it on the next play to give Arizona the 24-20 lead. Drake would finish the game with 60-yards on 16 carries. Garoppolo led the 49ers down to the 16 before throwing an incomplete pass to Trent Taylor on fourth-and-5 that ended the comeback attempt.
Scary Moment for Kittle
George Kittle is walking to the locker room after this hit. pic.twitter.com/IYTg1aw14I
— Dieter Kurtenbach (@dieter) September 13, 2020
Early on in the game, George Kittle was doing some major damage to the Cardinals defense. He would catch four passes for 44 yards on Jimmy Garoppolo's first four throws his way. Garoppolo's fifth throw was high, and Cardinals safety Budda Baker hit Kittle as he was coming down. Kittle's left knee appeared to be hyperextended. He was not targeted for a pass after returning to the game.
More information on the extent of Kittle's injury will be discussed on Monday.
Up Next
The Arizona Cardinals (1-0) will host Washington in their home opener next Sunday while the San Francsico 49ers (0-1) will visit the New York Jets.