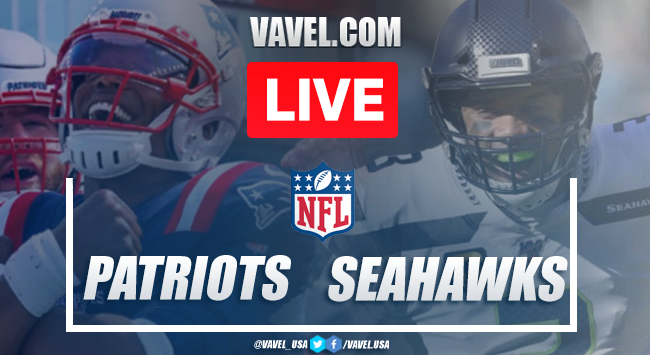 Highlights
4Q | 00:00
4Q | 0:02
4Q | 0:27
4Q | 0:41
4Q | 1:08
4Q | 1:34
4Q | 1:49
4Q | 2:00
4Q | 2:16
4Q | 2:54
4Q | 3:55
4Q | 4:24
TD Swahawks 23 - 35
4Q | 4:32
4Q | 5:59
4Q | 7:26
4Q | 8:!3
4Q | 9:32
4Q | 11:22
4Q | 12:50
4Q | 14:14
4Q | 14:14
4Q | 14:50
3Q | 00:00
3Q | 1:46
TD Seahawks 17 - 28
3Q | 2:00
TD Seahawks 17 - 21
3Q | 3:44
3Q | 4:30
3Q | 5:15
3Q | 6:19
3Q | 7:04
3Q | 8:10
3Q | 9:22
3Q | 10:12
3Q | 12:36
3Q | 13:18
3Q | 13:43
3Q | 15:00
2Q | 00:00
2Q | 0:28
2Q | 2:00
2Q | 2:26
2Q | 3:44
2Q | 5:31
2Q | 6:02
TD Seahawks 14 - 14
2Q | 6:57
2Q | 8:16
2Q | 9:33
2Q | 10:44
2Q | 13:06
TD Patriots 14 - 7
2Q | 13:59
1Q | 00:00
1Q | 0:49
1Q | 3:18
1Q | 4:39
TD Seahawks 7 - 7
1Q | 5:27
1Q | 6:43
1Q | 9:40
1Q | 10:10
1Q | 12:41
TD Patriots 7 - 0
1Q | 13:39
1Q | 14:20
1Q | 15:00
We're almost there!
Nobody home
Seattle's defense is clear about it
This was the arrival of the Patriots at CenturyLink Field
Seahawks already doing warm-up works
Unknown scenario
D.K. Metcalf showing what he is capable of
Complete list of inactive Seahawks for tonight
Complete list of inactive Patriots for tonight
James White is inactive
The Patriots are now in the CenturyLink Field
Follow it here
Who you got?
The best according to Belichick
No '12th man' allowed
The voice of experience
Remembering Super Bowl XLIX
Latest face-off
How to watch New England Patriots vs Seattle Seahawks Live TV and Stream
Key player Seattle
Key player New England
The match of the week
Good afternoon to all VAVEL readers!