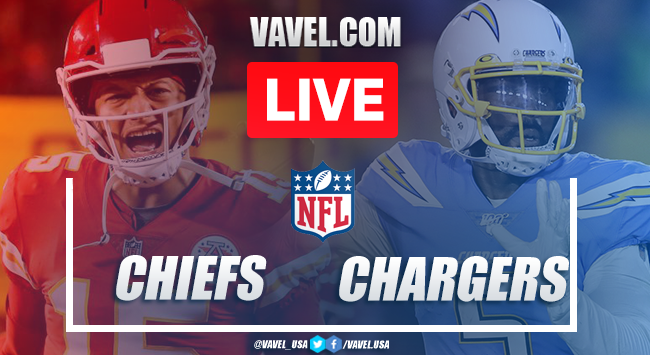 See you next time
Victory Score
Full time | 2:00
AT | 3:40
AT | 7:50
AT | 10:00
4to Cuarto | 0:03
4th Quarter | 0:10
4th Quarter | 0:44
4th Quarter | 1:14
4th Quarter | 2:27
4th Quarter | 2:27
4th Quarter | 4:30
4th Quarter | 07:08
4th Quarter | 12:48
4th Quarter | 12:48 TOUCHDOWN CHIEFS
4th Quarter | 15:00
3rd Quarter | 00:55
3rd Quarter | 3:11
3rd Quarter | 08:07
3rd Quarter | 8:40
3rd Quarter | 09:35
3rd Quarter | 12:10
3rd Quarter | 13:35
3rd Quarter | 15:00
2nd Quarter | 00:00 HALF TIME
2nd Quarter | 01:01
With this extraordinary pass Los Angeles expands its advantage
2nd Quarter | 2:00
2nd Quarter | 2:30 TOUCHDOWN CHARGERS
2nd Quarter | 3:50
2nd Quarter| 5:18
2nd Quarter | 8:30
2nd Quarter | 8:51 TOUCHDOWN
2nd Quarter | 11:10
2nd Quarter | 15:00
1st Quarter | 00:06
1st Quarter | 2:30
1st Quarter | 5:00
1st Quarter | 06:11
Repetition of the first TD of Chargers
1st Quarter | 9:59
1st Quarter | 11:26 TOWCHDOWN
1st Quarter | 13:00
1st Quarter | 15:00
Everything is ready at SoFi Stadium
Chiefs' Uniform
Home Team Uniform
The local team is premiering!
Kansas City Chiefs is in Inglewood
Live broadcast begins!
Don't move away from here!
Background
Where and how to watch Kansas City Chiefs vs. Los Angeles Chargers online and live
Key player of Chiefs
Key player of Chargers
This was the start of the Chargers
Wonderful start for the Chiefs
The amazing SoFi Stadium
Kick-off time
Welcome to VAVEL USA!