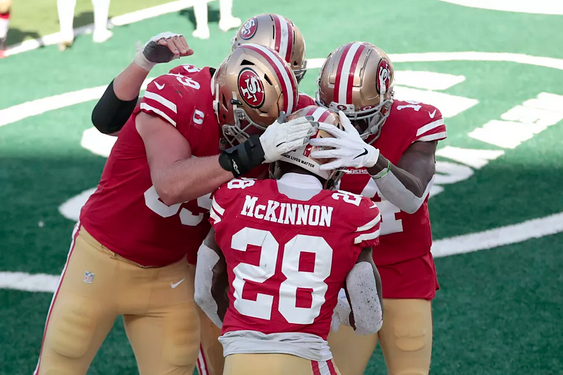 The San Francisco 49ers have picked up their first win of the season, blowing out the New York Jets 31-13 at MetLife Stadium to even their record at 1-1. The defending NFC champions raced out to a 21-3 lead and never looked back, but the win came at a costly price.
Quarterback Jimmy Garoppolo suffered a high ankle sprain in the first half, running back Raheem Mostert was lost to a mild MCL sprain while star defensive end Nick Bosa is likely out for the season after a torn ACL and defensive end Solomon Thomas also suffered a knee injury.
49ers blow away Jets on day they lose four more critical players
Before being knocked out of the game, Mostert took a toss from Garoppolo and sprinted through the Jets offense untouched down the right sideline 80 yards for a touchdown to make it 7-0. On San Francisco's next possession, Garoppolo was sacked by Quinnen Williams and suffered his ankle injury.
After an exchange of punts, Sam Darnold, who completed 21 of 32 passes for 179 yards and a touchdown on the day, led New York (0-2) on a 13-play drive that stalled just outside of the 49ers red zone, culminating in a 41-yard field goal by Sam Ficken to cut the lead to 7-3.
On that drive, Bosa was hurt after attempting to tackle former 49er Frank Gore. Two plays later, Thomas also suffered a knee injury after an eight-yard reception by Chris Hogan. San Francisco overcame that to essentially put the game away.
A noticeably limping Garoppolo drove the 49ers on a 14-play drive that was capped by an 18-yard touchdown pass to Jordan Reed to make it 14-3. After the Jets elected to go for it on fourth-and-one from the 49ers 20 and failed to convert, San Francisco extended the lead on a second Garoppolo to Reed hookup.
The 49ers led 21-3 at halftime and extended it to 24-3 with a 46-yard field goal by Robbie Gould. Pierre Desir intercepted Nate Mullens, who took over for Garoppolo to start the third quarter, which resulted in Ficken's second field goal of the game to make it 24-6.
Jerick McKinnon added a 16-yard touchdown less than five minutes into the fourth quarter to make the score 31-6 and not even a late touchdown pass from Darnold to Braxton Berrios could mask the embarrassment of yet another ugly loss for the Jets.
Up next
The 49ers stay in town to play their second straight game at MetLife Stadium to face the 0-2 New York Giants. The Jets will again look for their first win of the season when they travel to Indianapolis to play the 2-0 Colts.