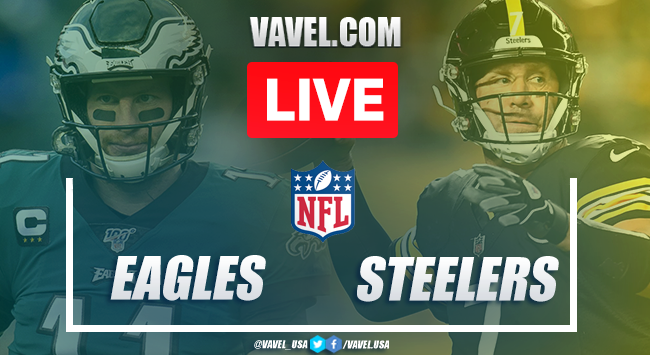 Game highlights
4Q | 00:00
4Q | 1:41
4Q | 2:10
4Q | 2:58
4Q | 3:18
4Q | 6:19
4Q | 9:20
TD Eagles 29 - 31
4Q | 11:37
4Q | 13:25
4Q | 14:54
3Q | 00:00
3Q | 0:58
3Q | 2:43
3Q | 4:33
TD Eagles 22 - 31
3Q | 5:58
3Q | 5:58
3Q | 7:25
3Q | 8:57
3Q | 10:32
3Q | 12:00
3Q | 12:44
Touchdown Steelers 14 - 24
3Q | 13:29
3Q | 13:30
3Q | 14:15
3Q | 15:00
2Q | 00:00
2Q | 0:27
2Q | 1:03
2Q | 1:57
2Q | 2:00
2Q | 3:55
2Q | 5:22
2Q | 6:17
2Q | 7:00
2Q | 9:11
2Q | 9:35
2Q | 10:54
Touchdown Steelers 7 - 14
2Q | 11:49
2Q | 13:39
2Q | 14:16
TD Eagles 7 - 7
1Q | 0:07
TD Steelers 0 - 7
1Q | 1:04
1Q | 3:32
1Q | 4:49
Today is T.J. Watt's birthday, and he was able to celebrate it with a sack
1Q | 8:22
1Q | 9:36
1Q | 11:36
1Q | 13:46
1Q | 15:00
We are almost there!
Ben Roethlisberger encourages his teammates to play
The Pennsylvania Civil War starts in a few minutes
The Eagles, equipped and ready for action
Pittsburgh players are ready to jump on the grid
Inactive Steelers for today's game
This was the arrival of the Eagles at Heinz Field
The Steelers are already warming up on their own court
Without the main weapons
Inactive list by the Eagles for today's game
The Steelels Nation is present
Follow it here
Who you got?
How to Watch Philadelphia Eagles vs Pittsburgh Steelers Live TV and Stream
To remain undefeated
Looking for the .500 record
Latest face-off
Surprise at Sillicon Valley
Early bye
Key player Pittsburgh
Key player Philadelphia
The Pennsylvania Civil War
Good afternoon to all VAVEL readers!