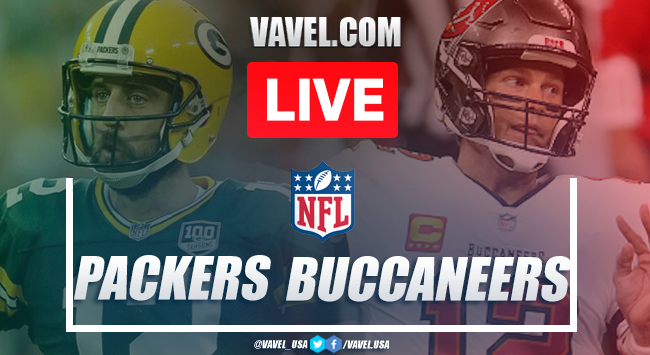 Game highlights
4Q | 00:00
4Q | 1:53
4Q | 2:00
4Q | 4:47
4Q | 5:40
4Q | 7:13
4Q | 9:23
4Q | 10:47
4Q | 12:15
4Q | 13:39
4Q | 14:53
3Q | 00:00
3Q | 1:11
TD Buccaneers 10 - 38
3Q | 2:40
3Q | 4:08
3Q | 4:40
3Q | 5:35
3Q | 6:54
3Q | 8:26
3Q | 10:21
3Q | 10:49
3Q | 12:14
3Q | 14:08
3Q | 15:00
2Q | 00:00
2Q | 0:34
TD Buccaneers 10 - 21
2Q | 1:02
2Q | 1:46
2Q | 2:00
2Q | 3:37
TD Buccaneers 10 - 21
2Q | 4:35
2Q | 6:41
2Q | 10:04
2Q | 10:47
TD Buccaneers 10 - 14
2Q | 11:02
2Q | 11:05
2Q | 12:42
2Q | 13:15
2Q | 14:23
1Q | 00:00
TD Packers 10 - 0
1Q | 0:48
1Q | 4:22
1Q | 5:10
1Q | 6:00
1Q | 6:44
1Q | 9:07
1Q | 10:27
1Q | 12:03
1Q | 12:45
1Q | 14:04
1Q | 15:00
We are almost there!
Davante Adams is also ready to make Tampa Bay's deep defense suffer
Tom Brady motivates his o-line for a tough encounter
Aaron Rodgers already warms his arm
Tampa Bay is clear about the options that can result on a victory this afternoon
Tom Brady wants to send a message
This was the arrival of the Packers to the Pirate Ship
For the rematch
The 'Bucs' have arrived at the Pirate Ship
Inactive players for the Buccaneers this afternoon
This afternoon's inactive list for the Packers
Who you got?
How to Watch Green Bay Packers vs Tampa Bay Buccaneers Live TV and Stream
Davante Adams returns hungry for yards and points
To clear the doubts
To remain undefeated
Last face-off
They want to take revenge on the North
Back to action
Key player Tampa Bay
Key player Green Bay
Rodgers vs Brady
Good afternoon to all VAVEL readers!