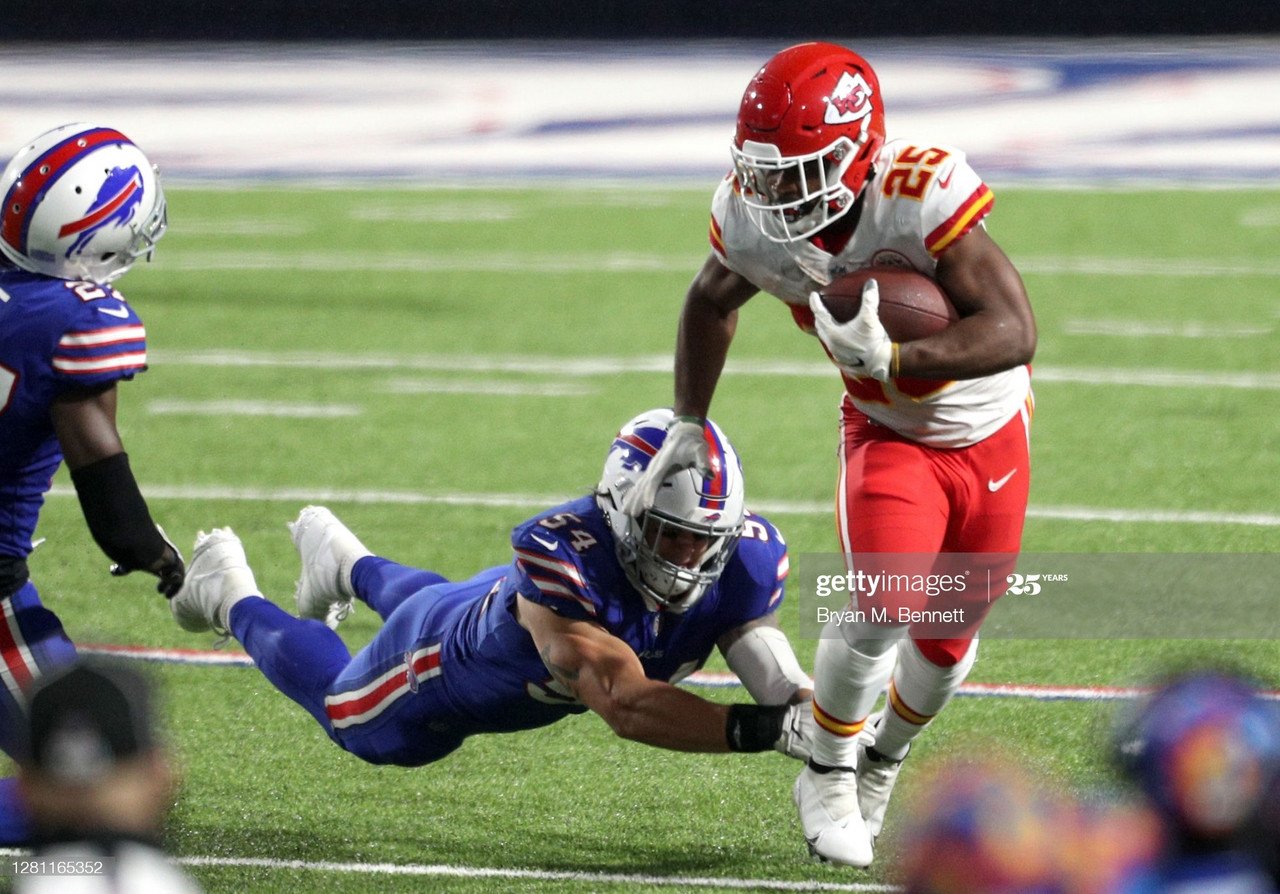 In a wet Western New York evening, the Kansas City Chiefs rush aside the Buffalo Bills to go 5-1 on the season.
The Bills never really got going with Josh Allen recording 14/27 and 122 yards.
A recording-breaking First Quarter
Allen starts us off by showing his arm strength early with a deep flea-flicker pass which Anthony Hitchens breaks up magnificently. It is the ground game that was working well for the Bills early on with Allen 2/8 with 5 minutes left in the first. It was not the start Allen wanted, but the Bills record the first points of the game. Tyler Bass kicking a 48 yarder to start this contest off 10 minutes later than at first thought.
Chiefs 0-3 Bills
With the ball back The Chiefs have awoken and marched down the field in five plays, 75 yards, and a mere two minutes 37 seconds off the clock with the touchdown pass to Travis Kelce. With this touchdown pass, Mahomes becomes the quickest players to score 90 career touchdowns in the Super Bowl era with 37 games, surpassing Hall of Fame Quarterback Dan Marino's mark of 40 games.
Chiefs 7-3 Bills
The Bills finally came alive in the second quarter. With the weather being so damp, a lot of teams would have allowed the run to do its day. Well someone did not tell Josh Allen. Having tried four deep bombs to a mixture of wide receivers, Allen was always going to find one. Or at least a pass interference call, which bought him first and goal. A four-yard right hands side pass to his number one weapon Stefon Diggs, the Bills climb back in front, Allen has his own great moment to celebrate as well as Allen equals Steve Young with 15 passing TDs and three rushing in the first five games.
Chiefs 7-10 Bills
The Chiefs do well to take off a lot of time off the clock in this second quarter. Taking 12 plays 75 yards 6.26 to get back into the lead. Number 73 Nick Allegretti called for a holding penalty which knocks off a Clyde Edwards-Helaire rushing touchdown, but on the second attempt, Mahomes lofts it Kelce for six more. Kicker Harrison Butker misses the extra point.
Chiefs 13-10 Bills
The Bills cannot convert to scoring with their next possession and give the Chiefs the ball back with a minute left. Kansas City also gets the ball back into the third quarter, and it looks like a field goal try will be had to extend the lead by another three. The Chiefs rack up 38 yards before Kelce fumbles the football in Chiefs territory.
Allen has time for one play to get his kicker within range. He uses Stefon Diggs for a 15-yard gain. 52 Yards is available for Bass to tie the game up. The Rookie kicker shanks it.
Chiefs 13-10 Bills Half time
Rumbling, bumbling, stumbling
With slow starts in all three quarters, the weather seemed to have taken its toll, and the defences of both teams are playing superbly. It takes 13 minutes for a score in Western New York with both teams punting, The Bills have not scored in three possessions but The Chiefs allowing the ground attack of Edwards-Helarie and Darrell Williams to combine for over 150 yards. 13 plays, seven minutes. Chiefs head coach Andy Reid is known for his excellent game management, and he has no problem showing us all how it is done. When you are leading, it makes sense to run the ball and eat the clock out. The Chiefs are doing just that, and as the clock strikes 1.30 left in the third quarter a gap for Williams appears, and he runs for a 13-yard touchdown.
Chiefs 20-10 Bills
In a crucial defensive drive for The Bills to try and keep the game to a two-score game and have hope, you can get back into the contest. Buffalo get two unnecessary roughness penalties and add 30 yards to The Chiefs drive, discipline is needed at a time like this and The Bills secondary just slipped. As the Chiefs kicker, Butker drills a 37 yarder to extend the lead to 13. Two touchdowns nine minutes. It has happened before.
Allen gets the message, and some needed help from The Chiefs secondary as a pass interference call costs them 10 yards, then with an eight-yard QB run another flag for illegal use of hands. Boom five more yards. Now the Bills are in the red zone. It takes two more plays for Cole Beasley to score his second touchdown on the year. Six-point game.
Chiefs 23-17 Bills
After three plays The Bills think they have a lifeline to make it really close as they manage to get a second fumble out of the Chief's hands. However, Edwards-Hillarie's knee was down, and it stays with Mahomes and company, pull magic out of their hats and give Butker a 30-yard field goal to make it a nine-point game, two minutes remaining.
Chiefs 26-17 Bills
In an effort to win the game Allen throws wild and long, it is picked off by Daniel Sorenson. End of game
Chiefs 26-17 Bills