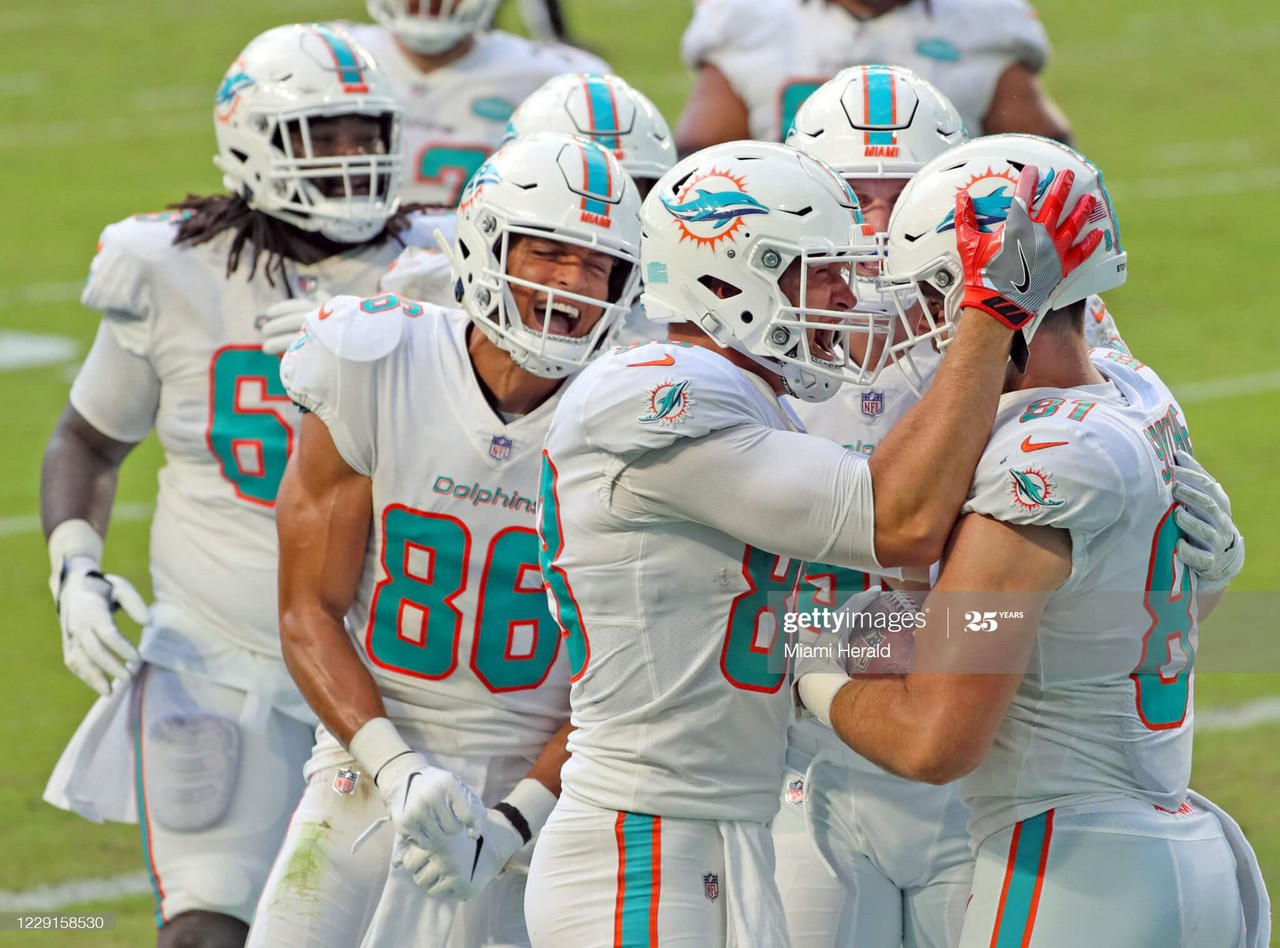 The Miami Dolphins have evened their record at 3-3 with a 24-0 victory over the New York Jets at Hard Rock Stadium. Despite being outgained in rushing yards, time of possession and having more turnovers, the Dolphins still managed to shut out the Jets, who dropped to 0-6.
Ryan Fitzpatrick passed for 191 yards and three touchdowns while Myles Gaskin rushed for 91 yards on 18 carries. Joe Flacco, starting his second straight game for the injured Sam Darnold, threw for 186 yards and was intercepted once.
Fitzpatrick, Gaskin help Dolphins to shutout of lifeless JetsW
The first three possessions ended in punts until Miami used a balanced attack to open the scoring, Fitzpatrick spreading the ball out to Gaskin, Jakeem Grant and Adam Shaeheen, who put the Dolphins in front after catching a Fitzpatrick pass for a four-yard touchdown.
New York drove to the Miami 24 with Flacco finding four different receivers on the drive as well as La'Mical Perine, replacing the released Le'Veon Bell, gaining yards on the ground. Offensive pass interference on Ryan Griffin and a bad snap on the next play led to a punt.
Going to work from their own 35, Gaskin gained 26 yards on the drive and Fitzpatrick capped it off with his second touchdown pass of the contest to Pretson Williams to make it 14-0 with 11:16 left in the first half.
Xavien Howard intercepted Flacco, but the Dolphins couldn't turn it into any points. They did have a quick three-play drive that took only 41 seconds which included a 43-yard catch-and-run by Shaeheen and on the next play, Fitzpatrick found Durham Smythe for his third TD of the game to make it 21-0.
With 1:05 left in the half, Miami got the ball back and drove down to the Jets' 16, but Fitzpatrick was picked off by Brian Poole. New York did pick up a first down, but time ran out on the first half.
Like the start of the game, the third quarter began with a series of punts before the Dolphins put together an eight-play drive that culminated with a 24-yard field goal from Jason Sanders. The Jets' next drive stalled and Sam Ficken missed a 55-yard field goal.
With 12:56 left in the game, Fitzpatrick threw his second interception of the game, this one picked off by Marcus Maye, but again, the Jets did nothing with it. A 13-play drive ended on downs for New York and time ran out as the Jets woes continue while the Dolphine enter their bye week at .500.
Tua Tagovailoa made his NFL debut in the final two minutes and completed both of his passes for nine yards while handing it off three times.
Up next
New York comes home to play the division-leading Bills on Sunday with kickoff scheduled for 1pm. Buffalo beat the Jets 27-17 in Week 1. Miami, as mentioned above, has a bye week before hosting the Los Angeles Rams on November 1st at 1pm.