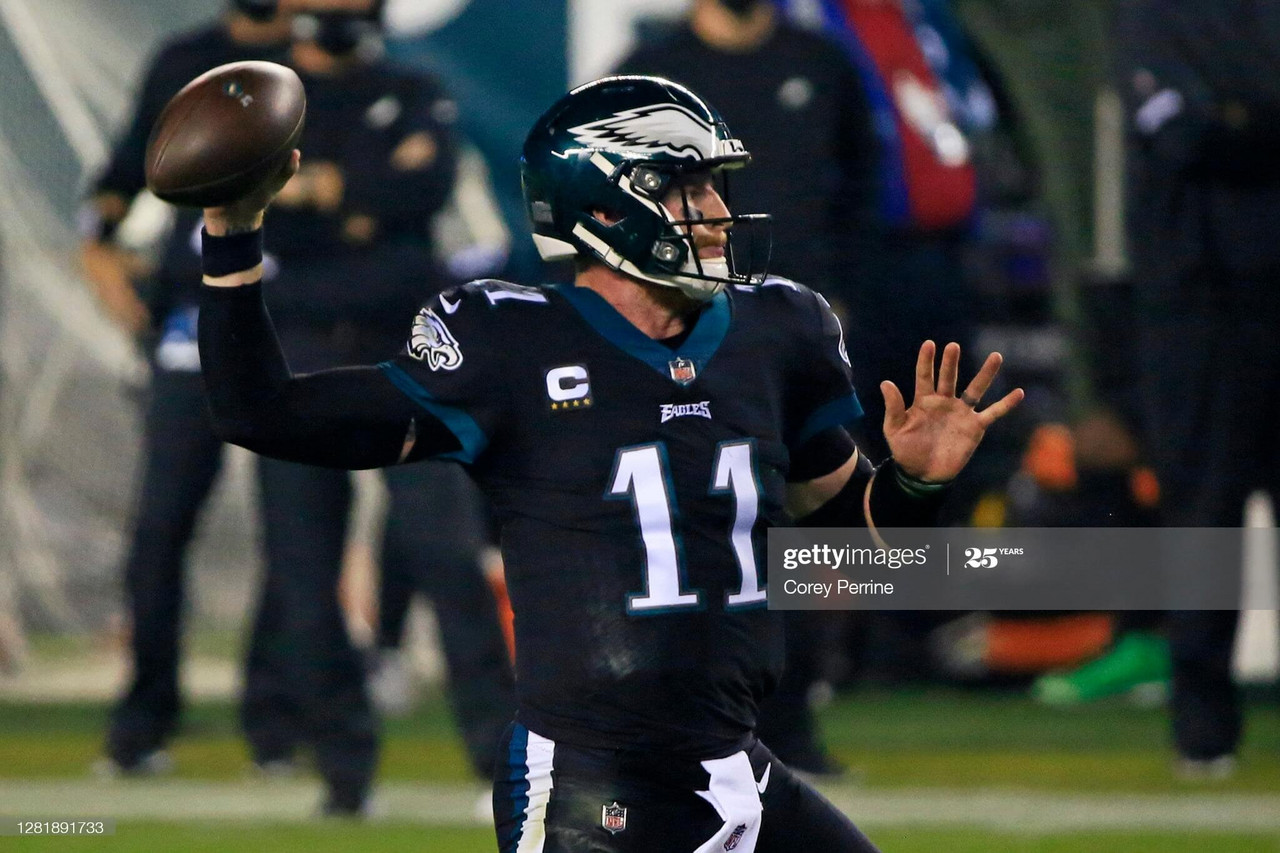 The Philadelphia Eagles rallied from an 11-point deficit for a 22-21 victory over the New York Giants at Lincoln Financial Field. Philadelphia trailed 21-10 with 6:17 to play until Carson Wentz connected on a pair of touchdown passes to give the Eagles (2-4-1) their eighth straight win over New York.
Wentz threw for 359 yards and two touchdowns on 25 of 43 passing. Richard Rodgers caught six passes for 85 yards with Boston Scott the Eagles' top rusher with 45 yards on 12 carries.
Daniel Jones only threw for 187 yards, but accounted for all three of New York's touchdowns. He did have a costly fumble at the end of the game that sealed the Giants (1-6) fate.
The Eagles took the opening drive of the game 75 yards in 11 plays, DeSean Jackson gaining 31 of those yards. Wentz ran for a first down on fourth and one and he found Richard Rodgers for 18 yards down to the Giants one, where he ran it in on the next play to give Philadelphia a 7-0 lead.
After an exchange of punts, including one in which New York had one of their "gunners" wide open, the Giants had excellent field position, taking over at the Eagles' 39 yard line and Jones hit Golden Tate on the first play of the drive to tie the game.
Philadelphia effectively moved the ball on a 13-play drive, Scott catching a pair of passes for first downs. The first quarter came to an end and after getting down to the New York 13, Wentz fired back-to-back incomplete passes, the Eagles settling for a 31-yard field goal by Jake Elliott.
Both teams ended the half in sloppy fashion, Jones intercepted by Jalen Mills and on the ensuing drive, Wentz was driving the Eagles for another score until he was picked off by James Bradberry in the end zone. Dion Lewis then fumbled and Elliott missed a 29-yard field goal.
The Giants appeared to take control. From his own eight-yard line, Jones appeared to be on his way for an easy touchdown run with no defender near him, but he tripped untouched and settled for an 80 yard run. Four plays later, Wayne Gallman punched it in from a yard to give New York a 14-10 lead.
Another missed opportunity by the Eagles as Wentz fired an incomplete pass on fourth and goal from the Giants three at the end of an eight-play drive. From there, New York appeared to put the game out of reach as the fourth quarter began.
A masterful 15-play, 97-yard drive that included a pass interference call on Cre'Von LeBlanc on third down, took up seven and half minutes ended when Jones hit Sterling Shepard from two yards out to give the visitors a 21-10 advantage.
Taking over with 6:17 left, Philadelphia began their comeback. Wentz found John Hightower for 59 yards that took the ball down to the New York 14. At the three, the Eagles quarterback hit Greg Ward to cut the lead to 21-16, but the two-point conversion failed.
After forcing a punt, the Eagles had exactly two minutes left to score. Rodgers caught consecutive passes for 40 yards and the versatile Scott rushed for 16 yards on a pair of carries and hauled in a pass from Wentz down the right sideline and into the end zone from 18 yards to give Philadelphia their first lead of the night at 22-21.
With 28 seconds left, Jones was sacked by Brandon Graham, who forced the second-year signal caller to fumble. Vinny Curry recovered for the hosts and they ran out the clock to clinch an improbable victory.
Up next
Both teams will be in primetime next week as the Giants return home for a matchup on Monday Night Football against Tom Brady and the Tampa Bay Buccaneers on November 2nd while the Eagles will host the Dallas Cowboys on Sunday Night Football on November 1st.