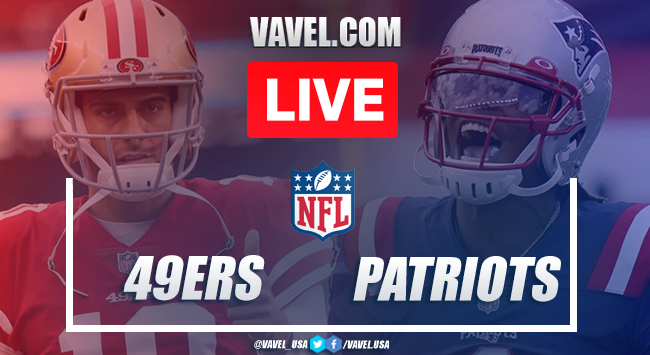 Game highlights
4Q | 00:00
4Q | 0:25
4Q | 0:38
4Q | 1:14
4Q | 1:54
4Q | 3:49
4Q | 6:13
4Q | 7:46
4Q | 9:23
4Q | 11:34
4Q | 12:47
4Q | 13:27
3Q | 00:00
3Q | 0:47
3Q | 2:20
3Q | 3:55
3Q | 4:47
3Q | 7:25
3Q | 7:32
3Q | 8:05
3Q | 9:48
3Q | 10:48
3Q | 13:19
3Q | 14:26
3Q | 15:00
2Q | 00:00
2Q | 0:14
2Q | 0:37
TD 49ers 23 - 3
2Q | 0:57
2Q | 1:46
2Q | 1:55
2Q | 2:42
TD 49ers 17 - 3
2Q | 6:23
2Q | 8:07
2Q | 8:46
2Q | 9:00
2Q | 11:01
2Q | 11:44
2Q | 13:25
2Q | 14:41
2Q | 14:56
1Q | 00:00
1Q | 1:26
1Q | 2:02
1Q | 4:33
1Q | 5:54
1Q | 7:36
1Q | 09:56
1Q | 12:26
1Q | 15:00
We are almost there!
The 'Niners', on the grill; and Garoppolo, back in New England
Good vibes in New England
Gilmore, crucial in this game
The 49ers are motivated for this afternoon's game
McKinnon, to take out the caste
This afternoon's inactives list for San Francisco
Inactive players this afternoon for the Patriots
Back to the old home
George Kittle wants to have a great National Tight Ends Day
Follow it here
Newton leading on the ground
Who you got?
Belichick style
How to Watch San Francisco 49ers vs New England PatriotsLive TV and Stream
Latest face-off
They want to solve the new project
Back in shape
Garoppolo's revenge
Key player New England
Key player San Francisco
To stay in the fight
Good afternoon to all VAVEL readers!