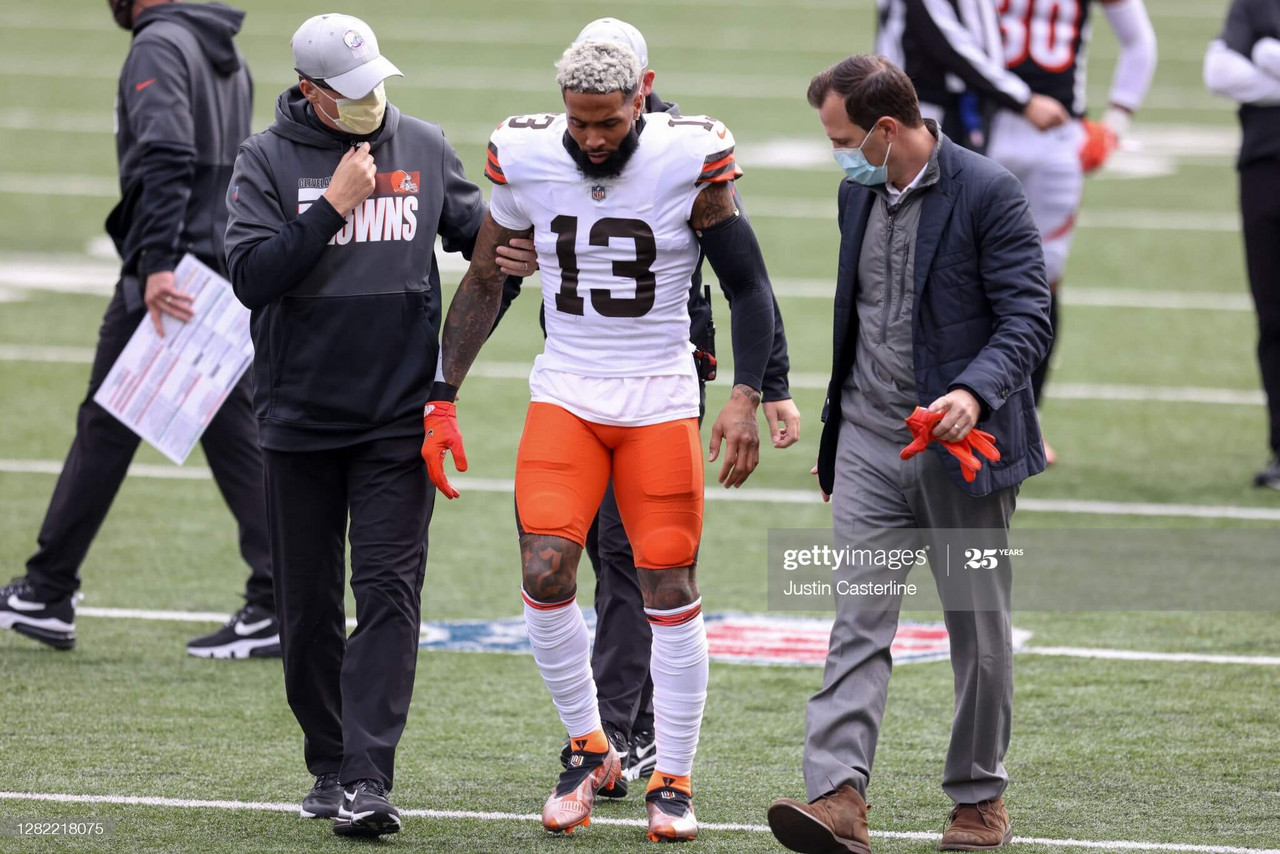 The Cleveland Browns have been dealt a huge blow as the team announced wide receiver Odell Beckham Jr. will miss the remainder of the season with a torn ACL in his left knee.
Beckham Jr. was injured on the Browns' second snap while attempting to chase down a Cincinnati defender in following a Baker Mayfield interception in Cleveland's 37-34 win.
Browns reaction to Beckham's injury
Browns coach Kevin Stefanski reacted to the loss of the star receiver: "Obviously it's a big loss. He's a huge part of what we do. So now we'll just have to huddle up, and find some different ways and find some different people and put them in that role.
"You never replace a player of Odell's caliber with one player", he added. "It's going to take multiple guys. That's the challenge we have and I think our guys will be up to the challenge."
The Browns first possession saw Mayfield trying to force a throw down the sideline to Beckham Jr. The ball was underthrown and intercepted by Cincinnati defender Darius Phillips. Beckham Jr. tried to chase Phillips down, but collided with him and fullback Andy Janovich.
Mayfield expressed his regret at the play. "I'm probably going to beat myself about that one for a long time. He's a guy who fights for the team, and in doing that, he got hurt...it sucks."
At halftime, Beckham Jr. told him to "go be great" and he became the first quarterback to throw three go-ahead touchdown passes in the fourth quarter of the Browns 37-34 win.
"That's what he left me with to open up the second half. That was something I continued to remember throughout the second half. " He also dedicated the win to Beckham Jr., posting on Instagram "a win is a win. This one was for you 13."
Acquired from the New York Giants prior to the 2019 season, the 27-year old has caught 97 passes for 1,354 yards and seven touchdowns in 23 games with the club.