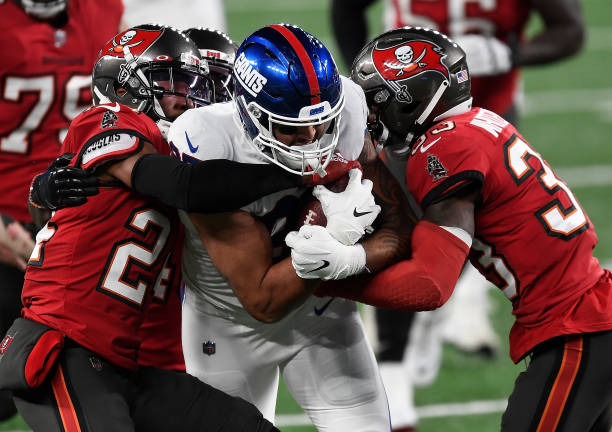 Daniel Jones threw two interceptions as the Bucs inflicted the Giants' third narrow loss in four games.
Tom Brady's Tampa Bay Buccaneers had to pull themselves back from a 14-3 halftime deficit, courtesy of touchdowns from Dion Lewis and Wayne Gallman Jr., but a second-half turnaround saw the Florida side run out victors.
Jones threw for 25/41 and 256 yards, with two interceptions, while Gallman had 12 carries for 44 yards and one touchdown.
The Buccaneers received the kickoff, and an opening drive by Brady of 11 plays and 57-yards resulted in a field goal from Ryan Succop. The New York Giants were then held to a fourth down and forced to punt, despite a neat move for Golden Tate III to find Gallman for 18-yards.
Dalvin Tomlinson tipped a Brady pass, and Ronald Jones II was forced to fumble after making the catch after a strong tackle by Blake Martinez, the ensuing play resulting in a seven-yard Lewis touchdown, the running back making a deft sliding catch.
A determined Giants side once more fell short due to unnecessary mistakes
The Buccaneers were forced to punt on their next possession, and excellent follow-up play by Ross Cockrell kept the Giants at their three-yard line. This possession, which also saw the start of the second quarter, resulted in an 11-yard sack by Devin White and a 33-yard punt by Riley Dixon.
A promising drive of 10 plays was abruptly halted by an eight-yard Leonard Williams sack on Brady, with the Bucs' Bradley Pinion making a 49-yard punt. The Giants and Jones had a drive of seven plays and 27 rush yards, with rookies Shane Lemieux and Andrew Thomas faring well against this season's top rush defence, Gallman eventually rushing for a two-yard touchdown and the Bucs responding with a field goal to end the half.
The Giants started the second half well with a 45-yard Lewis return, but Jones threw an interception to Carlton Davis. The Bucs could only muster a third Succop field goal in response, to take it to 14-9 in New York's favour. Brady's side returned to the Red Zone once more for a touchdown after a pass to Rob Gronkowski, Mike Evans narrowly missing the two-point reception.
A Gano field goal saw the third quarter end with the Giants ahead by two, and resumed the fourth quarter with an eight-yard sack by Carter Coughlin. Jones throws his second interception on second and five, Sean Murphy-Bunting collecting to set the Bucs up at their 34. Brady's drive of six plays and 67 yards ended in an Evans touchdown.
Gano added one more field goal with 3:41 to go, and the Giants were unable to take it to overtime despite a touchdown with 28 seconds to go. The Giants slipped to 1-7, while the Bucs continued to 6-2 and the top of the NFC South.
Next week
Both sides face a divisional matchup next week, with the Giants facing the Washington Football team once more while the Bucs come up against the New Orleans Saints, both crucial fixtures for the respective sides.