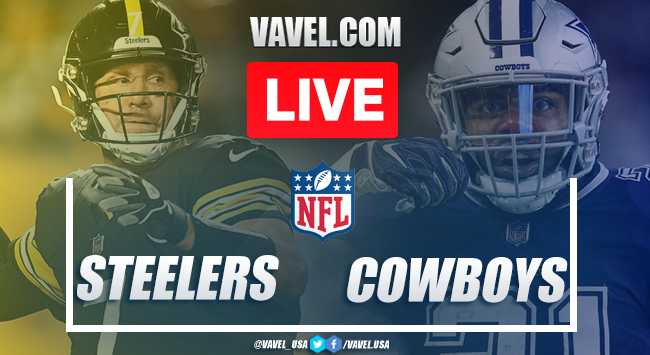 Game highlights
4Q | 00:00
4Q | 0:07
4Q | 0:31
4Q | 0:38
4Q | 1:37
4Q | 2:00
4Q | 2:14
4Q | 3:04
4Q | 4:19
4Q | 6:14
4Q | 7:11
4Q | 9:48
4Q | 11:07
4Q | 11:45
4Q | 13:10
4Q | 14:35
TD Steelers 15 - 19
4Q | 14:51
3Q | 00:00
3Q | 1:22
3Q | 2:06
3Q | 2:13
3Q | 4:42
3Q | 6:35
3Q | 7:53
3Q | 8:51
3Q | 10:18
3Q | 11:43
3Q | 12:57
3Q | 14:11
3Q | 15:00
2Q | 00:00
2Q | 0:52
TD Steelers 6 - 13
2Q | 1:10
2Q | 1:27
2Q | 2:00
2Q | 2:35
2Q | 3:46
2Q | 6:23
TD Cowboys 0 - 10
2Q | 7:45
2Q | 9:13
2Q | 10:30
2Q | 11:15
2Q | 11:26
2Q | 13:33
2Q | 14:43
2Q | 15:00
1Q | 00:00
1Q | 2:24
1Q | 3:55
1Q | 7:07
1Q | 7:50
1Q | 9:26
1Q | 10:49
1Q | 12:17
1Q | 15:00
We are almost there!
T.J. Watt puts the Steel Curtain in good state of mind
Cowboys already warming up in AT&T Stadium
Cowboys are motivated prior to a very intense duel
Debut day? Avery Williamson is in uniform for the Steelers
The plan: moving forward by the ground
Pittsburgh already announced its inactive players for today's game
Inactive Cowboys for this afternoon
Alu Alu, out for today's game
Gilbert, likely to start
Follow it here
Who you got?
While there is life, there is hope
For the best of beginnings
How to watch Pittsburgh Steelers vs Dallas Cowboys Live TV and Stream
Tough divisional game
The King in the North
Latest face-off
Key player Dallas
Key player Pittsburgh
The QB drama
Aged rivalry
Good afternoon to all VAVEL readers!