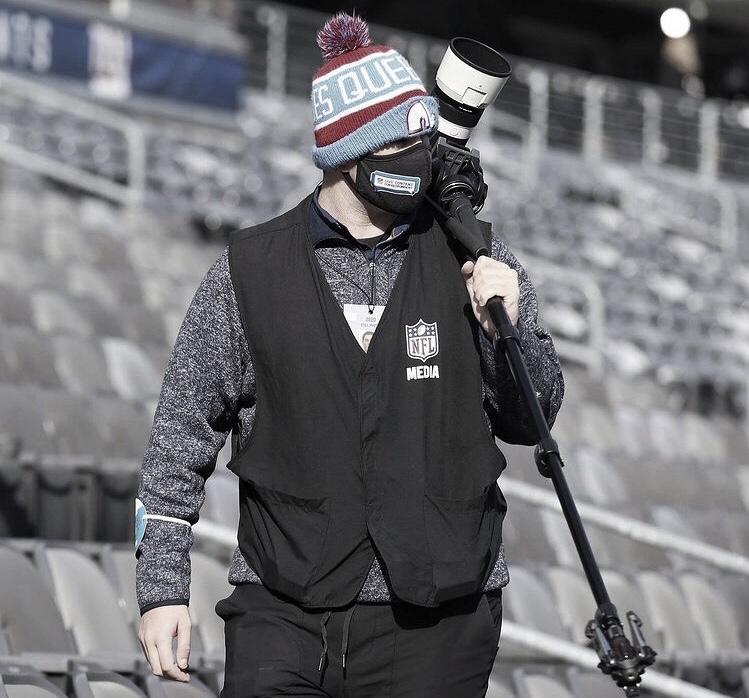 Breaking into the world of photography and videography is not an easy task, let alone doing it at the early age of 20. Against all odds, Kyle Gardner has managed to make a name for himself in the business, becoming one the most talented videographers in the NFL.
A Rye, NY native, Gardner is a junior at the University of Richmond, but has been working on his craft since his senior year of high school, which is when he discovered his true passion.
"Back in 2017 my friend Will Tepedino approached me about making a social media account for our hometown high school basketball team. I was a senior at the time and thought that I would give it a shot as I was very interested in social media," Gardner told VAVEL. "From there I began to learn all things from digital media and fell in love with creating content."
At the end of the day, in order to succeed in anything you gotta invest in yourself and your craft, which is something Kyle realized quickly, after revealing he spent countless hours of his day watching YouTube learning tutorials, until he was able to do things on his own.
The 20 year-old revealed that going out and shooting everything he could is one of the main things he credits his success to.
His work wouldn't be overlooked, and with a bit of luck he was finally able to get his first NFL job. Less than three years after after starting his career, New York's Sterling Shepard reached out to him to shoot a private work-out, where he worked with the Giants WR and RB Saquon Barkley. By creating these connections, Gardner was able to start the 2020 NFL season as an NFL photographer/videographer.
"In the spring of 2020, Sterling Shepard hit me up to start doing some video work for him. From May to July I worked with Shepard and then Saquon Barkley countless times, and was able to create content for them that they used on their social media accounts," Gardner told VAVEL. "From there, the Giants photographer Matt Swensen took notice and referred my name to people at the NFL."
This is a great piece of advice for the next generation who have hopes of making it into the business. Aside from creating great content, Kyle has been able to develop relationships, as most of the time, in order to make it, it's not necessarily about what you know, but who you know.
Even though his content has been used multiple times by important social media platforms such as ESPN and Fox Sports, Kyle hasn't always been credited for his work. Photographers are one of the most underrated people in the world, and he stated this can change in the future, but he would definitely "like to see more education for young creatives about IP and copyright law so they can learn to protect their artwork."
.@saquon's elusiveness is next level 🔥(via @kgmadeit11) pic.twitter.com/X4PuQ1ktKw

— NFL on ESPN (@ESPNNFL) August 20, 2019
In a time where social media dictates everything we do, its important to be able to create your own brand. Gardner has been able to do this not only for himself, but also for some of the best athletes in the world. Developing viewers is one of the toughest things to do nowadays, but by creating some of the best content in the business, Kyle has been able to make a name for himself in the NFL world.
"If you do it properly (social media) and deliver it the right way you can engage your audience and fans in a way that will keep them coming back and hopefully will lead to putting people in the seats," Kyle told VAVEL. "In today's world building your brand is everything. I am so grateful to have been able to help some of the best athletes in the world grow their brands by creating content for them."
The 20 year-old doesn't necessarily shoot only Football, as he has also taken part in private workout sessions with NBA All-Star Donovan Mitchell and Orlando Magic's Cole Anthony, as well as with the University of Richmond Men's Basketball team, NCAA Division I program. Shooting football and basketball is completely different, according to Gardner, who has developed new skills while shooting for the NFL in the middle of a pandemic.
"In football with these new COVID regulations, we are in the stands, so I shoot games with a 100-400mm lens which is by far the largest lens I've ever used before," he said. "I would say as of now shooting NFL football has been my favorite sport to film so far. It is so cool to film all these incredible athletes that I used to watch on tv and from the stands."
Honored to have my work showcased at the highest level. Thank you @nfl #nfllcc pic.twitter.com/81idH1cvSv

— KGMADEIT (@kgmadeit1) November 12, 2020
The journey is just beginning for Kyle, and with a year and half left to complete his degree at Richmond, he's lived through experiences that will mark him for a lifetime, and there's no doubt we'll see more from him in the future.