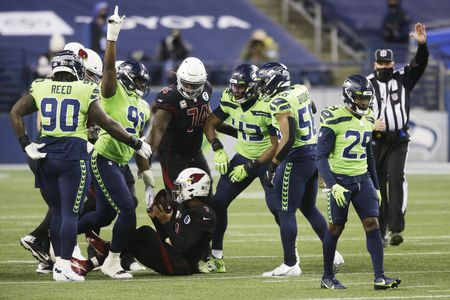 The Seattle Seahawks survived the Thursday Night NFC showdown with against the Arizona Cardinals, avoiding the series sweep. The two teams met four weeks prior in an overtime thriller on Sunday Night Football.
Seattle (7-3) now takes sole possession of the NFC west while snapping a two-game losing streak. Arizona (6-4) has now 1-2 following the bye week.
Trailing by four in the fourth quarter, the Cardinals had a chance to take the lead from Seahawks with a little over nine minutes to play. An intentional grounding penalty and a hold in the endzone resulted in a safety doomed Arizona down the stretch.
Down by a touchdown with two minutes to play, the Cardinals drove the ball to the Seattle 27-yard line. On fourth down, trade deadline acquisition Carlos Dunlap sealed the victory for Seattle with a sack.
Seattle starts off strong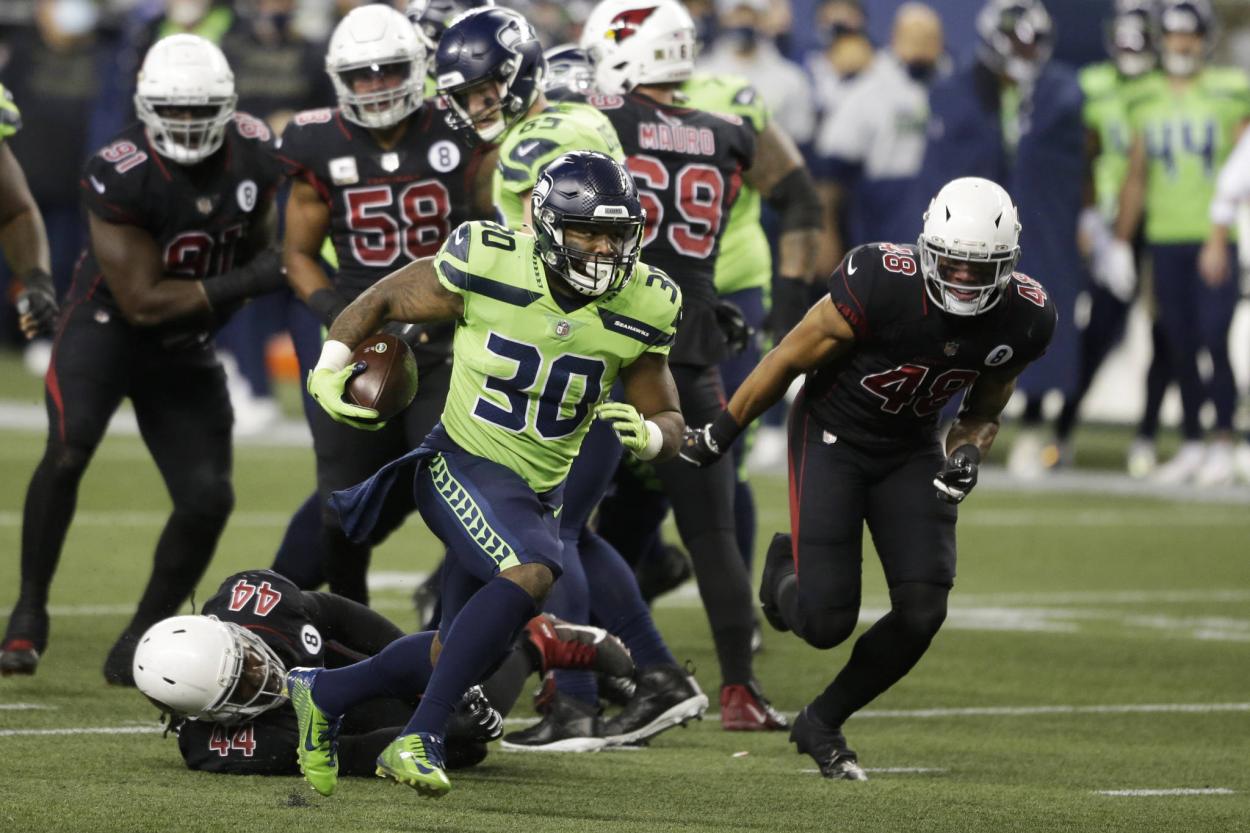 Russell Wilson came out strong on the opening drive. Wilson completed all five of his pass attempts and rushed for nine yards, concluding the drive with a 25-yard strike to DK Metcalf.
The Seattle defense held their own early on as well, forcing back-to-back three and outs leading to two Cardinal punts on their offensive drives. Kyler Murray completed two of his five pass attempts for seven yards. Arizona would score on their third possession of the game on a two-yard rush from Kenyan Drake, concluding a 15 play, 90-yard drive.
On the ensuing drive, Carlos Hyde took over, rushing for 17 yards and catching a pass for seven yards. Seattle would score on an 11-yard pass to Tyler Lockett. Jason Myers would miss the extra point.
Arizona would be forced to punt on back-to-back possessions. Myers would kick a field goal just before halftime, with the halftime score being 16-7.
Wilson would finish the game 23-28, throwing for 197 yards and two touchdowns. Wilson would also rush for 42-yards. In his return from injury, Hyde would rush for 79-yards on 14 carries. Bo Scarbrough would rush for 31-yards on six attempts. Lockett would lead the receivers with nine catches for 67-yards.
Cardinals try to bounce back in the second half
Even though the Seahawks defense has allowed 448.3 yards and 29.6 points per game, Arizona could muster 314 total yards and 21 points for the game.
Kyler Murray came out of halftime completing eight passes for 59 yards, ending a drive with a four-yard pass to Dan Arnold.
The Cardinals would be down by just two points late in the third quarter, but a brawl broke out between Seattle wide reliever DK Metcalf and Cardinals defensive back Dre Kirkpatrick. Instead of forcing just a field goal, a taunting penalty would lead to a Seattle score.
Arizona was down 23-14.
Following the Seahawks touchdown drive, the Cardinals responded with a touchdown of their own, Chase Edmonds found himself a lone and wide open for the score.
Chase Edmonds WIDE open for the 3 yard TD

pic.twitter.com/Egm9JR9Ryz

— TUFF TALK (@TUFFPOD) November 20, 2020
Arizona would find a way to sabotage themselves in the final quarter. Any momentum they had was lost when J.R. Sweezy was called for holding in the end zone. It still had a final opportunity and drove into Seattle territory, but three straight incompletions and the Dunlap sack ended the comeback efforts.
Kyler Murray finished the game completing 29 passes on 42 attempts for 269 yards and two touchdowns. He would also rush for 29 yards. Kenyan Drake would run for just 29 yards. Larry Fitzgerald would have his most significant game of the season, catching eight passes for 62 yards. DeAndre Hopkins was a non-factor, catching just five passes for 51 yards.
Isaiah Simmons would shine for the Cardinals, finishing the game with 10 tackles including two tackles for a loss and a sack. The total number of plays has gone up the past couple of weeks and is showing he can develop into the player many thought he would.
Up Next
Both teams are on the road in Week 12 when the Seahawks face the Philadelphia Eagles and the Cardinals play the New England Patriots.