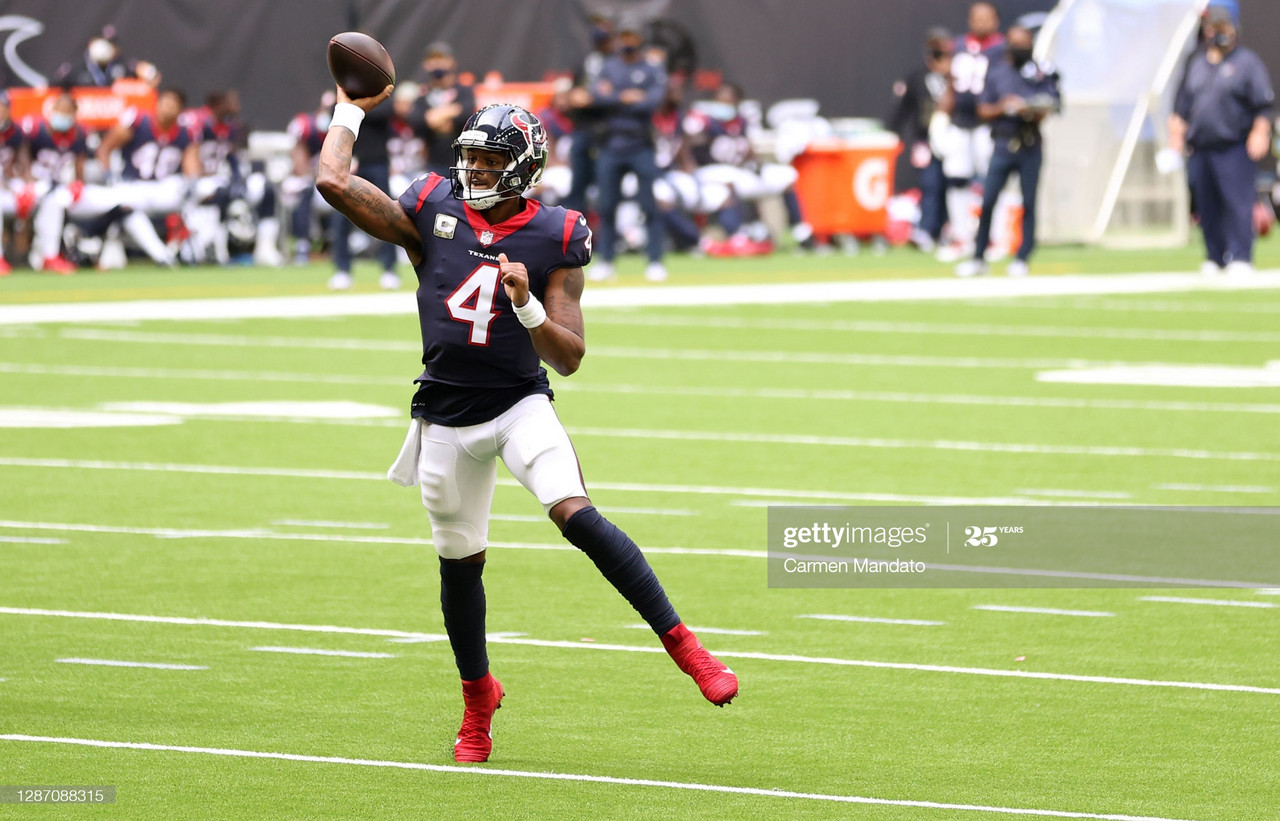 Deshaun Watson threw for more than 300 yards for the 15th time in his career, and chipped in with 36 rushing yards, leading the Texans to a much-needed victory over the New England Patriots.
Two passing and one rushing touchdown from Watson separated the two sides, with Justin Reid putting in a crucial defensive performance of nine tackles, three for loss, and one sack.
With the Texans unable to find anything on their first drive, the Patriots responded strongly when Cam Newton guided his side downfield through 10 plays and 51 passing yards, Damien Harris eventually rushing nine yards for the first score of the game, Nick Folk adding the extra point.
Watson returned to good effect, notably a 44-yard pickup to Brandin Cooks and 22 yards to Jordan Akins preceding a three-yard Randall Cobb touchdown, and Ka'imi Fairbairn's kick bringing the scores level.
It was the turn of the Texans defence to come out strong, a single first down gained by the Patriots as possession turned hands once again, but the first quarter finished all square.
A shrewd reverse play by the Patriots allowed Newton to find Jakobi Meyers for 28 yards and the first down at the Texans 28. Unable to get to the endzone, the Pats took three points from their possession.
Again the Texans came out firing, the big play coming when Watson found Cooks for 21 yards to set up a first and goal at the Patriots four-yard line. The quarterback then scrambled through the defence and into the redzone for the touchdown to give the Texans the lead.
Watson then found Cooks in the endzone with 54 seconds left on the clock, but was forced to replay with an ineligible man, Tytus Howard, downfield. The end result was the same, this time Keke Coutee picking up the six-yard touchdown.
The two teams exchanged punts in the first five minutes of the third quarter, but the play of the game came when Newton found Damiere Byrd with a 42-yard reception and a touchdown, pulling the Patriots within four after the extra point. The pass was Newton's longest since Week 2 in 2018. Houston were able to muster a field goal in response, the final score of the quarter.
The first score of the fourth quarter was a 36-yard Folk field-goal with 7:39 left on the clock as the Patriots sought to mount a comeback. However, Houston extended their lead to seven once more with 4:11 left, courtesy of Fairbairn's second field-goal of the game.
Despite a late drive, a stoic defensive performance from JJ Watt at the death of the fourth quarter held the Patriots to four downs, and the Texans saw out the game.