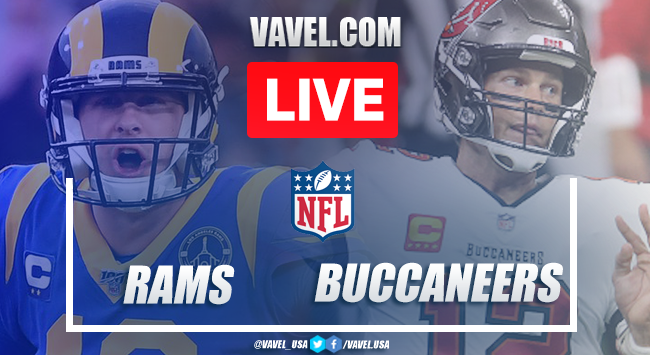 Thank you for tuning in
Key play
Victory Kick
4th Quarter | 0:00
4th Quarter | 1:49
4th Quarter | 2:40
4th Quarter | 3:01
4th Quarter | 3:59 TOUCHDOWN BUCCANEERS
4th Quarter | 7:25
4th Quarter | 8:21
4th Quarter | 9:04
4th Quarter | 11:51
4th Quarter | 13:28
Great move by Akers
3rd Quarter | 0:00
3rd Quarter | 0:11
3rd Quarter | 1:24
3rd Quarter | 4:41
3rd Quarter | 5:44 TOUCHDOWN RAMS
3rd Quarter | 7:42
3rd Quarter | 8:30
3rd Quarter | 10:43
3rd Quarter | 12:46
3rd Quarter | 13:42
The Rams want the game
Half time
2nd Quarter | 0:01
2nd Quarter | 1:07
Tampa Bay turned around
2nd Quarter | 2:00
2nd Quarter | 4:31 TOUCHDOWN RAMS
2nd Quarter | 8:38 TOUCHDOWN BUCCANEERS
The TD of Tampa Bay
2nd Quarter | 14:10 TOUCHDOWN BUCCANEERS
1st Quarter | 1:00
He was left alone
1st Quarter | 3:55 TOUCHDOWN RAMS
1st Quarter | 5:13
1st Quarter | 7:01
1st Quarter | 11:47
1st Quarter | 15:00
All ready for tonight's game
The winner could lead his division
These are the inactive Rams
Inactives of the Bucs
The Rams have arrived
Will Rams be a problem for Buccaneers?
The locals have arrived
Welcome to the live broadcast
Stay with us!
Last match between Rams and Bucs
How and where to watch the Rams vs Buccaneers
Rams key player
Buccaners key player
Great season of Rams
Tampa Bay in search of Playoffs
Kick-off time
Welcome to VAVEL.com's LIVE coverage of the 2020 Competition match: Rams vs Buccaneers!