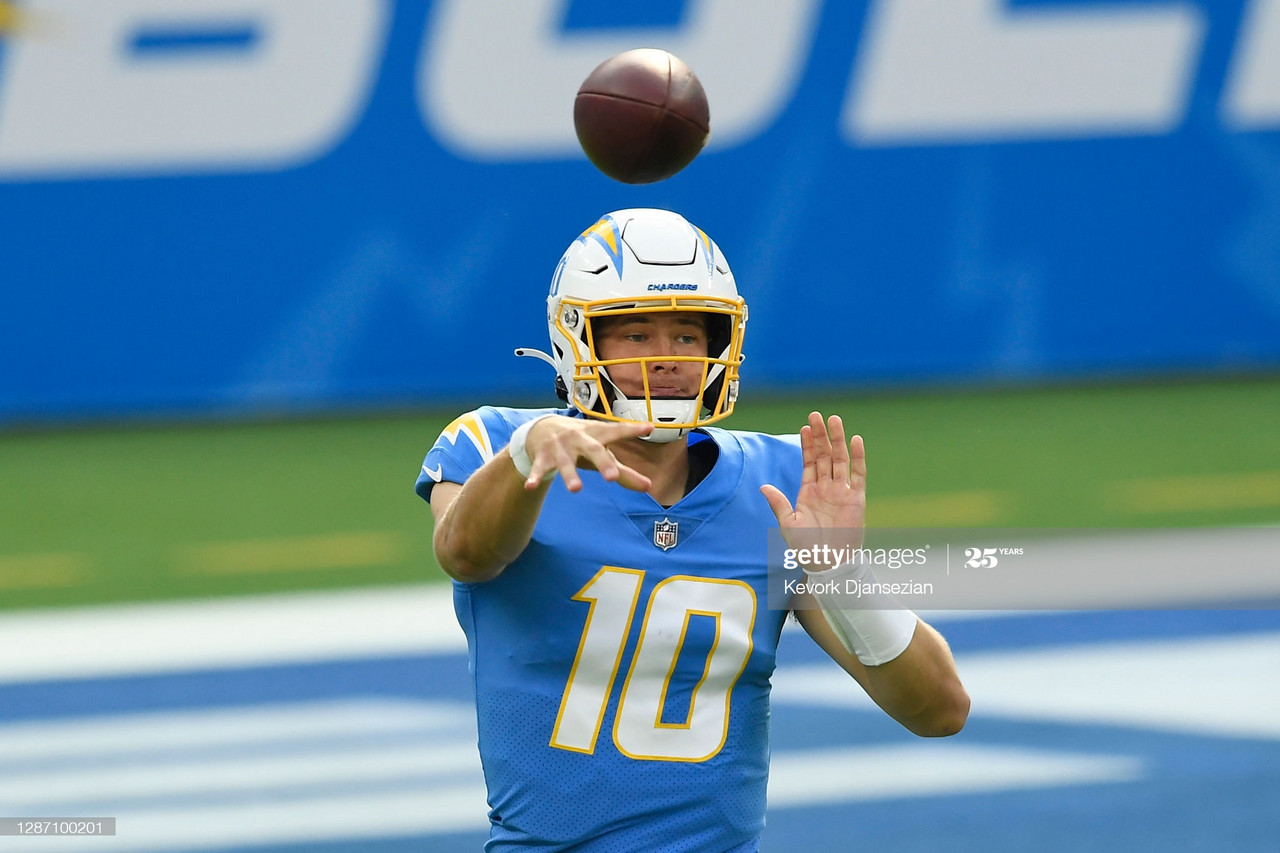 The New York Jets remain the NFL's only winless team after a 34-28 loss to the Los Angeles Chargers at SoFi Stadium.
The Jets fall to 0-10 for the first time in franchise history while the Chargers (3-7) pick up their first win of the season in a one-possession game.
Los Angeles quarterback Justin Herbert lit up the New York defense, throwing for 366 yards and three touchdowns on 37 of 49 passing. Keenan Allen caught a career-high 16 passes for 145 yards and a touchdown.
Joe Flacco was 15 of 30 for 205 yards with two touchdowns and one interception starting again in place of the injured Sam Darnold.
Chargers hold off late Jets rally to keep New York winless
New York got off to a great start as defensive lineman Trent Murphy blocked Los Angeles punter Ty Long's attempted punt with Henry Anderson recovering that set the Jets up at the Chargers' 29-yard line. La'Mical Perine made Los Angeles pay for their mistake with a five-yard touchdown run, kicker Sam Ficken missing the extra point.
Herbert directed Los Angeles on an 11-play, 74-yard drive that ended when Allen fumbled with the Jets' Ashtyn Davis recovering on their own one-yard line.
The Chargers were in front when Flacco was intercepted by Tevaughn Campbell and he just needed to take a few steps into the end zone to give Los Angeles a 7-6 lead.
After a New York punt, Herbert found Mike Williams on a 39-yard catch-and-run as he shook off a pair of defenders as the hosts extended their advantage to 14-6.
Hunter Henry made it 21-6 after catching a touchdown, his second in as many games as the Chargers now led 21-6. Michael Badgley kicked a 44-yard field goal as the score was 24-6 at the half.
The Jets took the opening drive of the second half 74 yards in seven plays, capped off by a 49-yard touchdown pass by Flacco to Breshad Perriman to cut the lead to 24-13.
Herbert threw his third touchdown pass of the game to Allen while Frank Gore answered with a one-yard score, his 99th career touchdown, though Ficken missed his second extra point of the game as the Chargers lead stood at 31-19 with 22 seconds remaining in the third quarter.
Los Angeles are up eight minutes, 40 seconds of the clock on a 16-play, 70-yard drive that culminated in a Badgley 23-yard field goal after coach Anthony Lynn elected not to go for it on fourth-and-goal from the Jets one-yard line.
Again, the visitors answered, Flacco finding tight end Chris Herndon from six yards out to cut the lead to 34-26. They got the ball back with three minutes left, but turned the ball over on downs.
With 1:46 remaining, Los Angeles ran three times in an effort to run out the clock, the last of which made the score 34-28 when Long took an intentional safety out of the back of his own end zone.
Up next
The Jets return home to face Miami on Sunday afternoon at 1pm while the Chargers travel to Buffalo to play the AFC East-leading Bills, also Sunday at 1pm.