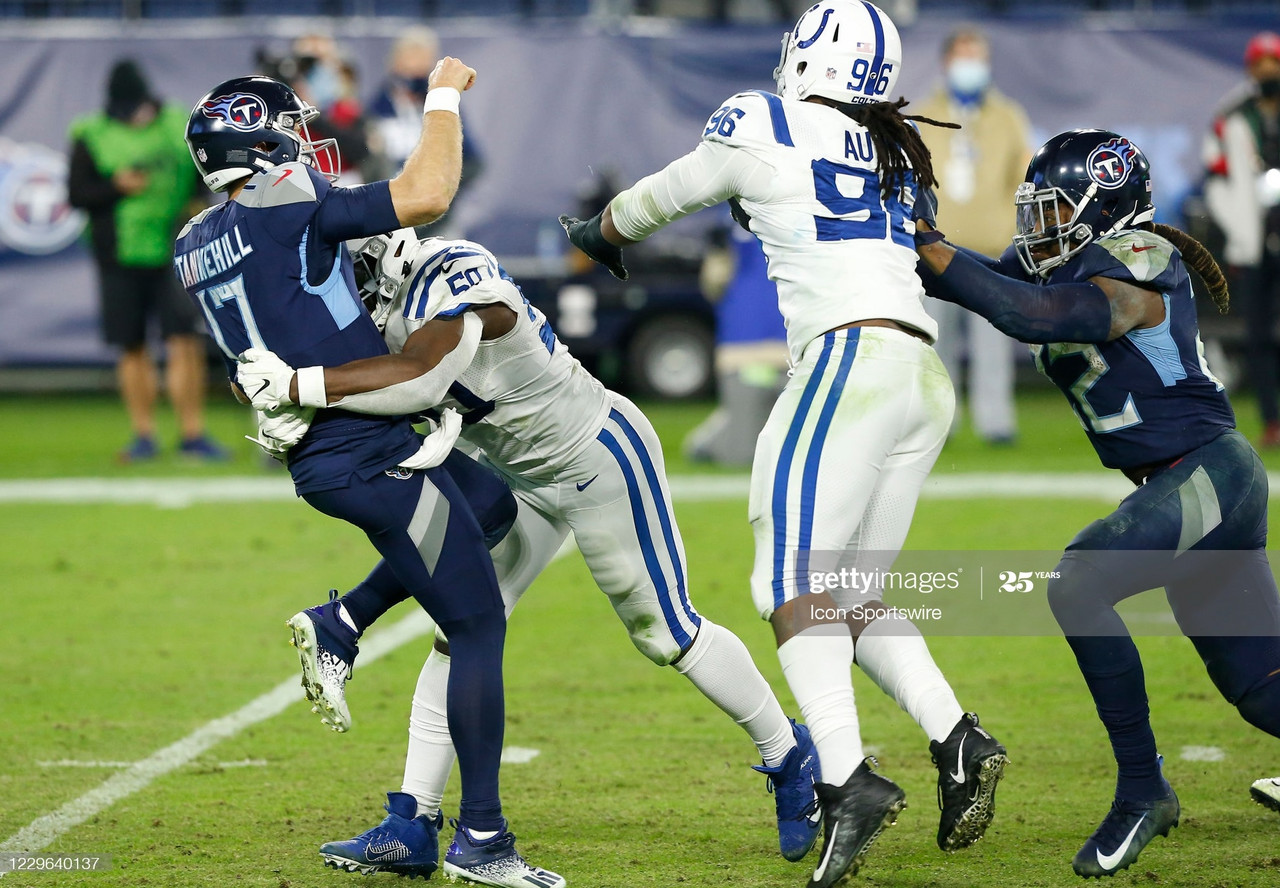 In the NFL in two weeks, everything can change. For the Tennessee Titans and Indianapolis Colts that could not be truer. As since the week 10 meeting which saw the Colts win 34-17.
In all-time results, the Colts run away against the Titans. With the Colts winning thirty-five out of the fifty-two meetings including four of the last five meetings.
Since week 10 both teams had resounding victories over top tier teams, the Colts over the Green Bay Packers and the Titans over the Baltimore Ravens.
Injuries play a part in all games.
However, these victories came with grave consequences for both sides.
The Colts defence who has been robust and simply unstoppable will be without their All-Pro tackle DeForest Buckner, their sack leader Denico Autry and linebacker Bobby Okereke. Buckner and Autry are on the COVID-19 list and will miss the game. The titans will be thankful as both terrorised the Titans last time out and will be a huge miss. Starting Quarterback Phillip Rivers was on the injury report himself this week with a toe injury, it was although confirmed Thursday he would play on Sunday.
The Titans major injury problems included Joyon Brown as he was placed on Injured Reserve after he hurt his elbow in the win at Baltimore. Brown leads the Titans with 76 tackles this season and would've been a shoo-in All-Pro, even a shout for the defensive player of the year.
Ty Sambrailo who replaced Taylor Lewan in the offensive line was also placed on IR after an undisclosed injury acquired during the Ravens win finished his season.
Duplicating Quarterback Tales
In terms of Quarterback play, Phillip Rivers and Ryan Tannehill are two of the more surprising ones. Tannehill has rebounded his career at Tennessee. Titans are fourteen and seven since Tannehill took over the starting QB job midway through the 2019 season. Only Patrick Mahomes has a better record since that time, and that is some impressive company.
Rivers is on his own redemption arc and is looking to emulate what Tannehill has done at the Titans as the Los Angles Chargers discarded the 38-year-old much like Tannehill was by the Miami Dolphins.
Rivers is on that way as his numbers this season are middle of the pack, but his team is looking after him as the veteran will have taken fewer sacks this season than in his entire career. The question with Rivers is always how much can his arm take? With Rivers putting up huge numbers in his last five games including 288 yards and three touchdowns last week the answer is an apparent yes.
The Verdict
The Titans have a game plan and with all of their monster offensive players on form look like they will take some stopping. The Colts usually have that power, and the game looked like an immovable object meets unstoppable force type affair.
However, the injuries move the meter strongly south towards Tennessee.
Score: Indianapolis Colts 22-31 Tennessee Titans