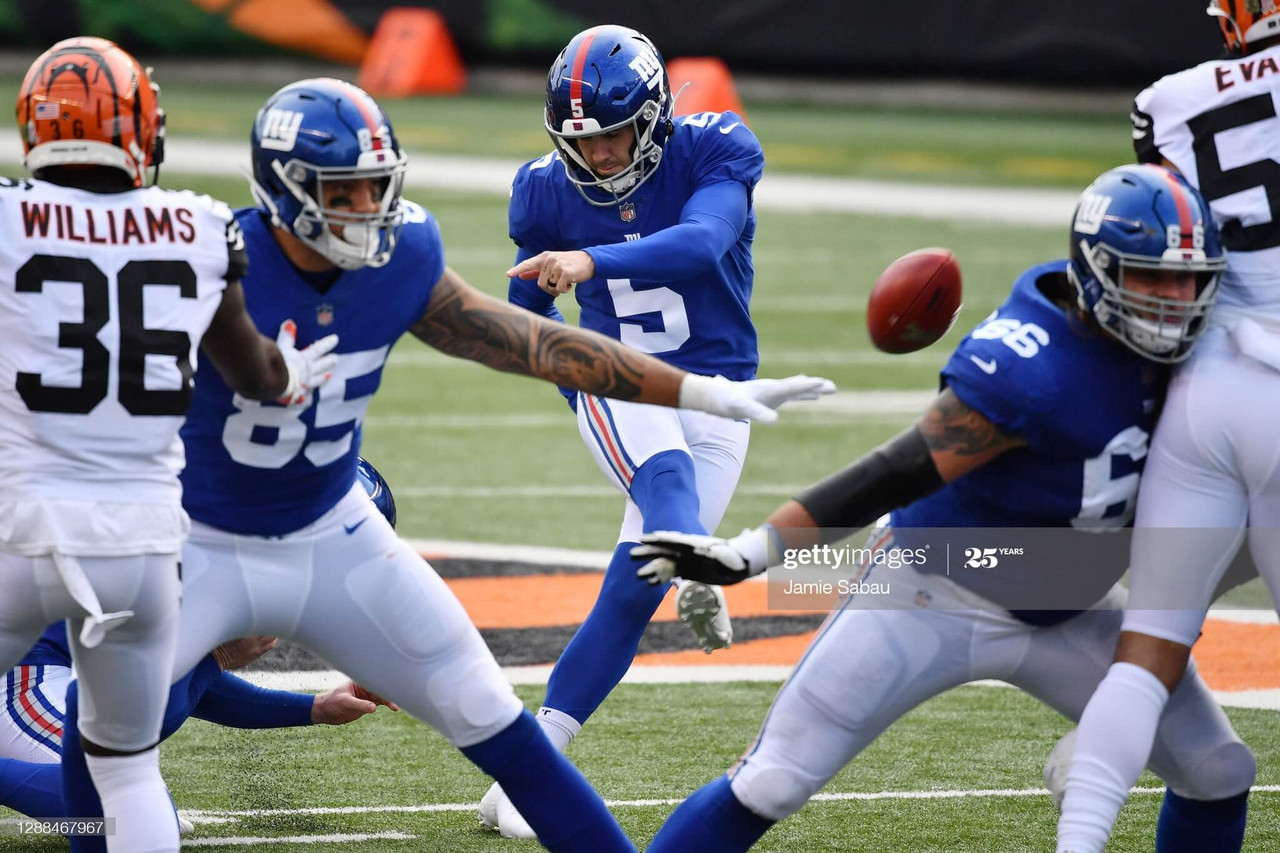 The New York Giants moved to the top of the NFC East after they secured a 19-17 victory over the Cincinnati Bengals
Graham Gano kicked four of four field goals to drive Big Blue over the line, in a match which saw two backup quarterbacks go head-to-head.
Daniel Jones found Evan Engram on the Giants' opening drive for a big play of 53 yards, Wayne Gallman Jr. rushing for the one-yard touchdown on fourth and goal, despite a valiant stand from the Bengals.
Cincinnati wasted no time replying, Brandon Wilson with a 103-yard return to bring Cincinnati right back into it. New York took to the field once more, but could only punt to the Bengals' 25.
The sides exchanged continued to exchange punts deep into the second quarter, as both defences put on stalwart displays. Bengals kicker Randy Bullock slotted the 44-yard field goal to take the lead.
Despite a promising drive, all the Giants could muster was a Gano 49-yard field goal, which took the teams into the halftime level.
Jones found Engram again for a 44-yard pickup on third down, but the quarterback sustained an injury on a seven-yard rush and was replaced by Colt McCoy.
McCoy's start saw a loss of nine yards and a near pick from Akeem Davis-Gaither, although Giants left Bengals territory with another three from Gano's boot.
Jones returned to the field for two downs, following a Kevin Huber punt to the Giants 12, but possession turned once again following a Riley Dixon punt to the Bengals 16-yard line.
The Bengals shrewdly escaped a fourth-and-six deep in their territory, Shawn Williams picking up the first down after a fake punt. But Nico Lalos, elevated for this game, picked off Allen after a Darnay Holmes deflection.
The Giants began the final quarter at the Bengals 38, driving to the 21 and setting up Gano for his third field goal of the match, stretching the Giants' lead to six.
Logan Ryan forced a fumble by Drew Sample, with Ryan recovering up to the Bengals 19-yard line and enabling Gano to slot his fourth field goal of the game after Big Blue worked the downs.
Allen drove the Bengals into Giants territory, with pass interference from Holmes affording the hosts a first-and-goal, Allen finding Tee Higgins for the touchdown, Bullock adding the extra.
Cam Fleming was flagged for holding after the Giants had found a first down, Alex Erickson returning the punt for 29 yards to the 50. Jabaal Sheard sacked Allen and forced the fumble, recovered by Williams.
The victory pushed the Giants to the top of the NFC East, by virtue of their sweep of Washington Football Team, but have a difficult remaining fixture list, made of mostly winning teams.
The Bengals stoop to 2-8-1 and are firmly rooted to the base of the AFC North.