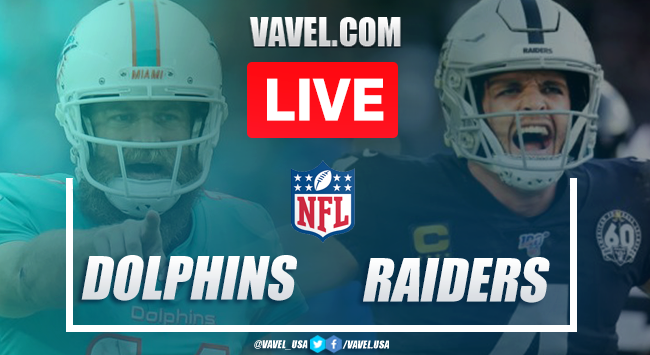 4Q | 00:00
4Q | 0:01
4Q | 0:12
4Q | 0:19
4Q | 2:00
TD Dolphins 23 - 22
4Q | 2:55
TD Raiders 16 - 22
4Q | 3:38
4Q | 4:00
4Q | 5:24
4Q | 6:04
4Q | 7:23
4Q | 8:30
4Q | 10:27
4Q | 12:04
4Q | 13:39
3Q | 00:00
3Q | 1:05
3Q | 2:30
3Q | 5:14
3Q | 5:51
3Q | 6:40
3Q | 7:33
3Q | 8:32
TD Dolphins 13 - 13
3Q | 10:31
3Q | 11:49
3Q | 13:30
3Q | 14:32
3Q | 15:00
2Q | 00:00
2Q | 0:11
2Q | 0:39
2Q | 1:04
2Q | 1:34
2Q | 1:42
2Q | 2:00
2Q | 3:28
2Q | 4:17
2Q | 5:50
2Q | 6:47
2Q | 8:14
2Q | 10:33
2Q | 11:07
2Q | 11:28
2Q | 13:37
1Q | 00:00
1Q | 0:39
1Q | 1:23
1Q | 3:17
1Q | 6:13
1Q | 6:57
TD Raiders 0 - 7
1Q | 8:25
1Q | 9:39
1Q | 11:13
1Q | 12:08
1Q | 13:55
1Q | 15:00
We are almost there!
Can there be a better scenario? The Raiders show off the Allegiant Stadium from both inside and outside
Unusual prime time game
The Dolphins are motivated and ready to face Las Vegas
Henry Ruggs and the Raiders are already doing warm-up workout
Josh Jacobs feels the Christmas spirit
The first visit
Last chance for Las Vegas
Raiders' inactives list for tonight
No Parker tonight
Inactive Dolphins for tonight
Follow it here
Who you got?
How to WatchMiami Dolphins vs Las Vegas RaidersLive TV and Stream
They want to stay alive
To secure the spot
Latest face-off
Dramatic loss
They defeated their classic rival
The season is not over yet
Key player Las Vegas
Key player Miami
A playoff match
Good afternoon to all VAVEL readers!