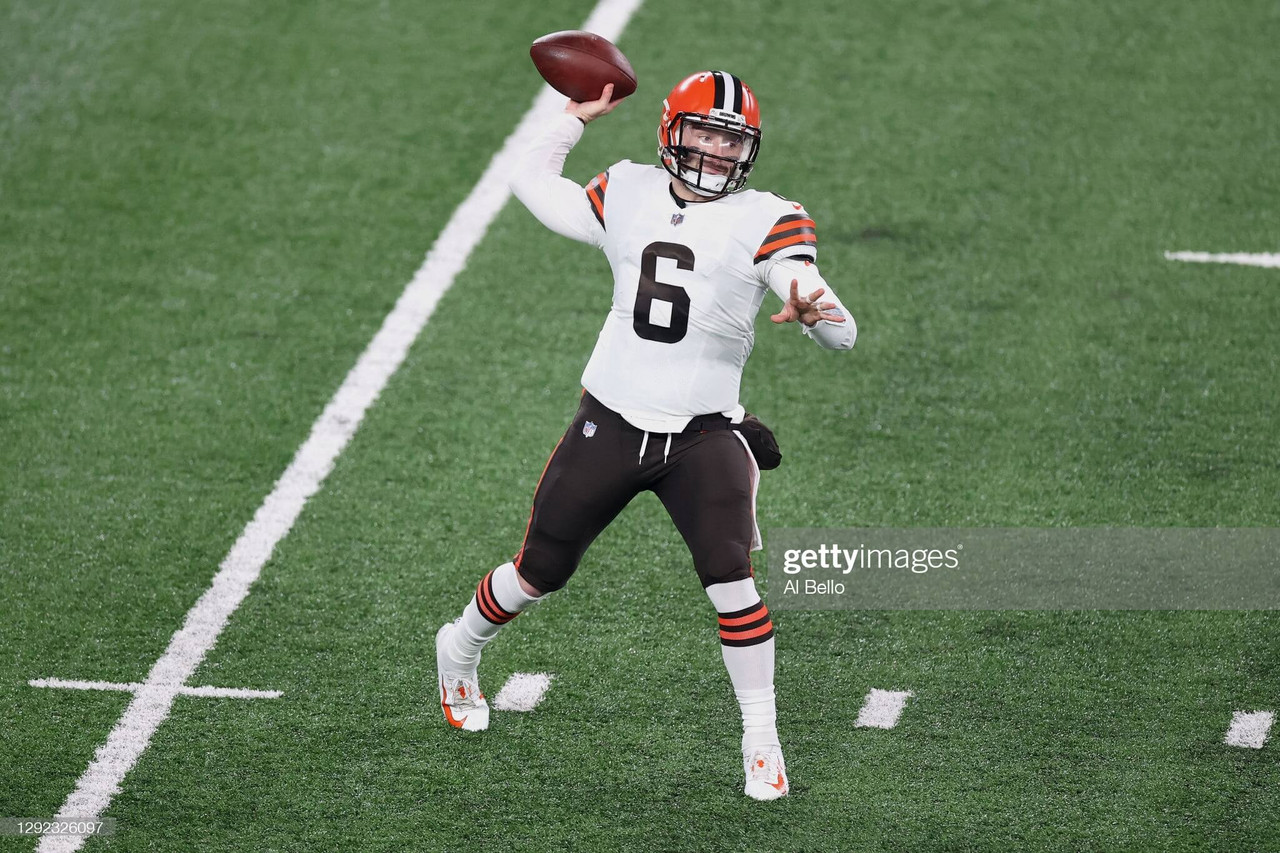 The Cleveland Browns have inched closer to the franchise's first playoff berth since 2002 after defeating the New York Giants 20-6 at MetLife Stadium.
At 10-4, the Browns need one more win or a loss by Baltimore to lock up a spot in the postseason while the Giants failed to capitalize on a chance to claim sole possession of first place in the NFC East.
Cleveland quarterback Baker Mayfield had one of his best games of the season, completing 27 of 32 passes for 297 yards and two touchdowns.
"I thought Baker was outstanding tonight", said coach Kevin Stefanski. "He was dialed in. It's really what I expect from him and what he expects from himself. It's how he practices, but I really thought he was sharp."
"As long as we take care of our business, we'll be where we want to be", he said. It's something that until I got into the league my rookie year that I didn't know how hard it was to win in this league.
"It's (10 wins, matching the most since the franchise returned to the league in 1999) something to be proud of, but the best part is that everybody in there is like 'yeah 10 wins but we're on to the next one. Notch on the belt and move on.
"We're not done yet. And that's the best part of this team."
Colt McCoy, once again playing for the injured Daniel Jones, was 179 of 31 for 221 yards as New York falls to 5-9 on the season and can be eliminated from playoff contention with a loss to the Ravens.
Story of the game
The Giants took the opening kickoff 48 yards on the return from former Brown Dion Lewis, but on fourth down from the Cleveland eight, head coach Joe Judge strangely called for a fake field goal that didn't work.
After forcing the Browns to turn the ball over on downs, New York drove to the Cleveland 19, but McCoy's pass intended for Evan Engram was broken up by Karl Joseph and Graham Gano kicked a 37-yard field goal.
Mayfield ended the first quarter with a 22-yard pass to Rashard Higgins and six plays later, he connected with tight end Austin Hooper from two yards out to give Cleveland their first lead of hte night at 7-3.
Wayne Gallman and Alfred Morris helped get the Giants down to the five and faced with fourth and two, Judge went for it, but Gallman was stuffed for no gain as New York's red zone struggles continued.
Cleveland took advantage as Mayfield spread the ball around to four different receivers on the drive, which spanned 95 yards and ended with a two-yard touchdown reception by Jarvis Landry with 21 seconds left in the half.
Parkey missed the extra point, so the score stood at 13-3, but the Browns defense forced the Giants to punt as the second half began, although New York lined up to go for it and the punt pinned Cleveland back to their own five once again.
As they had done the previous time they were pinned back, Mayfield led the Browns down the field, scrambling for 16 yards, hitting Higgins for 20 while Nick Chubb rushed for 37 yards, the last of those giving Cleveland a 20-3 advantage with 12:53 remaining.
The Giants would eventually tack on a 39-yard field goal by Gano, but it was far too late to make the difference as they now face the prospect of their season ending next week while the Browns' is just getting started.
"Field goals weren't going to win this game", said Judge. "Look, i'm not afraid to call things aggressively. I'm not afraid. I think we have a good scheme in the kicking game to call a fake. I'm not afraid to run the ball on fourth-and-one."
Up next
The Browns stay in New York to play the Jets two days after Christmas at 1pm, but will be without their top four wide receivers due to them being close contacts with someone who had COVID-19.
The Giants travel to Baltimore to play the Ravens at 1pm on that same day knowing a loss and a win by Washington over Carolina sees their playoff chances gone.