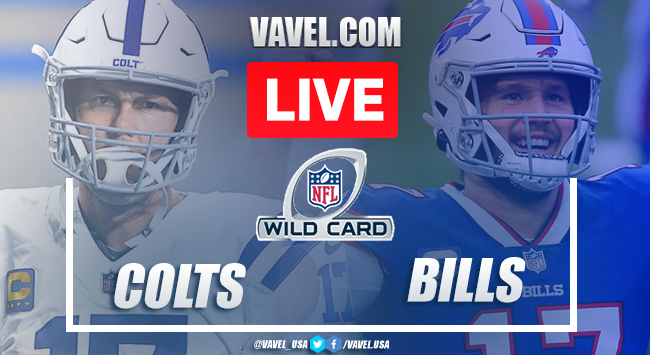 4Q | 00:00
4Q | 0:39
4Q | 1:27
4Q | 1:59
4Q | 2:25
4Q | 2:41
4Q | 4:28
4Q | 4:39
4Q | 6:02
TD Colts 24 - 27
4Q | 6:13
4Q | 6:52
4Q | 7:22
4Q | 8:08
4Q | 10:12
4Q | 10:55
TD Colts 16 - 24
4Q | 11:32
4Q | 12:41
4Q | 13:21
4Q | 13:57
TD Bills 10 - 24
4Q | 14:10
4Q | 14:54
3Q | 00:00
3Q | 1:14
3Q | 2:32
3Q | 3:32
3Q | 5:04
3Q | 7:18
3Q | 9:26
3Q | 10:12
3Q | 11:05
3Q | 13:03
3Q | 13:35
3Q | 14:14
3Q | 15:00
2Q | 2:00
TD Bills 10 - 14
2Q | 0:14
2Q | 0:20
2Q | 0:59
2Q | 1:33
2Q | 1:46
2Q | 2:00
2Q | 3:55
2Q | 5:57
2Q | 6:50
TD Colts 10 - 7
2Q | 8:07
2Q | 9:26
2Q | 10:35
2Q | 11:23
2Q | 13:27
2Q | 14:18
1Q | 00:00
1Q | 0:19
1Q | 1:35
TD Bills 3 - 7
1Q | 1:49
1Q | 3:08
1Q | 4:28
1Q | 4:46
1Q | 5:15
1Q | 5:29
1Q | 8:08
1Q | 8:23
1Q | 9:17
1Q | 10:48
1Q | 12:09
1Q | 12:47
1Q | 14:25
1Q | 15:00
We are almost there!
Philip Rivers, ready to call the signals
The Bills Mafia is more than motivated to welcome the Colts
The Colts' defense is ready for the playoff clash
Josh Allen arrived motivated for his first home playoff game
First time with another team
With all the luxury that playoffs deserve, the Colts arrived at Ralph Wilson Stadium
More than a quarter of a century without receiving playoffs
Inactive Bills for today's game
Today's inactive players for the Colts
Follow it here
Who you got?
How to Watch Buffalo Bills vs Indianapolis Colts Live TV and Stream
Keeping strong
Ticket secured at the last moment
Latest face-off
Key player Buffalo
Key player Indianapolis
How does the bracket fit?
With high expectations
The last wildcard
The playoffs are here!
Good afternoon to all VAVEL readers!