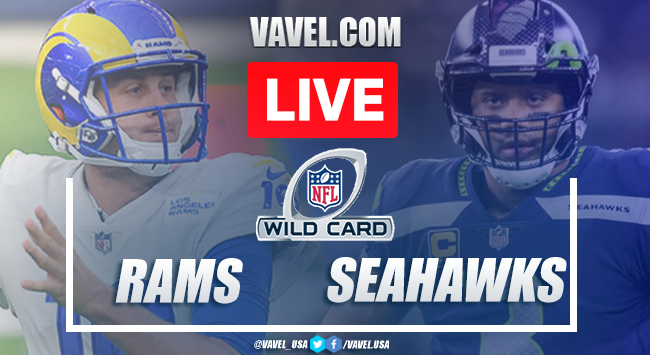 4Q | 00:00
4Q | 1:26
4Q | 1:55
4Q | 2:00
TD Swahawks 30 - 20
4Q | 2:28
4Q | 2:34
4Q | 3:27
TD Rams 30 - 13
4Q | 4:46
4Q | 6:17
4Q | 7:02
4Q | 7:49
4Q | 9:32
4Q | 11:33
4Q | 14:18
3Q | 00:00
3Q | 1:33
3Q | 1:50
3Q | 3:53
3Q | 5:34
3Q | 6:31
3Q | 7:30
3Q | 9:02
3Q | 9:58
3Q | 11:39
3Q | 12:59
3Q | 13:45
3Q | 15:00
2Q | 00:00
2Q | 0:36
2Q | 1:11
2Q | 1:29
2Q | 1:57
2Q | 2:00
2Q | 2:43
TD Seahawks 13 - 10
2Q | 3:43
2Q | 5:15
2Q | 5:55
TD Rams 13 - 3
2Q | 6:40
2Q | 7:44
2Q | 7:51
2Q | 9:57
2Q | 10:29
2Q | 12:13
2Q | 12:27
2Q | 13:34
1Q | 00:00
1Q | 0:13
1Q | 0:27
1Q | 1:26
1Q | 3:52
1Q | 6:13
1Q | 7:37
1Q | 8:30
1Q | 8:58
1Q | 10:33
1Q | 12:00
1Q | 13:20
1Q | 15:00
We are almost there!
The Seahawks are more than motivated for their duel against the Rams
Official: Jared Goff is active to play this afternoon
Follow it here
Who you got?
How to Watch Los Angeles Rams vs Seattle Seahawks Live TV and Stream
They closed with a golden clasp
They met the objective
Divided series
Key player Seattle
Key player Los Angeles
How does the bracket fit?
On the National Football Conference Podium
Finally, they made it
The playoffs are here!
Good afternoon to all VAVEL readers!