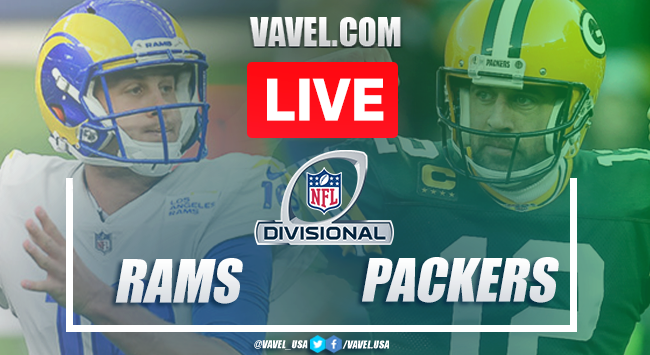 4Q | 00:00
4Q | 2:00
4Q | 2:33
4Q | 4:06
4Q | 4:58
4Q | 6:14
TD Packers 18 - 32
4Q | 6;52
4Q | 8:14
4Q | 10:09
4Q | 11:29
4Q | 12:47
4Q | 13:26
4Q | 14:54
3Q | 00:00
3Q | 0:46
TD Rams 18 - 25
3Q | 1:41
3Q | 2:23
3Q | 4:04
3Q | 5:15
3Q | 6:20
3Q | 6:45
3Q | 7:37
3Q | 9:10
3Q | 9:54
3Q | 11:13
TD Packers 10 - 25
3Q | 12:10
3Q | 13:29
3Q | 14:49
3Q | 15:00
2Q | 00:00
2Q | 0:14
2Q | 0:23
TD Rams 10 - 16
2Q | 0:29
2Q | 0:51
2Q | 1:33
2Q | 1:55
2Q | 2:00
2Q | 2:44
TD Packers 3 - 16
2Q | 3:29
2Q | 5:28
2Q | 7:54
2Q | 8:40
2Q | 9:57
TD Packers 3 - 10
2Q | 11:37
2Q | 13:45
1Q | 00:00
1Q | 1:55
1Q | 3:03
1Q | 4:36
1Q | 7:05
1Q | 7:23
1Q | 7:57
1Q | 8:39
1Q | 9:47
1Q | 10:49
1Q | 11:30
1Q | 13:35
1Q | 15:00
We are almost there!
The Rams are more than motivated to take on the Packers
For this match, Green Bay will be able to count on a small number of fans
Was there any doubt that Aaron Donald can play this afternoon?
Justin Hollins wants to shine on his birthday
Aaron Rodgers is ready to throw this afternoon
For one more final
Los Angeles team already warming up on the grid at Lambeau Field
Very Mexican, Aaron Jones made his arrival at Lambeau Field
Tremendous audiovisual work by the Rams
Ready to play
Follow it here
Who you got?
How to Watch Los Angeles Rams vs Green Bay Packers Live TV and Stream
All roads lead to Green Bay
Playing the whole postseason on the road
Latest face-off
Key player Green Bay
Key player Los Angeles
How does the bracket fit?
Well deserved rest
They surprised his divisional rival
The Divisional Round is ready
Good afternoon to all VAVEL readers!