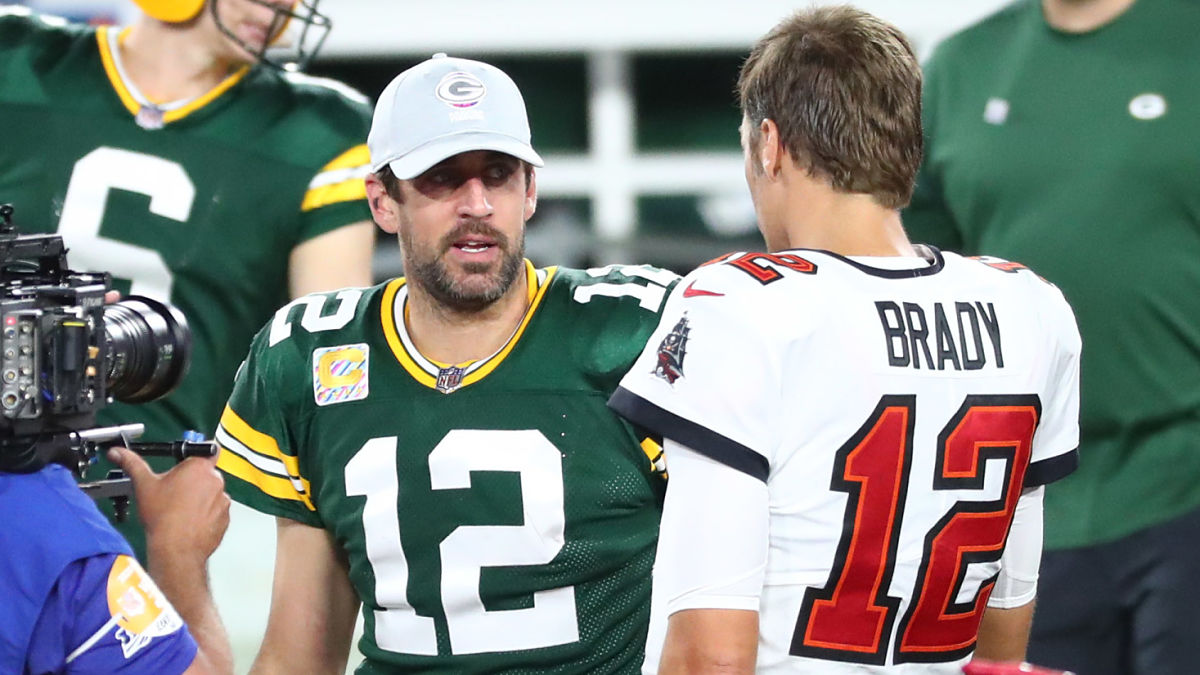 Tom Brady will be aiming to reach his first Superbowl with the Tampa Bay Buccaneers, while the Bucs will be aiming to become the first team in history to play a Superbowl in their home stadium.
The Green Bay Packers, with a win, will return to the Superbowl almost 10 years to the day since their 31-25 victory over the Pittsburgh Steelers in Superbowl 45.
Future Hall of Fame Quarterbacks face off
It's Brady versus Aaron Rodgers in a battle of sure-fire NFL Hall of Fame quarterbacks.
Brady has won six Superbowl's in his historic career so far and a win today would send him to his tenth Superbowl. Rodgers has only played in the big game once in his career and will want to silence the critics by beating the Bucs, and putting himself in with a chance of winning multiple Superbowls.
When Rodgers and Brady suit up for this game they will be the oldest combination of quarterbacks to play in a championship game with a combined age of 80 years and 227 days.
Playing in separate conferences every season up to now, we haven't seen much of Brady and Rodgers head-to-head. Before this season they faced each other just twice, now they will face each other for the second time this season.
Brady is 2-1 versus Rodgers in his career, including a week six battering of Green Bay 38-10 at Raymond James Stadium, but this will be the first time these two quarterbacks face each other in the playoffs, and Rodgers will want to set the record straight when it really counts.
What's happened since week six?
After Tampa Bay scored all 38 of their points unanswered in week six against the Packers, they were proclaimed the favourites to represent the NFC in the Superbowl. In the end, they didn't even win their division, though they got their redemption last week beating their divisional rivals, the New Orleans Saints 30-20 in the Superdome.
The Bucs go into today's game as the outsider to win the Superbowl out of all four teams left after an up-and-down season.
After beating the Packers, Tampa Bay went 3-3 before their week 13 bye. The break clearly refreshed and refocussed the Bucs as they finished strong winning six in a row, including their two playoff games so far.
Green Bay would only lose two games since week six to the Minnesota Vikings 28-22 and then in overtime to the Indianapolis Colts 34-31, before going on a seven game winning streak – second only to Buffalo Bills' eight - including last week's Divisional Round 32-18 victory over the Los Angeles Rams.
Last week
Despite putting up 30 points on the Saints last week, this was hardly an offensive showcase with Brady going 18 for 33 for 199 yards and one touchdown. Running backs, Leonard Fournette and Ronald Jones combined for 125 yards rushing.
Their leading receiver was Cameron Brate with 50 yards from four receptions, with his other more-known tight end Rob Gronkowski limited to just one catch for 14 yards.
However, if you win the turnover battle, you often win the game, and that's what the Bucs did, putting up three interceptions and recovering a fumble. Sean Murphy-Bunting and Devin White both helped in the field position battle running their interceptions back for 36 and 28 yards respectively.
While Rodgers was his usual clinical self, dispatching the Rams' number one defense without much difficulty he will be aware of the Bucs' similarly strong playmaking power on the defensive side of the ball. With Rodgers only throwing five interceptions all year the Bucs will have to take full advantage of even the slightest mistake.
Rodgers threw for 296 yards and two TD's last week from 23 for 36 passing. Top target as expected was Davante Adams with nine catches from 10 targets for 66 yards. However, Allen Lazard was top receiver yards-wise with 96 from four catches.
What must excite Packers' fans is the sense of balance between run and pass which hasn't existed in recent history. Aaron Jones, a yard shy of 100 last week from 14 carries, averaging 7.1 yards per carry, also ran in for a TD, while Jamaal Williams also ran for 65 yards for 12 carries.
However, it is no longer a one-two punch in Titletown with the emergence in the last few weeks of rookie running back, A.J. Dillon. After running for 115 yards against the Tennessee Titans in week 16, he's contributed when relied on. Last week he also chipped in with 27 yards from six carries.
Injuries
The big news on the injury front this week is that Antonio Brown wont play after suffering a knee injury. While this will be a massive blow to the Bucs' hopes, Tampa Bay are blessed at the wide receiver position with Mike Evans, Chris Godwin and Scotty Miller all capable of having big games.
Doubtful for the Bucs is Antoine Winfield Jr (ankle).
For the Packers, Kingsley Keke misses out with a concussion, while Kevin King is questionable (back).
Prediction
It's been a big year for Tampa Bay with Tom Brady leading them to the championship game after suffering three losing seasons in a row. However, it's a case of the train stops here, and the run of no team ever playing the Superbowl in their home stadium will continue.
We'll see the best of Brady and Rodgers but the Packers will have revenge on their mind for earlier in the season and want to prove they belong in the Superbowl.
Final Score: Buccaneers 34 – Packers 41