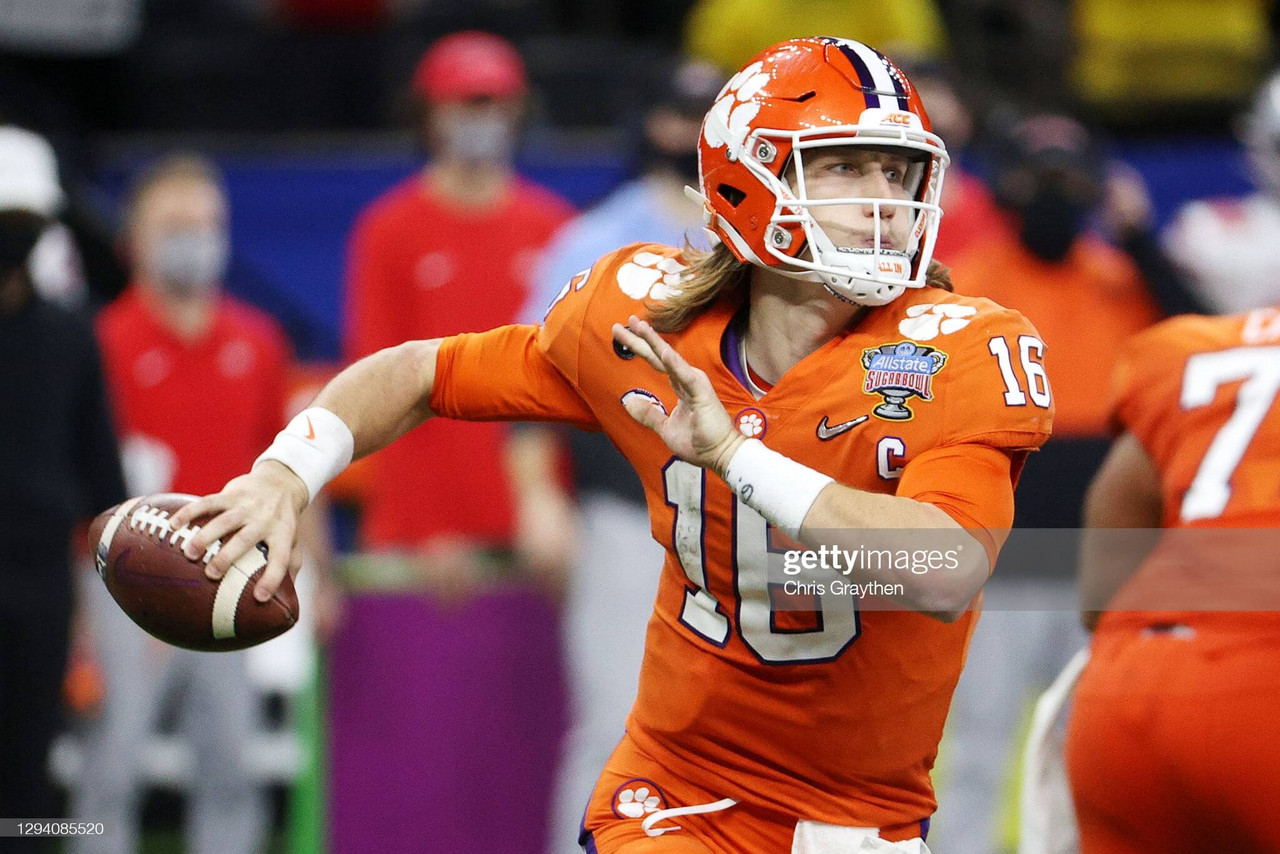 The countdown to the 2021 NFL Draft is well and truly underway, with just over three weeks until the Jacksonville Jaguars open the next 'NFL Player Selection Meeting'.
With the Draft being one of the most exciting weekends in all of sports, and 'Mock Drafts' flying around across both sides of the pond, we at VAVEL UK have had a look at the next group of college graduates and where they will end up by the end of the draft weekend.
We will be starting with a First Round mock, where we pit each team in their draft order and guess who will be selected by each team, with potential for draft-day trades.
It must be noted that all information included is accurate as of Friday 9 April 2021.
JACKSONVILLE JAGUARS – QB TREVOR LAWRENCE, CLEMSON
This pick has been the presumptuous #1 selection for some time now, regardless of whether it was the Jaguars or the New York Jets selecting in the first position. Trevor Lawrence is a superb talent and considered by many to be a generational prospect with NFL-ready ability in the pocket.
He rarely misses games for injury and has been the #1 Quarterback coming out of High School and College, with seven years as a starter over school and collegiate levels – and only four losses, all of which came in the playoffs.
NEW YORK JETS – QB ZACH WILSON, BYU
With the New York Jets trading quarterback Sam Darnold to the Carolina Panthers this week, it makes it a near-certainty that Robert Saleh's side select a new franchise playmaker under center. The Jets have not had a QB to be relatively successful since Chad Pennington in the early-2000s. Wilson is accurate (73% completion rate in 2020), and mobile out of the pocket, which could work well against the strong defenses in the AFC East.
He needs to work on retaining the ball – with seven fumbles in his last two years but is the presumptive #2 pick. Could Wilson make an instant impact in New York? He should perhaps compete with a veteran for a Week One start, but the Jets have no proven QB on the roster – it would be bizarre if the Jets go for anyone other than Wilson at #2.
SAN FRANCISCO 49ERS (from Houston via Miami) – QB JUSTIN FIELDS, OHIO STATE
This pick was a 50/50 decision. The San Francisco 49ers traded two first rounders to trade up to the #3 position, and everyone expects Kyle Shanahan's side to select a QB given the leverage that was traded away. With the pick, it is a coin toss between Fields and Alabama QB Mac Jones, but we've gone with the 'safe' pick in Fields.
Fields had two excellent years in 2019 and 2020 and is a leader on the offensive side of the ball (he was a 2020 team captain). The only area that needs development for Fields is his release, in the sense that he often finds the 'safe' read rather than being overly aggressive, which is often required from top-end starters.
A few expect Mac Jones to be the selection due to his above-average accuracy and his decision-making, but Fields would make more sense due to his extra year as a starter.
DENVER BRONCOS (from Atlanta – draft-day trade) – QB TREY LANCE, NORTH DAKOTA STATE
The Atlanta Falcons had a few options here – could they draft Matt Ryan's successor? Could they draft the best player available outside of QB? Could they trade down? The latter seems like the best option for the Falcons, with more than one hole on their depth chart, especially on a lacklustre defense.
A team that could do with an upgrade at QB is the Denver Broncos, thus why they trade up on draft night to select North Dakota State quarterback Trey Lance. Current QB Drew Lock has had moments but has not been effective as a starter, and a playoff-worthy roster in Mile High City cannot go to waste for much longer, especially with the likes of Von Miller ageing.
Could the dual-threat talent with just once interception in his collegiate career battle it out with Lock in training camp? The only issue with Lance is the fact that he only played one game in 2020, opting out early in the shortened year – and the fact that Lance has never faced FBS competition.
CINCINNATI BENGALS – TE KYLE PITTS, FLORIDA
The Cincinnati Bengals looked so promising early in 2021 with Joe Burrow under center, until his rookie year was cut short thanks to tears in his ACL and MCL in his left knee. In 2021, the offense looks to be exciting once more, and they can add to this with a fresh tight-end out of Florida by the name of Kyle Pitts, who caught twelve touchdowns in eight games in 2020.
Pitts has a unique style as a tight-end and has been compared to the Las Vegas' Raiders' Darren Waller, as a wide-receiver-stroke-tight-end who can impact the game all over the field. It's best-player-available (BPA) for the Bengals at #5.
MIAMI DOLPHINS (from Philadelphia) – WR JA'MARR CHASE, LSU
The Miami Dolphins, like the Bengals, go for BPA at #6, though their need at wideout makes Ja'Marr Chase an ideal selection, with excellent speed and ability to create separation. He had an unbelievable season in 2019, with twenty touchdowns and was selected as a Unanimous All-American.
He's been praised for leadership by LSU head coach Ed Orgeron, which fits into the brand-new culture that is being built by the Dolphins.
DETROIT LIONS – WR DEVONTA SMITH, ALABAMA
The 2020 Heisman Trophy winner Devonta Smith is selected by the Detroit Lions, giving new QB Jared Goff a brand-new weapon with a real knack of finding the end-zone. Smith caught the game-winning touchdown in the National Championship game in his freshman year and has been a stud in his last two seasons.
"I've had an impossible time comparing him to anyone."

DeVonta Smith is a big-time player in a WR class stocked with talent.@robertmays and @Nate_Tice discuss the pass catchers on The Athletic Football Show ⤵️

Apple: https://t.co/lqmlnDD6HS
Spotify: https://t.co/c6qT7ejuYj pic.twitter.com/yr0XZfGI30

— The Athletic NFL (@TheAthleticNFL) April 7, 2021
He can line up in any position at receiver, and though he doesn't have elite speed, he can run any route and has a great pass-catching ability, with just seven drops in his four-year collegiate career. If the Lions don't go with Smith, look for them to trade down with a QB already acquired and many QB-needy sides above them.
CAROLINA PANTHERS – OT RASHAWN SLATER, NORTHWESTERN
This pick was a debate between going for the offensive-line or a cornerback, and it came down to whose voice will be the loudest on draft day. Head coach Matt Rhule knows that his team will win games with his running backs, with Christian McCaffrey back from injury.
Six-year veteran Cameron Erving is the most experienced tackle on the Panthers' roster, and so the plug-and-play ability of Slater will fit in nicely for the Carolina Panthers' offense, as he could slot in across the offensive line.
ATLANTA FALCONS (from Denver – draft-day trade) – OT PENEI SEWELL, OREGON
This choice comes out of left field just a tad. Yes, I did briefly mention that the Falcons are struggling for names on defense, but it stands to reason that the Falcons would stack their offensive line, with HC Arthur Smith suggesting that he wanted strength on the offensive line by using a running-back-by-committee system.
To achieve such a feat, depth on the offensive line is a must - whether Sewell is a day-one starter at left-tackle, with Jake Matthews moving inside, or whether he sits for a year and converts to guard.
However, it must be noted that the Falcons could well go for a defensive pick here – though it could be argued that there is more defensive value in the later rounds compared to offensive line.
DALLAS COWBOYS – CB PATRICK SURTAIN II, ALABAMA
The Cowboys' defense has potential to be an elite one, with one of the best linebacking corps in the league. However, their secondary has struggled in recent years, and the ideal move for Dallas would be to select cornerback Patrick Surtain II, who gave up just four touchdowns in his time in Alabama.
Improving the secondary has a domino effect on the rest of the defense, and this pick would be well worth the top-ten selection, given Dallas' defensive woes in 2020.
NEW YORK GIANTS – LB MICAH PARSONS, PENN STATE
While Micah Parsons slotted as a weak-side linebacker for Penn State in a 4-3 defense, he could slot in for the New York Giants as a 3-4 ILB due to his lightning-fast change-in-direction and athletic ability, with strengths in tackling and coverage to boot.
He changed from defensive end to linebacker in college, showing his immense versatility, and will be a superb addition to the Giants' defense which has the room to improve in pass defense.
PHILADELPHIA EAGLES (from San Francisco via Miami) – WR JAYLEN WADDLE, ALABAMA
While the Philadelphia Eagles may be in disarray after a tumultuous few months, one thing can't be debated – their need for a number-one receiver. New head coach Nick Sirianni was WR Coach with the then-San Diego Chargers and has worked closely with an ever-improving WR core in his previous role as Indianapolis Colts offensive co-ordinator – a brand-new WR from the best group in the country in Alabama makes perfect sense.
Waddle has elite playmaking ability, with Crimson Tide head coach Nick Saban comparing him to the likes of Kobe Bryant and Michael Jordan, and can also impact the game on special teams, which Sirianni will love, given the Colts' excellence in 2020 on ST.
LOS ANGELES CHARGERS – OT CHRISTIAN DARRISAW, VIRGINIA TECH
Justin Herbert must be protected. That is all.
Seriously, Christian Darrisaw isn't the most well-rounded tackle in this class, with his better-ranked colleagues being selected higher than him, but he's a tough character both on-and-off the field, with coach Justin Fuente labelling him a 'warrior'. He's a thick, strong tackle who you want on the edge protecting your franchise quarterback, and was First Team All-ACC in 2020, after a lightning-hot season.
Darrisaw is also confident, yet humble, ready to make an impact from day one in the NFL, but also acknowledging the need to settle in and gel with a brand new roster and with his fellow rookies.
MINNESOTA VIKINGS – EDGE AZEEZ OJULARI, GEORGIA
Though the Lions and Chicago Bears have made changes at the quarterback spot, all three divisional opponents for the Vikings continue to feature quarterbacks that have reaches the playoffs in their career. The Vikings' defense last year was sluggish and under-achieving compared to a few years back, and a new edge rusher like Azeez Ojulari would look dangerous opposite Danielle Hunter in Minnesota.
Ojulari led the SEC in sacks, forced fumbles and tackles for loss a year ago and can attack the quarterback – and Minnesota will need this more than ever with the talented offenses both in their division and in the rest of the NFC.
NEW ENGLAND PATRIOTS – QB MAC JONES, ALABAMA
Perhaps this is a long shot, for Jones to fall this far given his lofty projections of being selected at #3, but it could well be possible that the talk of him going to San Francisco is merely a smokescreen. Jones is the least-athletic quarterback projected for first-round selection, which could well deter teams given the league's laser focus on athletic quarterbacks – with the AFC well-ahead in this spectrum.
However, the New England Patriots know how to win when the quarterback isn't particularly mobile, and Jones' superb accuracy with Alabama and awareness of the defense will help his cause for Bill Belichick and selection in Foxboro.
If Jones is indeed Patriots-bound, look for him to sit behind former MVP Cam Newton for a year before making the QB1 spot his own.
The @MacJones_10 to @DevontaSmith_6 connection showing off at @AlabamaFTBL's Pro Day 👀

📺: Path to the Draft Pro Day Special on NFL Network pic.twitter.com/4tAKXGOzJ9

— NFL Network (@nflnetwork) March 30, 2021
ARIZONA CARDINALS – CB JAYCEE HORN, SOUTH CAROLINA
Have the Arizona Cardinals 'won the offseason'? Signing J.J. Watt, the former three-time NFL Defensive Player of the Year certainly helped their cause, and they also added CB Malcolm Butler and WR A.J. Green.
Horn isn't the finished product coming out of college, but his skills that won him Second Team All-SEC honours in 2020 – despite opting after seven games – cannot go amiss. The cornerback is well-built for the position and has long arms and solid speed; he can, however, struggle at the line of scrimmage with regards to being over-aggressive, which he'll need to develop in a much stricter NFL environment.
The Cardinals are desperate for assistance at corner, though, with a tough division that they'll be looking to win – and defense must come first in this draft.
LAS VEGAS RAIDERS – EDGE KWITY PAYE, MICHIGAN
This selection could surprise a few people but given how strong the offenses are in the AFC West, adding another pass rusher for depth off the edge could be a masterstroke for Jon Gruden's side. Adding Yannick Ngakoue was a super move this offseason, and with Clelin Ferrell on the opposite side, perhaps edge rusher isn't the premier need for the Raiders – but you can never have enough depth on the line.
They will have seen how the Kansas City Chiefs struggled without starting tackles in Super Bowl 55, which gives an all-new importance for guys who can get after the quarterback. Kwity Paye is strong against the run but is also a little one-dimensional now – developing under defensive co-ordinator Gus Bradley in the 4-Technique role would be ideal for the Raiders.
MIAMI DOLPHINS – EDGE GREGORY ROUSSEAU, MIAMI
The Dolphins need a pass-rusher in this draft, and it makes a lot of sense for them to spend their second first-rounder on Rousseau, who will be playing in the same stadium as his time for the Miami Hurricanes if he ends up with the Dolphins. Rousseau is a monster, standing at 6'7 and over 260 pounds; with room to bulk up when he makes it to the big time.
However, his drawback is that he opted out of the 2020 season and missed his 2018 campaign through injury, leaving just one season of tape that can be evaluated before he's selected.
However, his lone college season saw him pick up 15.5 sacks and just shy of 20 tackles for loss: putting him in similar territory to Chase Young in terms of production in 2019. He's got potential to bust, however, due to his rawness, but arguably is worth a punt given his sheer athleticism and high ceiling.
WASHINGTON FOOTBALL TEAM – OG ALIJAH VERA-TUCKER, USC
Help on the offensive line is always needed and could be even more useful in Washington this season given defensive improvements in New York and Dallas. Alijah Vera-Tucker lined up as left tackle for USC this year but is athletic enough to shift all over the offensive line and has demonstrated effective blocking both against the run and against the pass.
The lineman was voted by his peers to receive the Morris Trophy, awarded to the best offensive and defensive lineman in the Pac-12; his experience of playing LT and LG will give him an edge when selected in the draft.
CHICAGO BEARS – OG LANDON DICKERSON, ALABAMA
This is a franchise in deep trouble. Both GM Ryan Pace and HC Matt Nagy are on the hot seat in 2021, and while settling for an offensive lineman might not excite fans, their last reckless pick now sits as QB2 in Buffalo.
A logical selection here, Landon Dickerson fills the hole left by Kyle Long on the Chicago offensive line, helping to protect both Andy Dalton, but also the running-backs in David Montgomery and Tarik Cohen, who have undoubtable talent but require a strong offensive line to create gaps.
Dickerson has experience across the line, with his main snaps coming at guard and center, and was awarded the Rimington Trophy in 2020, awarded to the best center in the country; as well as Unanimous First-Team All-American honours. A safe, but strong selection in Chicago.
INDIANAPOLIS COLTS – OT SAMUEL COSMI, TEXAS
Many see Cosmi as a first-round reach, and it could be expected for the Indianapolis Colts to trade back with their first pick given GM Chris Ballard's reluctance to reach. However, the retirement of left tackle Anthony Castonzo was expected this offseason, and a replacement will be necessary to upkeep the Colts' elite offensive line.
Owner Jim Irsay hinted that the Colts would be looking to secure their next left tackle in the draft, and Cosmi represents a strong option that can defend well against the pass and even better against the run, which is where the Colts will be looking to do their damage this year given the return of Marlon Mack.
Expect the Colts to draft on either the offensive line, the edge or to trade back and recuperate the third-round pick they lost to the Eagles in the Carson Wentz trade.
TENNESSEE TITANS – CB GREG NEWSOME II, NORTHWESTERN
Adoree' Jackson couldn't get going for the Tennessee Titans, and his departure this offseason leaves a hole in the Titans' secondary that needs replacing in the draft. Jackson at the time was seen as a project player, while Greg Newsome II fits more as a natural cornerback with three seasons' experience in the position.
He allowed zero touchdowns in 2020 and is strong against differing routes, which will serve him well against the quick receivers the AFC boasts, as well as strong cores such as the Houston Texans and in Indianapolis, with regards to divisional opponents.
An issue with Newsome is his injury history, as he's missed time in all three collegiate years, which means that the Titans may be in need of cornerback depth behind the graduate. However, this is a good pick-up for the Titans who will need to improve in the secondary this year.
NEW YORK JETS (from Seattle) – RB NAJEE HARRIS, ALABAMA
With a new quarterback drafted to New York, Zach Wilson's best friend will be a talented running back to take some of the pressure off in the early downs. Harris is a two-time thousand-yard rusher, leading the SEC in rushing in 2020, and winning all-conference honours in 2019 and 2020.
He struggles to create explosive plays, but that might not be too much of an issue given Tevin Coleman's knack to do so, as well as some quieter signings at receiver that could make strong impacts.
Najee Harris is built DIFFERENT.

These hurdles 🤯

Can't wait to see @ohthatsNajee22 in the NFL.

(Via @thecheckdown) pic.twitter.com/AvF5pO8ic9

— NFL UK (@NFLUK) April 8, 2021
Harris is effective in all three stages of his position, with talent rushing, receiving, and blocking which will make him a solid starting back in the NFL; splitting carries with Coleman also gives him plenty of room to develop.
PITTSBURGH STEELERS – CB CALEB FARLEY, VIRGINIA TECH
With First-Team All-ACC honours in 2019, Caleb Farley may have been selected higher in the draft if he had not opted out of the 2020 season – but his NFL-ready frame and build will see him thrive in the Pittsburgh Steelers' system if he is taken to Heinz Field in the draft.
He allowed the lowest QB rating against in 2019 (17.2), as well as leading the ACC in passes defended the same year – though having only been a CB for two seasons (he was moved from receiver in 2018), he will take a bit of development by any NFL team.
He can struggle with overly-aggressive play that can lead to penalties, but his experience as a receiver allows him to know routes and he is also strong with tackling.
JACKSONVILLE JAGUARS (from L.A. Rams) – DT CHRISTIAN BARMORE, ALABAMA
This might be an odd pick considering the Jaguars' struggling offense, but Christian Barmore is an explosive mover as a defensive tackle, with the ability to snuff out the run. He also led Alabama in sacks last year and was the Defensive MVP in the Crimson Tide's National Championship victory.
While Barmore has some concerns over durability after missing games at the start of the year, and an issue with rawness given being just a one-year starter, selecting the top defensive tackle in the class makes perfect sense with the Jaguars being forced to play against backs like Derrick Henry, Jonathan Taylor, and Marlon Mack twice a year.
CLEVELAND BROWNS – LB JEREMIAH OWUSU-KORAMOAH, NOTRE DAME
The Cleveland Browns' defense was inspiring yet unsuccessful in the AFC Divisional Round in 2020, with the Kansas City offense providing too challenging of an opponent but adding an explosive playmaker at linebacker would be a great move.
Jeremiah Owusu-Koramoah led Notre Dame in tackles for loss in his last two seasons and received the Butkus Award in 2020, with a productive record as a two-year starter (142 tackles in 25 starts).
However, he may suffer from issue with regards to reading an offense, with a temptation to react first – though he would sit alongside the experienced linebacker in Anthony Walker, who marshalled the Colts' defense for the last three-and-a-half seasons. This is a high-reward selection if his explosive play can translate to solid, pro-style defense.
BALTIMORE RAVENS – LB ZAVEN COLLINS, TULSA
A year ago, Patrick Queen was a super pick by the Baltimore Ravens, recording over a hundred tackles in his rookie year. Adding Zaven Collins, the exciting, physical linebacker, could have a similar effect as the Ravens go BPA in the late first round.
Collins doesn't have the most experience in a 3-4 defense as Baltimore like to run, but his talent at weakside linebacker in Tulsa could convert to playing outside linebacker for the Ravens' stout defense, especially with the likes of Queen, Calais Campbell and Pernell McPhee acting as mentors for the young defender.
NEW ORLEANS SAINTS – WR RASHOD BATEMAN, MINNESOTA
With the New Orleans Saints moving on from the Drew Brees era, the option to trade up and grab Brees' successor could be tempting – but with Sean Payton at the helm, it could be worth seeing how the Jameis Winston experiment works out. Adding a talented receiver from a difficult conference would take a little pressure off the shoulders of Winston, with Rashod Bateman contributing to all three years of his collegiate career.
He runs routes effectively and has lined up as X, Y and Z receiver for Minnesota. However, his weakness is his athleticism, as he struggles to accelerate at an NFL level – but his talent with catching and route-running will help him earn snaps alongside Michael Thomas.
GREEN BAY PACKERS – CB ASANTE SAMUEL JR, FLORIDA STATE
Is cornerback the biggest need for the Green Bay Packers? Perhaps not, but in a stacked NFC, they will need all the help they can get in the secondary this year. He's a similar player to Jaire Alexander with regards to his athletic ability and is talented defending passes (33 defenses in 32 starts).
While his frame isn't exactly NFL-standard, he doesn't shy away from jump-balls and is aggressive in defense, but the lack of size could well hurt him in the pro game. He could win snaps in his rookie year on the inside or outside slot, with All-Pro heritage in the form of his father, who won First-Team All-Pro honours twice in his NFL career.
BUFFALO BILLS – EDGE JAELAN PHILLIPS, MIAMI
Jaelan Phillips is, by all accounts, a polarising figure in this draft, but the upside is undeniable. Phillips found the quarterback 15.5 times in 2020, leading Miami in tackles for loss and in sacks, and is physical at the point of attack, with an NFL-ready frame and build that could see him slot favourably into the Buffalo Bills' 4-3 defense, that is stacked across the line with talent at linebacker as well.
His drawback? Injuries. He missed fourteen games in two seasons at UCLA before his transfer to Miami, with concussions and wrist injuries, and has been advised to retire prior to transferring.
His character also raises questions as well, with scouts questioning whether his love of music is greater than his passion for football, and also injuries from moped incidents and penalties for unsportsmanlike conduct. This is a high-risk, high-reward pick that could have a massive impact for the Bills.
KANSAS CITY CHIEFS – OG ALEX LEATHERWOOD, ALABAMA
Remember the Super Bowl? We do. It was ugly. This is an absolute no-brainer – the Kansas City Chiefs need depth on the offensive line and is a dependable option that can slot in at tackle if necessary, though his future should lie on the interior of the line.
He was a unanimous All-American selection at left-tackle this year for the Crimson Tide, and is efficient and patient against quick edge rushers, with a strength in pass protection.
Alex Leatherwood may not fall as far as #31, but his flexibility and reliability make him a must-pick if the Chiefs get the opportunity.
TAMPA BAY BUCCANEERS – DL LEVI ONWUZURIKE, WASHINGTON
What do any Super Bowl winner need? More depth in the trenches. Levi Onwuzurike has had a solid collegiate career and was a consistent playmaker with the Washington Huskies in his two years as a starter.
Onwuzurike is quick and knows how to shed blocks as an interior defensive lineman and earned First-Team All-Pac 12 honours in 2019. He could have gone higher if he had not opted out in 2020, but this pick offers the Buccaneers depth alongside Vita Vea and Ndamukong Suh.