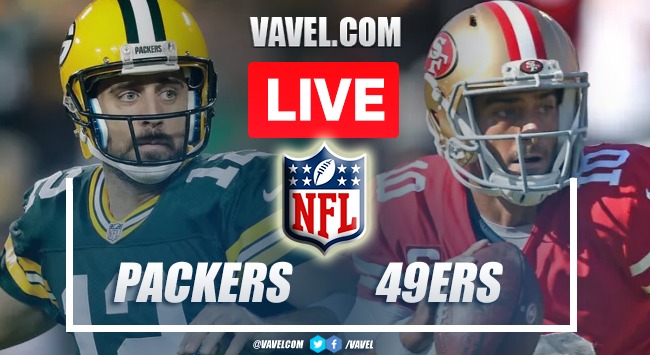 Highlights
Thank you friends of VAVEL
Final Score
This is how the game ended
4th 0:03
Kickoff 0:40
Extra Point
4th 0:43
4th 1:18
4th 2:00
4th 2:29
Kickoff
4th 2:43
4th 4:58
4th 5:08
4th 6:39
4th 7:31
TOUCHDOWN 49ers
Kickoff
Extra Point
4th 7:51
4th 8:40
4th 9:19
4th 10:38
4th 11:54
4th 12:40
4th 13:22
Kickoff
Extra Point
4th 13:32
End of the third quarter
3rd 0:10
3rd 2:19
3rd 3:46
3rd 4:34
TOUCHDOWN 49ers
3rd 6:10
3rd 7:40
Extra Point
3rd 7:45
3rd 10:12
3rd 12:21
3rd 13:01
3rd 13:38
Kickoff
HALFTIME on Sunday Night Football
TOUCHDOWN 49ers
Extra Point
2nd 0:02
2nd 0:22
2nd 0:54
2nd
Extra Point
2nd 1:05
2nd 1:16
2nd 2:00
2nd 2:43
2nd 4:00
2nd 5:00
2nd 7:40
2nd 10:02
2nd 10:25
2nd 12:59
2nd 13:36
2nd 13:51
TOUCHDOWN PACKERS
First quarter ends
1st 0:42
1st 1:51
1st 1:58
1st 2:04
1st 3:19
Extra Point
1st 3:23 TOUCHDOWN
1st 6:12
1st 7:25
1st 7:35
1st
1st 10:11
1st Q 12:00
1st Q 13:54
Kickoff
All set
The Packers take to the field of Levi's Stadium
The 49ers are already on the field
Inactive Players Packers
This is how the Packers arrive
This is how the 49ers arrive
Inactive Players 49ers
A very recurring rival
San Francisco 49ers passing game
Get Started
Tune in here Green Bay Packers vs San Francisco 49ers Live Score
How to watch Packers vs 49ers Stream on TV and Online?
What time is Packers vs 49ers match for NFL?
Latest game between Packers vs 49ers
Aaron Rodgers
Jimmy Garoppolo
Green Bay Packers
San Francisco 49ers
The match will be played at the Levi's Stadium
Welcome to VAVEL.com's coverage of the NFL 2021: San Francisco 49ers vs Green Bay Packers LiveUpdates!